Fantasy Advice
AT&T Pebble Beach Pro-Am DFS picks 2023: Our data expert's bold fade of Jordan Spieth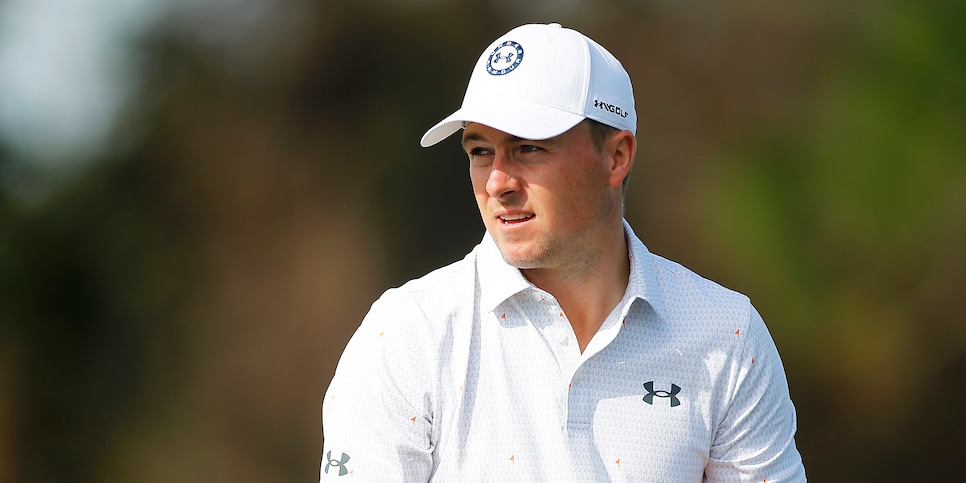 Photo By: Icon Sportswire
It's one of the most familiar weeks of the year for PGA Tour fans as we head to the Monterey Peninsula for AT&T Pebble Beach Pro-Am week. This will be the final "course-rotation" event on the schedule, with a 54-hole cut taking place after the three rounds on these top-100 courses: Spyglass Hill, Monterey Peninsula Country Club's Shore course and Pebble Beach.
The host course, Pebble Beach, needs no introduction. It's one of the most recognizable courses on earth. The scenic public layout boasts greens at only 3,500 square feet on average, the smallest surfaces on the PGA Tour, so an emphasis will be on second shots and scrambling.
Historically, shorter hitters have been able to contend here, with each course playing under 7,100 yards. But that doesn't mean distance isn't an advantage. There are "natural landing areas" at Pebble Beach which most golfers will play their second shots from. Though distance off the tee isn't a prerequisite for success, it can help on the approach, when longer hitters are hitting shorter clubs into the green.
The biggest question you might have is about Jordan Spieth. Let's just say the ball-striking stats are a little worrisome for me, and I like a few other golfers in the $10,000 range more. Scroll down to read why I'm down on Spieth at a course where he's had remarkable success.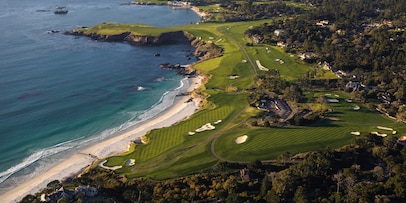 Not just the greatest meeting of land and sea in American golf, but the most extensive one, too, with nine holes perched immediately above the crashing Pacific surf—the fourth through 10th plus the 17th and 18th. Pebble's sixth through eighth are golf's real Amen Corner, with a few Hail Marys thrown in over an ocean cove on the eighth from atop a 75-foot-high bluff. Pebble hosted a successful U.S. Amateur in 2018 and a sixth U.S. Open in 2019. Recent improvements include the redesign of the once-treacherous 14th green, and reshaping of the par-3 17th green, both planned by Arnold Palmer's Design Company a few years back—and the current changes to the iconic eighth hole.
View Course
Here are the players who have my interest—and those who certainly don't—this week at the 2023 AT&T Pebble Beach Pro-Am.
Golfers I'm Definitely Playing
Matt Fitzpatrick ($10,100 DraftKings | $11,800 FanDuel)
Fitzpatrick played a lot of golf this fall, notching seven starts after the Tour Championship and before the start of the new year. His lone start of 2023 was a T-7 at the Tournament of Champions, and now he heads to Pebble Beach as one of the favorites. His well-rounded game should bode well for a three-course rotation, and he'll be looking to improve on his T-6 from last year.
Andrew Putnam ($9,700 DraftKings | $11,000 FanDuel)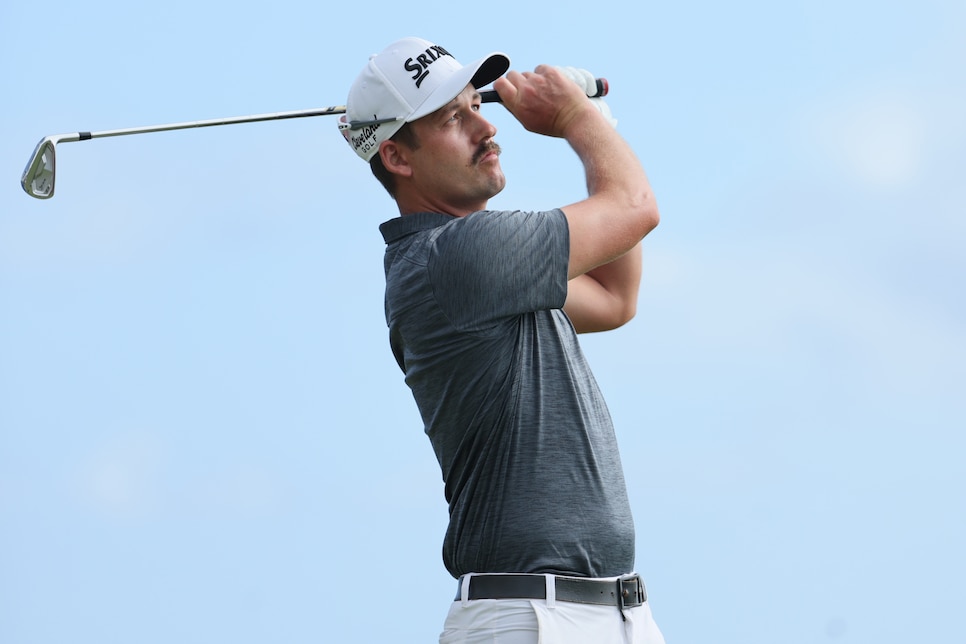 Putnam's lack of distance off-the-tee is a detriment at a lot of courses on tour, but not this week. It's likely why he's made three straight cuts at this event, highlighted by a T-6 last year. Putnam's form has been stellar, finding the weekend in 14 straight events—the second longest active streak behind Jon Rahm.
Maverick McNealy ($9,600 DraftKings | $11,100 FanDuel)
McNealy's affection for Pebble Beach is no secret, and he's been able to compile an excellent record at this event in the last handful of years. Since 2020, he's finished T-5, runner-up and T-33. Now he's playing some of the best golf of his career, gaining 1.43 strokes per round over his last 30 rounds. Though a majority of those strokes are coming from his putting prowess, it be difficult to avoid McNealy in DFS this week.
Robby Shelton ($7,800 DraftKings | $9,000 FanDuel)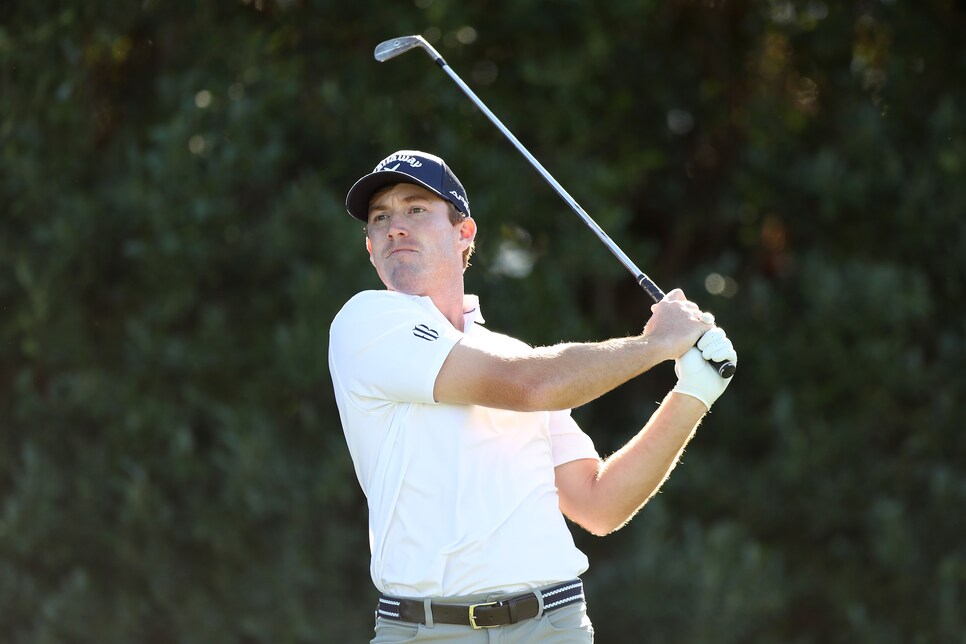 Shelton's lack of distance off the tee is not going to be a detriment here, and he'll be able to lean on his approach play. He's gained multiple strokes on approach in four of his past five starts, per the RickRunGood.com golf database. Combine that with a solid short game, and Shelton offers some significant upside in this field.
Justin Lower ($7,200 DraftKings | $8,300 FanDuel)
Lower missed the cut in San Diego last week, losing 2.07 strokes on approach—his worst approach performance since last year's Memorial. Assuming Lower gets back to his baseline this week, he'll be playing out of the fairway and hitting these tiny greens much more frequently than his peers. Expect him to gain strokes putting, something he's done in 11 of his past 12 starts.
Viktor Hovland ($10,300 DraftKings | $11,700 FanDuel)
This is a bit of a shift in schedule for Hovland who opted out of the Farmers Insurance Open last week and chose to not defend his title in Dubai. Now he's well-rested and heading back to Pebble Beach, where he won the 2018 U.S. Amateur. The small greens on property this week could allow Hovland to separate himself from the rest of the field, thanks to his elite ball-striking.
Seamus Power ($9,800 DraftKings | $11,200 FanDuel)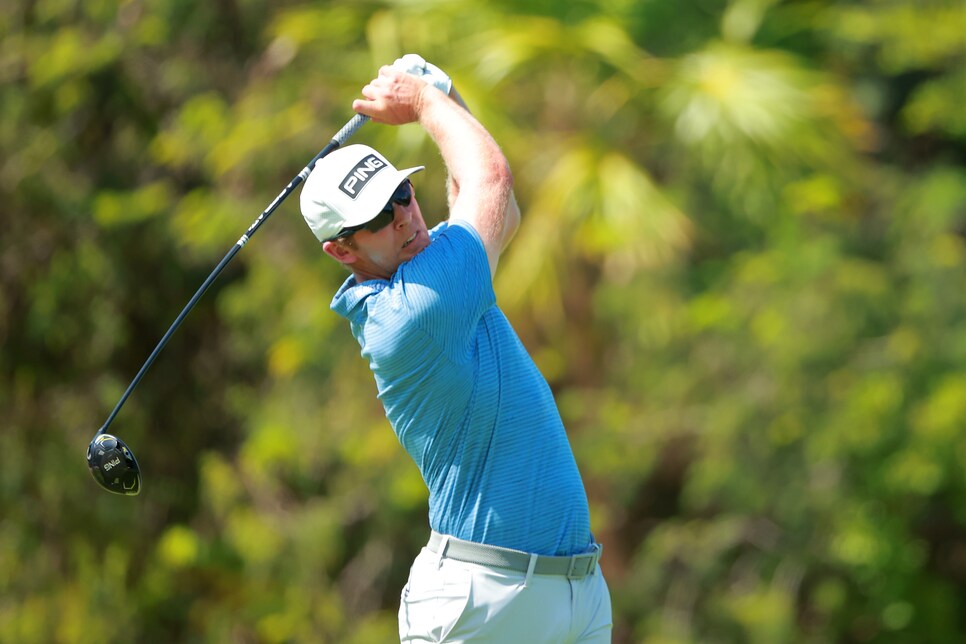 Power was the 36-hole leader by a wide margin last year before fading on the weekend to a T-9 finish. Since then, he's been one of the more solid golfers on tour, gaining 1.3 strokes per round over his past 24. A win at the Bermuda Championship should provide him the confidence necessary should he find himself in a similar position this time around.
Nick Taylor ($8,000 DraftKings | $9,700 FanDuel)
Taylor missed the cut at The American Express, but I think you have to give him one more chance. He has four top 25s already this season, and this is the best spot on the schedule for him. He won in 2020 and has five top 30s in his past seven trips. That includes a T-14 last year and a T-10 in 2017.
Lanto Griffin ($7,600 DraftKings | $9,300 FanDuel)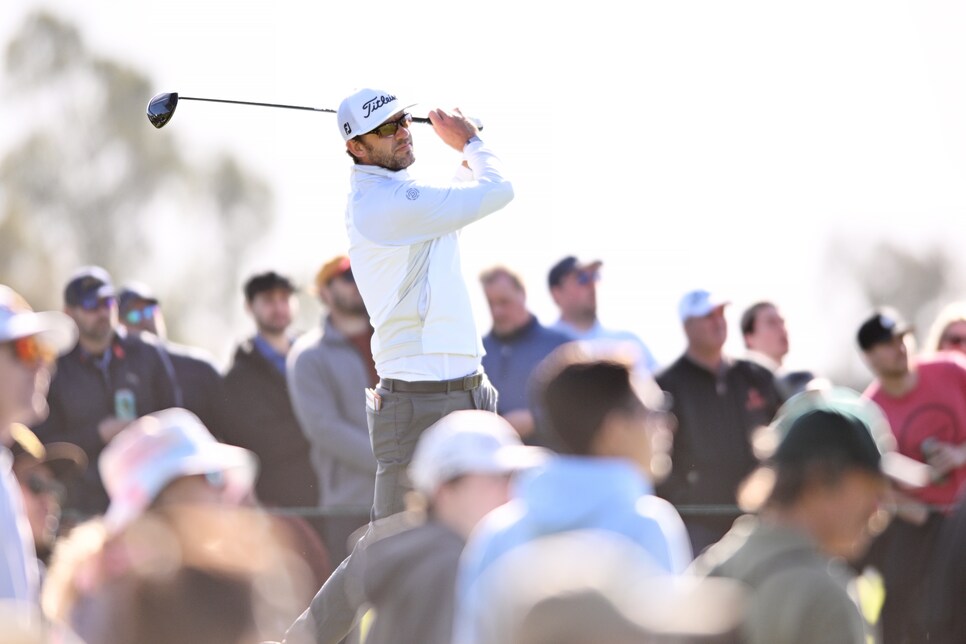 Griffin missed six months after back surgery and has only teed it up twice in his return. He made the cut in a Korn Ferry Tour event a few weeks ago and played well for three rounds last week before fading to a T-37 on Sunday. He seems healthy for the first time in a while, and now he can build on back-to-back top-20 finishes at this event.
Joseph Bramlett ($7,400 DraftKings | $8,600 FanDuel)
With Pebble Beach being one of the shortest courses on the schedule, you certainly don't *need* Bramlett's distance around here, but it's nice to have. Pebble Beach has "natural landing zones," so you'll see many golfers play from the same area. Bramlett's distance will come in handy on the second shot, where he'll be hitting much shorter clubs into every green. He gained 0.02 strokes putting last week en route to an T-13 finish, which doesn't sound like much, but it was his second-best putting performance of the season.
Jordan Spieth ($10,600 DraftKings | $11,900 FanDuel)
Terrifying, I know, but there are two things worth noting for Spieth this week. First, he's the most expensive player in the field, which I don't think he should be. It's his most expensive price tag since the 2021 FedEx St Jude ($10,800), where he entered with 13 top-20 finishes, including a win, in his previous 15 starts. That transitions to point No. 2: His form! Spieth has lost strokes ball-striking in three straight events and in four of his last six. We might catch some Spieth magic this week, but the numbers are dubious.
Justin Rose ($9,500 DraftKings | $10,800 FanDuel)
Rose has been fine, but this salary is treating him like he's in a better tier of golfers. He's earned four straight top-30 finishes, but his ball-striking has been very inconsistent and he's been reliant on his putter for far too long. He lacks a ton of experience at Pebble Beach, finishing 62nd here last year—his first start at this event since 2017.
Taylor Pendrith ($8,900 DraftKings | $10,100 FanDuel)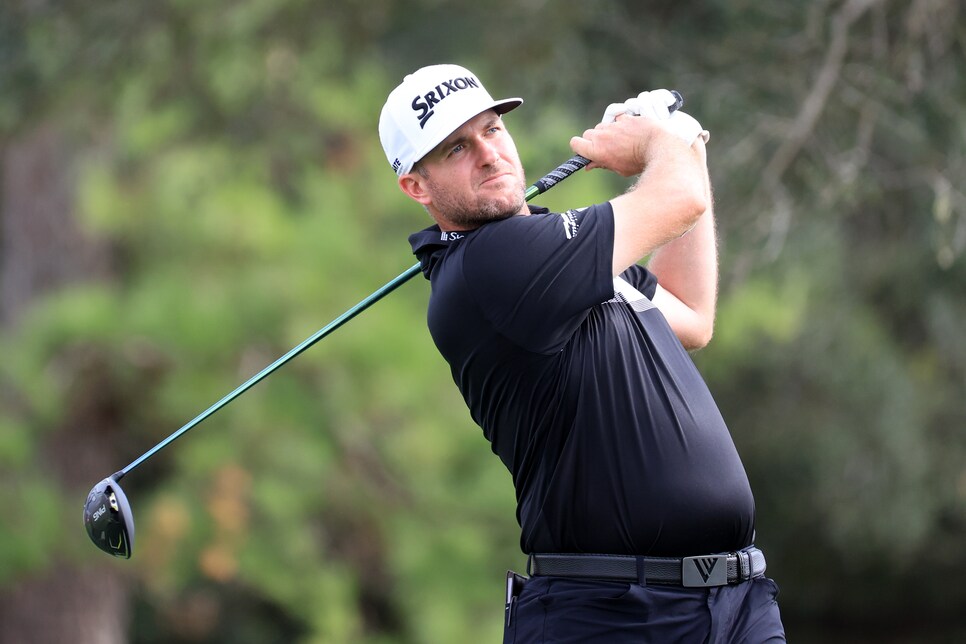 I'm a huge fan of Pendrith's game, but these courses might not be the best fit. He's at his best when he can bomb and gouge, but these courses, and Pebble Beach specifically, are going to ask for a lot more finesse. Shots coming from 100-125 yards at Pebble happen at a rate twice the PGA Tour average, which also happens to be where Pendrith struggles the most. He ranks 166th on tour this year from that range, and it's not any better from other wedge buckets.
Dean Burmester ($8,400 DraftKings | $9,800 FanDuel)
Burmester made the cut last week and has found the weekend in five out of his past six. Pebble Beach is really going to test Burmester's wedge play, which currently ranks 177th on tour from 50-125 yards. He's also likely to struggle on Poa annua greens, where he lost 1.28 strokes putting last week. There will be better spots to deploy Burmester in the future.
Erik Barnes ($7,000 DraftKings | $8,100 FanDuel)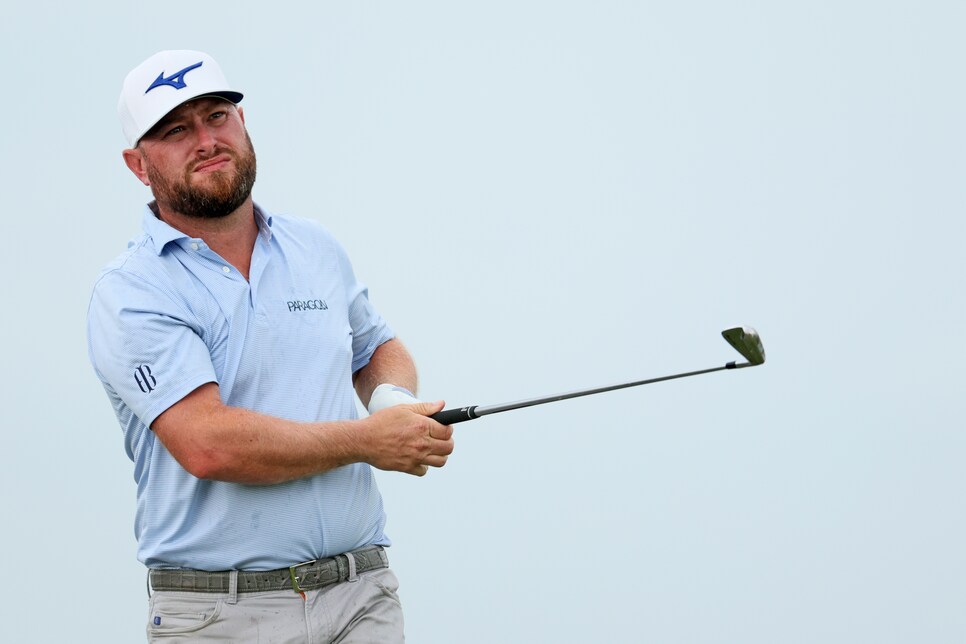 Barnes is coming off a T-13 last week, which marks his second top-10 finish in his past four starts. It's not the result that I'm worried about, it's how that result happened. Barnes gained over six strokes putting in the final round last week, and his only decent tour finishes happen when he gains five-plus strokes putting. That's not something to bank on.