Duke senior Erica Shepherd knows the good wishes are coming, and now she's prepared for them. As one of the few golfers who can say that she has been invited to all four Augusta National Women's Amateurs, the 22-year-old has had dozens of people offer encouraging words and excitedly say, "Play well at Augusta! We'll watch you on TV!" Or, they get a little braver with, "Can you get us tickets?"
They're speaking of Augusta National Golf Club, of course, and the sentiments are genuine, because anybody who knows anything about the game understands it's a dream to drive up Magnolia Lane and compete at the home of the Masters. Though Shepherd appreciates the enthusiasm, she often corrects them with one pragmatic caveat: "I have to make the top 30 first."
Wait, getting a coveted invitation to compete in the Augusta National Women's Amateur doesn't guarantee competing at Augusta National? That's vexing for some.
It can be explained that the ANWA essentially is two tournaments in one. The first two rounds on Wednesday and Thursday are played at Champions Retreat Golf Club, a private course that's 15 miles away from Augusta National in Evans, Ga. In a field of 72, the top 30 finishers after 36 holes earn the opportunity to play in the final round on Saturday at Augusta National. There is a little more wiggle room this year; for the first time the cutoff is not a hard 30 but also includes ties, after playoffs were needed in the three previous editions to determine the finalists.
All is not completely lost for those who miss the cut. Everyone in the field gets to experience Augusta National during a practice round on Friday. But doing that without competing is like catching the sweet smell of peach cobbler wafting through the air, but not getting to taste the pie.
Shepherd knows that feeling. She made the top 30 in her first two appearances in 2019 and '21, but last year suffered what she called "trauma" with her driver in the first two rounds at Champions and missed the cut. On Saturday, she did the supportive thing and went out to cheer some friends with fellow golfer Megha Ganne. But their hearts were heavy with disappointment.
"It was, honestly, a pretty sad day, other than being at Augusta," Shepherd said.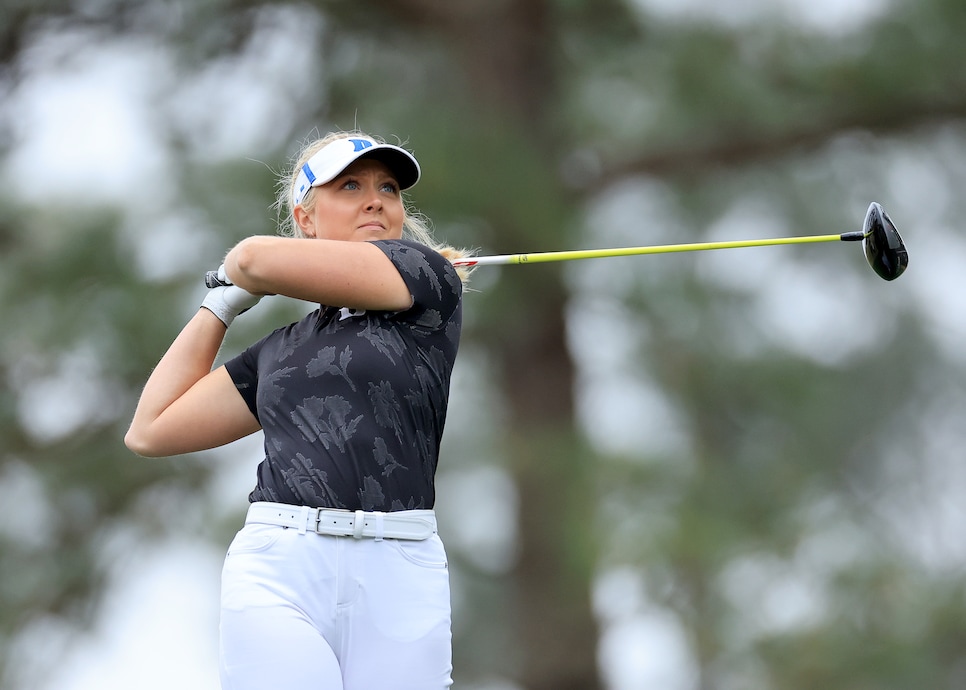 Erica Shepherd hits a drive on the 12th hole at Champions Retreat in the first round of the 2022 Augusta National Women's Amateur.
David Cannon
She figures it was made more painful having competed on two Saturdays at Augusta before. Stepping onto the elevated first tee in her 2019 debut, with hundreds of fans standing at the ropes, Shepherd fulfilled an aspiration from childhood. She had written on a life bucket list for her second-grade class that she wanted to be the first woman to play in the Masters. She got to do the second-best thing.
"Hitting that first tee shot, you really do feel like you're playing in the Masters," Shepherd said. "There are so many fans there; it's loud. … To know what I was missing [last year], it was definitely a bummer and made it way worse."
The ANWA players talk about two kinds of pressure heading into the tournament, and both are nerve-jangling. The first is to play well enough at the very challenging Champions Retreat, where the front Island nine was designed by Arnold Palmer and the back Bluff nine by Jack Nicklaus. (There is a third Creek nine fashioned by Gary Player—thus the name, Champions Retreat.) But these are also very accomplished women who came to the championship to lift the winner's bowl of sterling silver and become a part of Augusta National lore.
"We play golf to win," said Anna Morgan, a 21-year-old Furman senior who made her ANWA debut last year. "But it's hard to describe really. It's a different kind of pressure. That pressure to get to that third round is just as high as trying to win a tournament.
"Personally," she added, "I think I kind of got a little caught up in trying to [reach] the final round."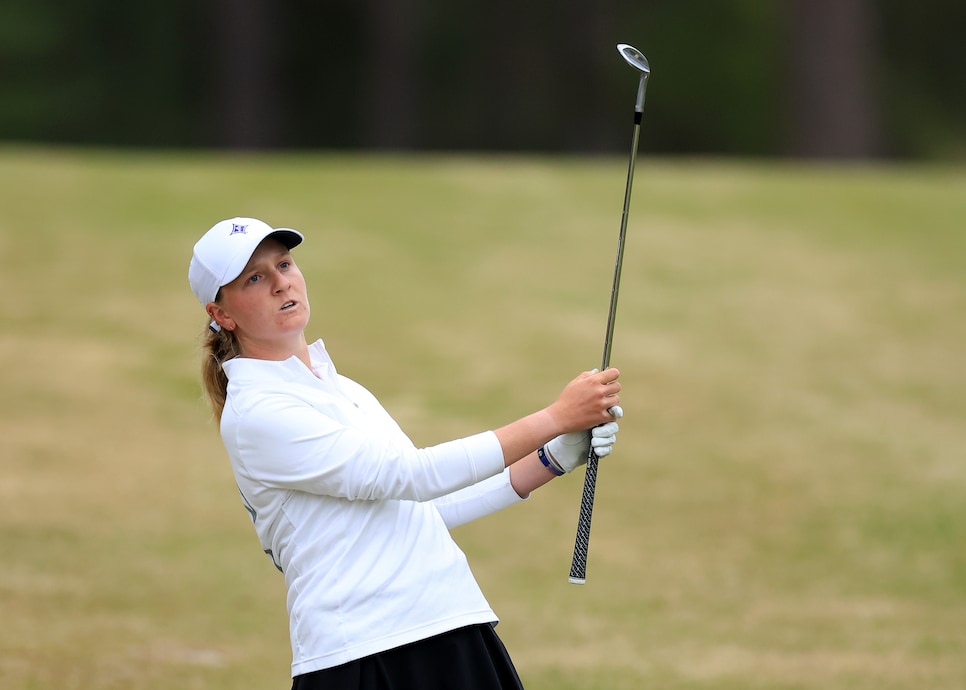 Anna Morgan hits a shot in the first round of the 2022 ANWA at Champion Retreat.
David Cannon
In 2022, there was a long rain delay on Day 2 that pushed the conclusion of the round to Friday morning, and Morgan had to sleep on having a half-dozen holes left. Well, she kind of slept; she occupied much of her evening with a 15-page paper that was due.
"I remember I had a decent round going before the rain delay, and when I went back [on Friday], I was hanging on for dear life," Morgan said. "All I could think about was playing that final round at Augusta, which is not what I needed to be thinking about. It was all that pressure building up and knowing I had five or six holes to give myself a chance to play that final day. That was definitely a different kind of pressure because I wanted to play so bad."
Morgan said she "dinked" it around Champions on Friday morning, and her three-over-par 75, combined with an opening 73, qualified her for Saturday, when she shot 76 and finished tied for 21st.
For the first time this year, fans will get a better feel for the drama at Champions Retreat because of two-hour broadcast windows (1:30 p.m.-3:30 p.m. ET) on Golf Channel for the first two days, and to hear some players tell it, Champions is just as exacting a test as Augusta National, if not more.
For the first-timers, the course is a complete mystery until their one and only practice round. It's not like they got to play it on a video game. For better or worse, the veterans know all about the trouble. Comparing it to Augusta, they say it is a demanding second-shot course with disastrous consequences awaiting marginally bad shots.
"I think it's kind of overlooked in the media how hard this golf course is," said Anna Davis, the 2022 ANWA champion. "… It's very difficult; it played super difficult last year, and so I think it definitely is just overlooked a little bit how it's mentally very challenging to play this golf course, knowing that you have to play well here just to get to play Augusta on the final day."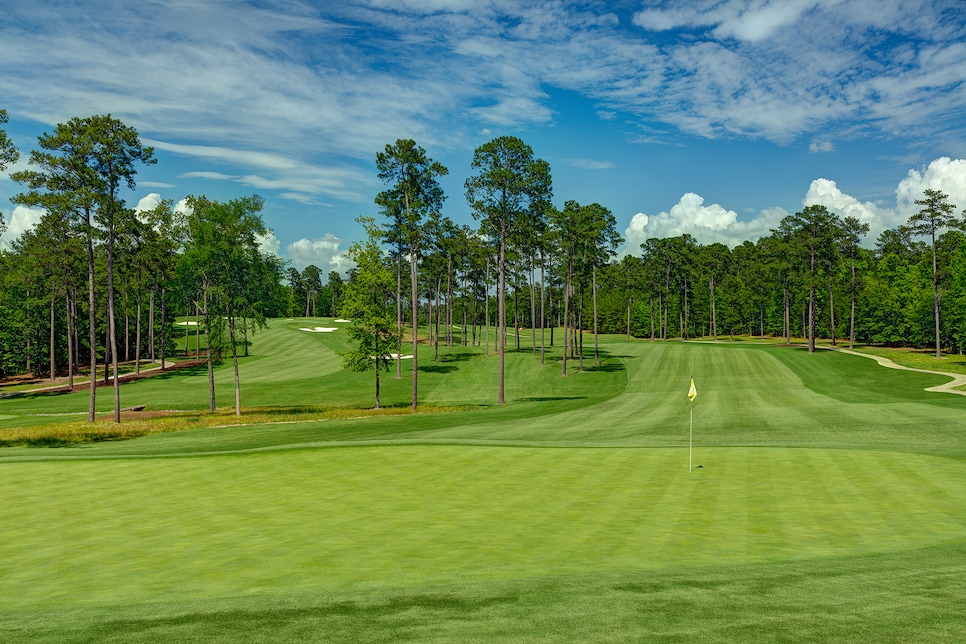 The par-4 13th hole at Champions Retreat evokes images of Augusta National.
Martin Miller
Davis, who shot 70 in her debut round at Champions last year to own a share of the lead, flirted at one point with missing the cut with a second-round 76. But the then-16-year-old shot three-under-par 69 in the final round at Augusta National to become the ANWA's youngest winner.
How much weight does Davis place on playing well at Champions? She was in the Augusta area last week and stayed and practiced several rounds at Champions Retreat. As for Augusta National? She hasn't stepped foot on the grounds since she won last April.
"This might be an unpopular opinion, but I've always thought Champions Retreat was a bigger, harder golf course," said Shepherd, who in 2019 set the tournament's front-nine Champions scoring mark of 32. "Mentally, those first two days, you have to block out Augusta National. You have to focus on preparing for Champions Retreat."
The statistical contrast between Champions and Augusta National is intriguing. In each of the first three editions of the ANWA, the home course of the Masters has played to a lower scoring average. Last year was the widest gap, with ANGC sporting a 74.3 average in the one round, while Champions Retreat averaged 75.36 in the first round and 75.97 in the second.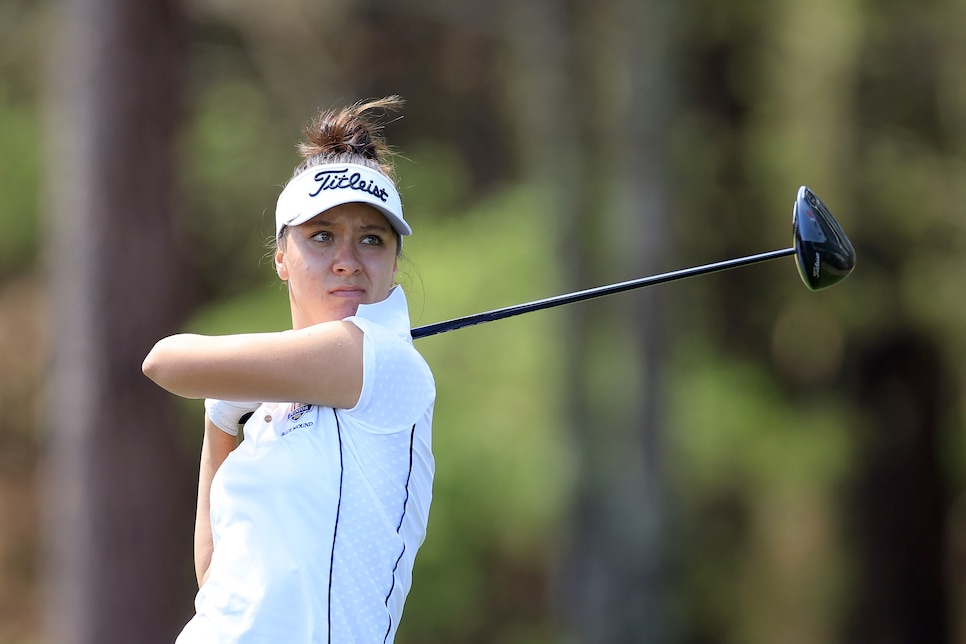 Anna Davis says she believes the difficulty of Champions Retreat is underrated.
David Cannon
Augusta National also has given up the lowest single-round score when 2019 champion Jennifer Kupcho closed with a 67. The best cards at Champions are the 68s recorded by Kupcho and Zoe Campos in the '19 first round. Last year's more challenging weather and slick greens made Champions so tough that no player shot in the 60s. Four did when they reached Augusta.
In a bit of a twist, among the combined 90 players who have played all three rounds in the ANWA, only one-third (30) either equaled their best score from Champions or bettered it at Augusta. So, as a whole, the fields have struggled more before Saturday.
But where the scoring at Augusta truly seems to matter is near the top of the board. Of the 32 players who have come away with top-10 finishes (including ties) in the three events, more than half (18) equaled or bettered their best Champions scores on Saturday. All three winners have achieved that, with Davis having the biggest turnaround, recording a seven-shot difference between her second and third rounds. Japan's Tsubasa Kajitani, the 2021 champion, had the most consistent scores at both venues, going 73-72-72.
The first edition certainly played the easiest. Kupcho won at 10 under par and six players finished in red figures. Kajitani (who beat Emilia Migliaccio in a playoff in 2021) and Davis in 2022 prevailed with one-under totals.
Was the lower-scoring first year an outlier, or can we expect more breakaways into red territory this time around? We'll see. What we do know, and Shepherd will always remind us, is that Champions Retreat stands as the ultimate gatekeeper to Augusta glory.