Rules
Defending ANWA champ Anna Davis involved in bizarre rules issue, hit with four-stroke penalty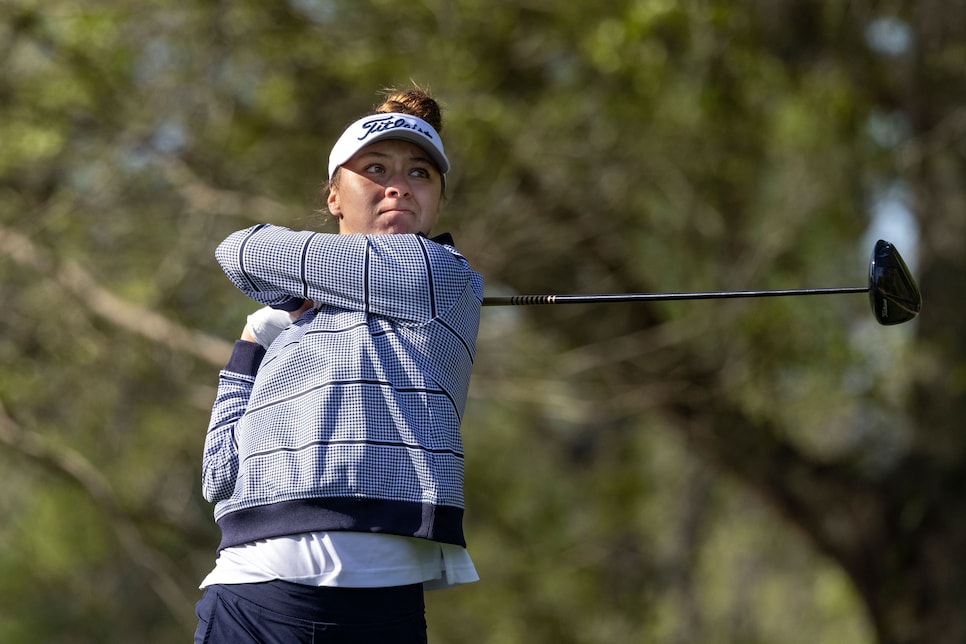 EVANS, Ga. — Anna Davis, who is defending her title this week at the Augusta National Women's Amateur, has said she is attempting to put more emphasis on the mental side of her game. Unfortunately for her, the 17-year-old had to muster all the positivity she could on Wednesday after a disastrous penalty situation that could cost her another shot at the title.
In the first round of the ANWA at Champions Retreat, Davis received a pair of two-stroke penalties after she lifted, cleaned and replaced her ball while it was in the rough after hitting her drive on the first hole and after hitting her second-shot approach to the green. According to the Model Local Rule E-3 distributed by the ANWA competition committee, the field of 72 players was only allowed to play preferred lies from the areas cut to the fairway height or less.
Davis was informed of the potential penalties on the fourth tee, but it wasn't until after her round when she entered the scoring area that she was officially assessed the four strokes, signing for a four-over-par 76. She was tied for 43rd place instead of being tied for 13th with a 72. The top-ranked amateur in the world, Rose Zhang, set the pace by shooting six-under-par 66—the lowest score on either course in the tournament's four-year history. The top 30 and ties after Thursday's second round at Champions will advance to the ANWA's final round on Saturday at Augusta National Golf Club.
"I talked about my mental game all week, and how important it is, and now it's being tested," Davis said. "After that happens, it's kind of all you can do is having a positive mindset and go from there."
Davis, who spoke to the media with composure, laughing a few times, said she knew the field was playing preferred lies, but was unaware of the Model Local Rule. She said that before starting the round she asked her group scorer if the preferred lies would be for all of the course. She said he told her yes. "I guess he didn't know," Davis said.
Of course, players are deemed ultimately responsible for knowing the specific rules for each tournament. There are junior events, for example, in which they do play preferred lies throughout the course, including rough. On this occasion, Davis simply missed the memo.
"It's all right. It happens," she said. "It's a learning experience."
Davis started her round on the first hole of Champions Retreat by missing the fairway to the right. She picked the ball up, had her caddie clean it, and then replaced it. Her approach shot then went into the rough, and she again lifted it and replaced it. She would eventually bogey the hole.
Technically speaking, Davis was not violating the Model Local Rule E-3 that the ANWA's competition committee put in place for the tournament and notified players about on Tuesday in a memo. Due to recent rains, the committee said that preferred lies would be allowed for areas cut to fairway height or less. "When a player's ball lies in a part of the general area cut to fairway height or less, the player may take free relief once using a preferred lie by placing the original ball or another ball in and playing it" from a relief point that is within one club length of the original spot and no nearer the hole.
In Davis' case, she was penalized for two things: moving her ball by picking it up, and then not replacing it properly. A statement on the ruling from James Hyler Jr., chairman of the ANWA competition committees, said, "During play of her first hole, Anna Davis lifted her ball and failed to replace it on its original spot on two separate occurrences. Under Rule 9.4, Ms. Davis has been penalized two strokes for each occurrence of playing from a wrong place. Her score on hole 1 will be increased from 5 to 9."
When informed of the possible penalties when she reached the fourth tee box, Davis admitted she was shaken, and she ended up with a double bogey on the fourth and a bogey on the fifth.
Of her mental state at that point, Davis said, "I was a little back and forth [mentally] on the fourth hole. I was trying to hit my shot, but obviously thinking about the four [penalty shots]."
Davis regrouped impressively by hitting approach shots inside six feet on both the seventh and eighth holes to make birdie. She also birdied the 13th and 14th and chipped to six feet on the par-5 18th, but missed the birdie putt.
"Aside from hole 1, I played pretty good today,' Davis said. "I hit a lot of shots close. The putter wasn't really rolling, but I hit good shots."
If there is any consolation for Davis, she won last year despite shooting 76 in the second round. She opened with a 70 at Champions Retreat and won by shooting three-under-par 69 on Saturday at Augusta.