ANWA 2023
What pressure? No. 1 amateur Rose Zhang takes ANWA lead by shooting 66 with Condoleezza Rice in her gallery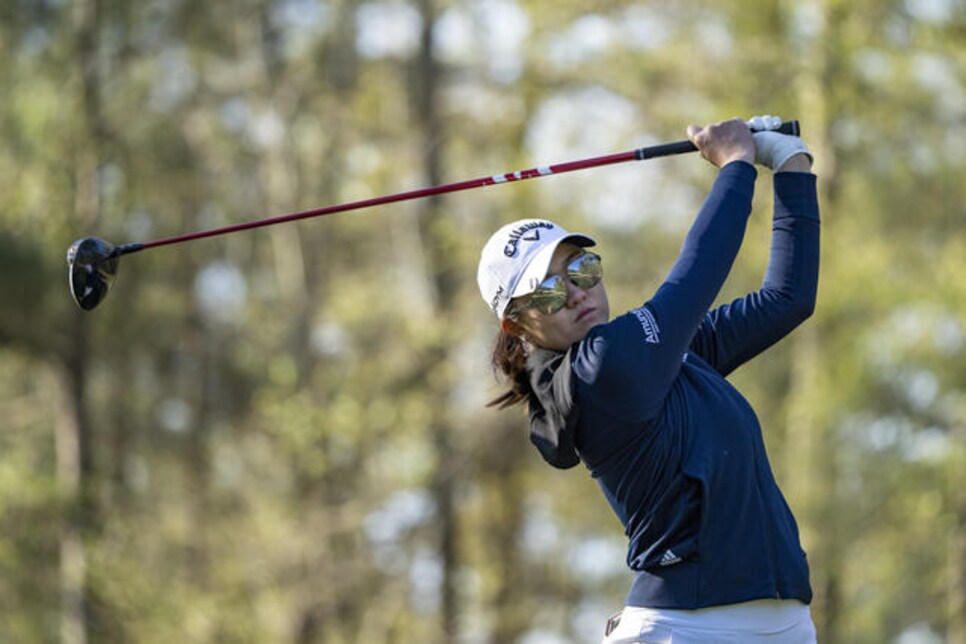 Rose Zhang hits her opening tee shot in the first round of the 2023 ANWA.
EVANS, Ga. — The pressure seems to build and build for Rose Zhang. She has been the No. 1-ranked women's amateur golfer for more than two and a half years, and following a freshman season at Stanford in which she won the NCAA individual title while leading the Cardinal to the team win, the native Californian has won five of her six starts this season.
Nevertheless, it's been said this week that the 19-year-old faces more scrutiny than ever because she's competing in her fourth Augusta National Women's Amateur and (gasp) hasn't lifted the trophy yet.
Now add this weight to the anvil: In Wednesday's opening round of the ANWA at Champions Retreat, Zhang had in her gallery one of the most notable women in golf who has never played in college or the pros. Condoleezza Rice, the former Secretary of State in the George W. Bush administration, is a Stanford alum who in 2012 was one of two women to become the first female members at Augusta National Golf Club.
A nervy prospect? For most, probably, but not for Zhang, who made six birdies and no bogeys in a round of six-under-par 66 that is the lowest score on either Champions Retreat or Augusta National in the tournament's four-year history. The previous lows at Champions were 68s, shot in the first round of 2019 by eventual winner Jennifer Kupcho and Zoe Campos.
Zhang held a one-shot lead over Sweden's Andrea Lignell, 22, a senior at the University of Mississippi whose 67 also bested the previous ANWA low. Jenny Bae, 21, a fifth-year player at Georgia, was alone in third with a 69.
If anything, Zhang said she was lifted up by Rice's presence.
"It's so inspirational," she said. "I think that, especially with me being at Stanford, I learned so much from so many people. Dr. Rice is especially one of them.
"With her being our mentors on and off the golf course, I think that she is absolutely amazing.For her to come out and just support women's golf, support us, I'm really thankful for someone like that who I can look up to and also support me."
All of the 72 players in the field attended a dinner on Tuesday night at Augusta National that included many members of the club. Among them, of course, was Rice, who is the current director of the Hoover Institution at Stanford.
"I think just her presence in general is already rewarding on its own," Zhang said. "She doesn't need to say much. You can just see her, see her presence, and kind of know what you need to do.
"No matter what, at the end of the day, when you hold your head up high and continue to make sure you're playing for more than just yourself, you're playing for everyone around you. So, I would say that's pretty simple."
On a sunny but cool day, and facing a golf course that was softened by recent rain, Zhang didn't know what to expect for the first round. She was further unsettled by her practice round on Tuesday because she developed a slice with her drives. "I probably would have shot 80 yesterday. I wish I was kidding," she said.
Like few others, however, Zhang has the ability to flip the switch on her game when the competition is on.
"When it comes to a tournament mindset, I'm able to bring the inner grind out of myself," she said. "I think that just overall I have faith in my game and my preparation even if I'm not hitting it the greatest or putting it the greatest."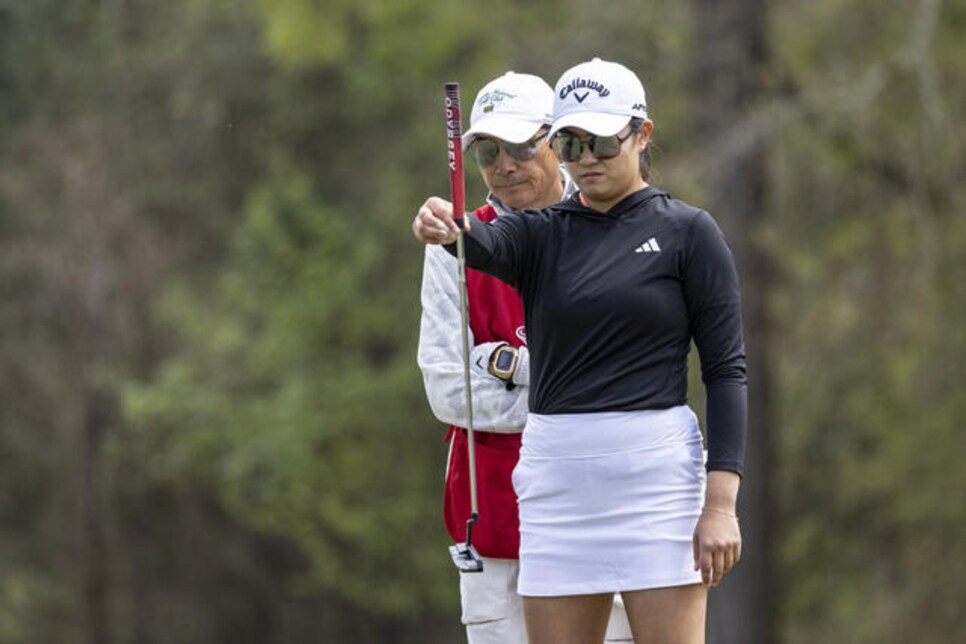 Rose Zhang lines up a putt with her dad, Haibin, in the first round of the ANWA.
Last year for the ANWA, Zhang was dealing with the aftermath of a broken toe. She then opened with a 76 at Champions Retreat and opted away from her local caddie, replacing him for the second round with her dad, Haibin; Team Zhang ended up tying for 12th. Rose's father is looping again this week for at least the first two rounds—though he'll probably be benched if she's in contention on Saturday. In 2021, Zhang's trainer was on her bag when she contended in the final round, but she faltered by making a triple bogey on the par-5 13th hole and tied for third.
"He's definitely mellowed out from the last couple years," Zhang said of her father. "He's still very much a very energy high kind of person, and I think that matches really well with my nonchalant self when I'm on the golf course."
She did recount a funny situation on the 14th hole, where she drained what she stepped off as a 51-foot putt for birdie.
"My dad was just sweeping like the little pine branches off of my line," Zhang said. "He was doing it like a maniac, and I was low key kind of telling him to calm down in terms of trying to help me get the little stuff out of the way.
"But it turned out for the best, and I have him to thank for that."