Chevron Championship
No practice, no problem: College star's wild two days include a conference title and a major start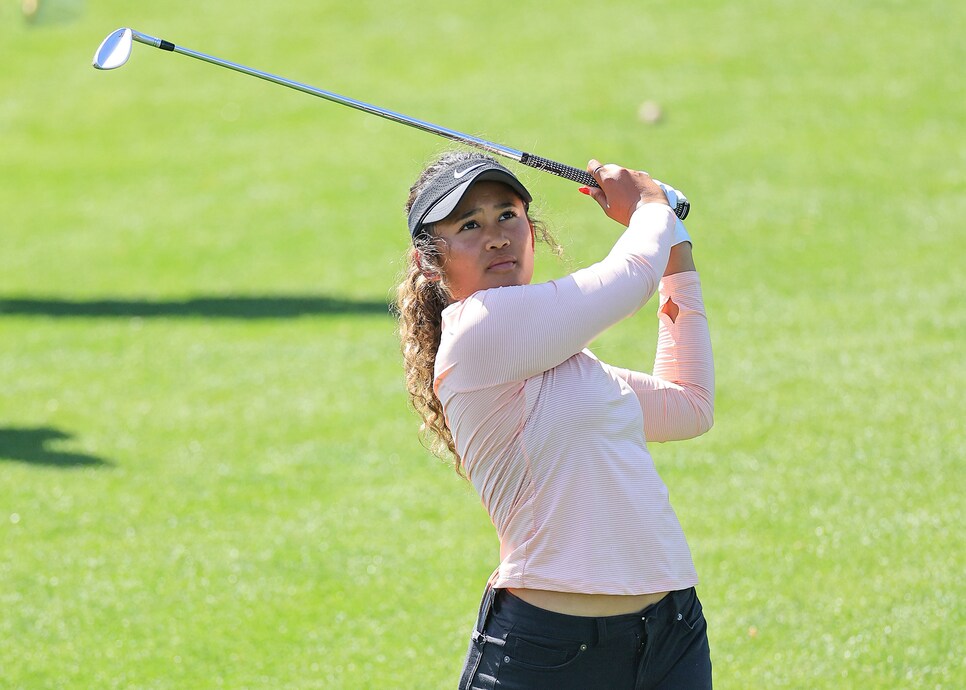 THE WOODLANDS, Texas — What would celebrating a college conference title look like to you? Some laughs and hugs at the course, a nice team dinner with friends and family, and a little rest before flying back home and a break before preparing for the NCAA postseason?
For USC standout sophomore Amari Avery, the celebration looked a little different after she helped lead the Trojans to a Pac-12 team title on Wednesday at Papago Golf Club in Phoenix. While quickly soaking in the moment, the 19-year-old also was busy making sure she had everything in order to catch a flight to her next tournament, the LPGA's Chevron Championship that was starting the next day.
Indeed, instead of returning to Los Angeles, the Riverside, Calif., native followed her T-3 finish with a 7 p.m. flight to Houston, arriving at her hotel after midnight. Understandably, Avery arrived bleary-eyed at Carlton Woods ahead of the second major of her career.
"She left her visor at home [Thursday], so she sent her dad on like this trek to go buy a visor from the pro shop," said USC assistant coach Tiffany Joh, who played on the LPGA for 11 years. "So, I think it's safe to say that she was a little out of sorts before the round."
The final round of the Pac-12s finished at 1 p.m. PST Wednesday. Following the win, the Trojans ate lunch and took photos before flying out. Avery and Zoe Campos, a UCLA sophomore who finished T-7 at the conference championship, quickly turned the page to get to Houston. Fortunately, the tour gave them both 1:54 P.M. tee times on Thursday, the next to last grouping of the first round, granting them additional rest. That said, neither player got in a practice round at Carlton Woods.
"Honestly, I wanted to make the cut and I felt like I could just with where my game is at," Avery said. "But I've been wanting to celebrate with my team back home. We just won Pac-12s, so I'm like, another tournament, but this is the Chevron, this is a major championship. I think anyone would kill to be in this spot, so I just felt like I wanted to take this opportunity and do the best I could."
Avery wasn't playing the course completely blind when she teed it up Thursday. The winds picked up at Papago Golf Club Wednesday, firming up the greens and emulating Thursday's conditions more closely. Avery also had her father, Andre Avery, on the bag. He may have seen more of the course than most loopers ahead of this week. He was in The Woodlands last week as Avery's sister, Alona, played the Mack Champ Invitational at Carlton Woods. Joh, her coach, also followed and supported her during the round.
Still, Avery had to come through and execute.
"It doesn't matter how much your caddie has walked the course, like they can't hit the putts for you," Joh said.
Avery posted a one-over 73, sitting inside the cutline after finishing her first round close to 8 p.m. Thursday. She began the round four over through her opening five holes, but turned things around with four birdies over her last 13 holes to close finish in the gloaming. Avery opens Friday with a major opportunity to prove that her game fits on the LPGA.
"I think she got a little bit of confidence being able to see how her game stacked up to some of the other like players who do this for a living right now and being like, all right, like I can kind of hang," Joh said. "So I think yesterday was actually a really big confidence builder."
Avery did not even know she was in the field until about two weeks ago. "It was kind of ironic," she said. "I was with my advisor kind of going over my next couple weeks, and I had Chevron in my semester calendar and then I was like, oh, probably not getting invited so you can take that off. That same night I got the invite, and I was like, well, you can put it back on, cancel my tutor because I won't be there."
MORE CHEVRON CHAMPIONSHIP COVERAGE