bad beats
Alcohol and the under: The story behind Brooks Koepka's traffic-cone heckling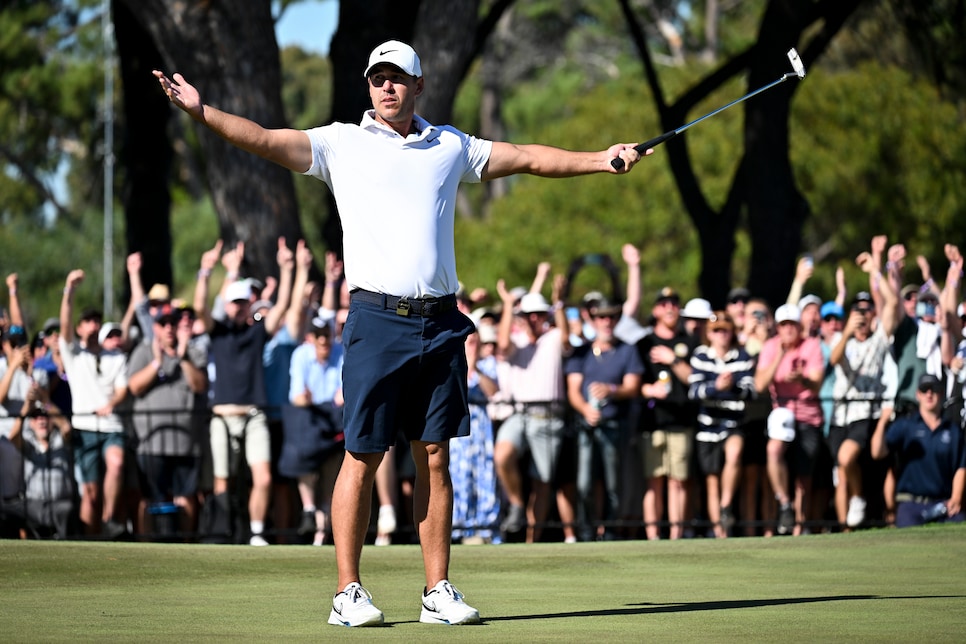 There are quite a few people betting on Brooks Koepka at the PGA Championship this week. Coming off his strong Masters showing, there's undoubtedly a good deal of money being placed on the LIV golfer, and many will (metaphorically) live and die by his performance at Oak Hill.
Brooks Koepka understands this, as a part-time degenerate himself. In late March, a clip of Koepka mocking Aaron Ekblad of the Florida Panthers went viral and it makes so much sense to know that a lost bet was behind the golfer's vitriol.
BK shouted "you're a f—king traffic cone" at the Panthers defenseman while holding up a similar item, and many, us included, labeled it one of LIV Golf's best highlights yet.
While on "Pardon My Take" this week, Koepka finally told the truth about what fueled the incident.
"Now that the Florida Panthers are in the finals, we gotta ask you about the traffic cone," Big Cat inquired. Koepka replied that it was a bad bet behind his fury. Oh, and lots of alcohol.
"We tailgated and I can't remember for the life of me who they were playing, but I had the team total under of the other team," Koepka said. "And I can't remember what it was, but Ekblad gave up a bad pass and the team total over just happened to hit after that goal was scored. Lot of alcohol. Lot of anger. Yeah, it wasn't good. I let him have it."
To make matters worse, Koepka wasn't even holding up a traffic cone …
"I did not bring it in", he continued. "It was just there, it was the first thing I saw. I've been told it's now a pylon so I was incorrect in my verbiage."
We've all been there. Well, maybe not in a luxury box, but certainly infuriated while losing a bet. Did Koepka at least make some money on the game? Umm, no.
"I basically lost every bet that game," he said. "It was a disaster."