Food For Thought
Adam Scott has a radical idea for how PGA Tour prize money should be paid out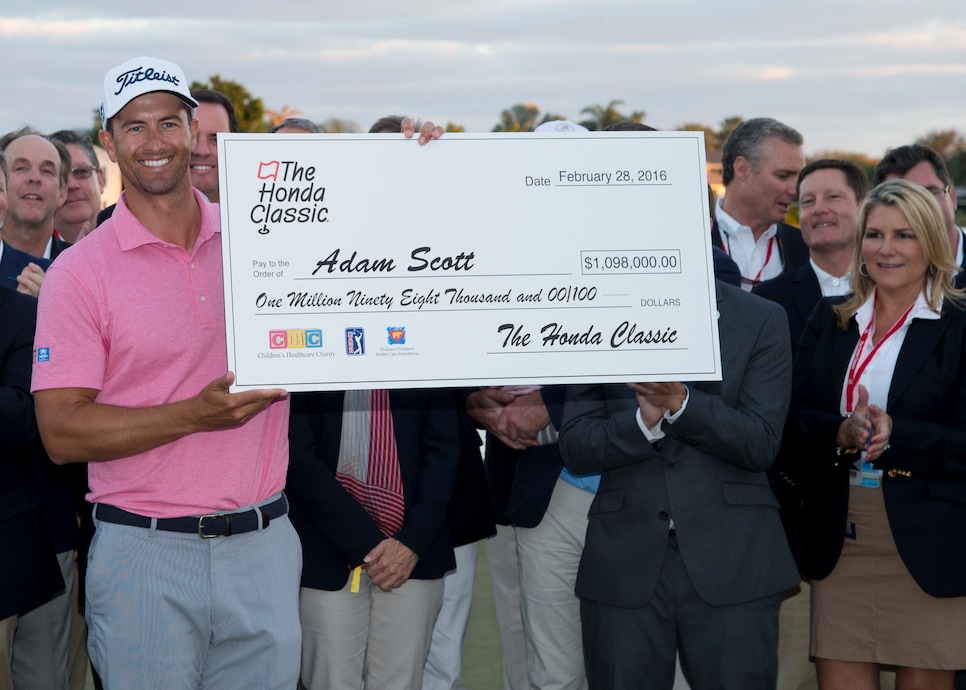 Jon Rahm led the first wave of golfers to be rewarded under the PGA Tour's new designated-event structure by winning the Sentry Tournament of Champions and pocketing $2.7 million—or the same amount Scottie Scheffler earned for winning last year's Masters. But should the Spaniard have received even more of the increased prize money at Kapalua? Adam Scott, for one, thinks so.
But considering just how hard it is to win in pro golf these days with such deep competition (just ask Collin Morikawa!), Scott wouldn't be opposed to increasing that 18-percent figure. By a LOT.
"It's a fine question to put forward. I mean, potentially you could have weighted the win and not put purses up, you know what I mean? You could give them 40 percent," Scott said. "Leave the purse the same size, but give the winner 40 percent of the total purse and cut everybody else and look for—reward excellence in a week."
FORTY percent? That would have taken Rahm's $2.7 million payout from the $15 million purse to $6 million. Then again, Scott is also saying that just paying out more to the winner could have been an alternative to increasing the purses. Of course, the tour also felt the need to raise purses in part to combat players leaving for LIV Golf. And, in turn, the intention wasn't just to reward winners but reward all players competing on the PGA Tour with additional financial incentives.
Indeed, Scott realizes that going too far in this direction could leave other players unhappy.
Yes, Adam, we do. We're guessing a lot of people—heck, there were a record 126 golfers earning more than $1 million on tour last year—are happy with the payment structure.
"I think what all of this is showing is like the traditional structures that we've had in pro golf, it's probably time for a change," Scott, a 14-time PGA Tour winner, added. "And there has to be different ways to look at it."
Fair enough. There have been some changes to traditional payment structures at both the PGA Tour and LPGA Tour season finales. Rory McIlroy received 24 percent of the $75 million up for grabs at the 2022 Tour Championship, and Lydia Ko took home roughly 30 percent of the $7 million pot a last year's CME Group Tour Championship.
Later on Tuesday, Jordan Spieth backed up Scott's thoughts about possibly rewarding winning more. Well, to an extent.
"If that percentage were to go up a couple points, I wouldn't be opposed to that at all," Spieth said. "If it aligned with [the] World Ranking system that got adjusted to a strokes-gained system, where somehow things got aligned in what could be changed going forward on the World Ranking, then maybe that would be the best way to do it."
Sounds like something to take to the PGA Tour Player Advisory Council. In the meantime, winners are going to have to "settle" for 18 percent.