Good vibrations
Adam Scott says his water time with surf legend Kelly Slater always becomes an 'enlightening' experience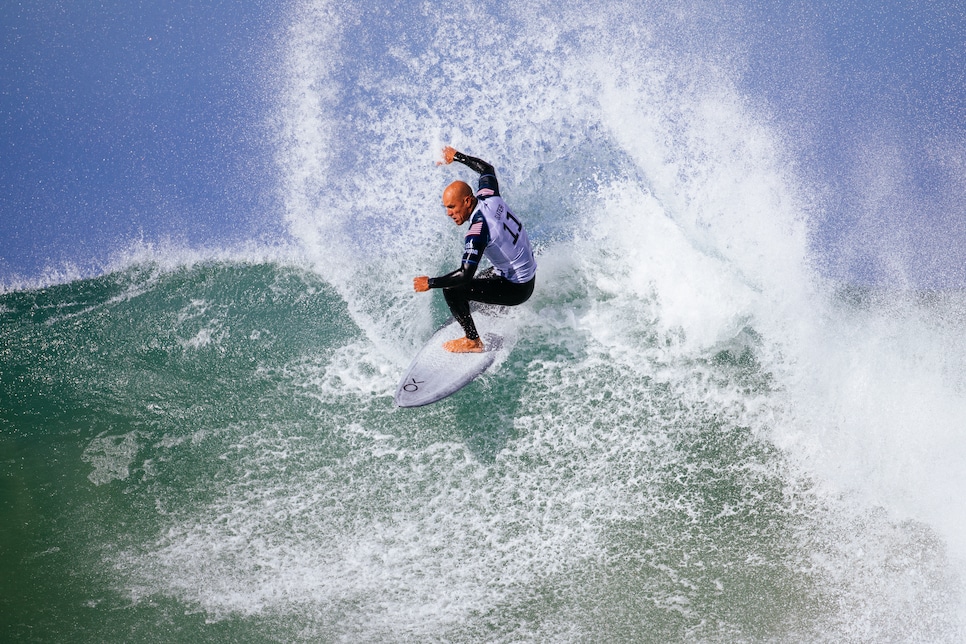 Eleven-time WSL champion Kelly Slater surfs at the 2022 Corona Open J-Bay.
Beatriz Ryder
Over the many years that Adam Scott has called Kelly Slater a friend, he's always walked away from time spent with the surfing icon feeling inspired. Often, it's had positive effects on his golf game.
On Monday at Oahu's North Shore, ahead of this week's Sony Open in Honolulu, the 14-time PGA Tour winner Scott caught up with Slater, whose 11 World Surfing League titles have established him as the greatest in the sport's history. It's a sentimental place in surfing and where Slater has a base. The pair didn't surf—which they have together on plenty of occasions since meeting through mutual friends—but they did go swimming and Scott said even that was enriching. Although, that's not why he hangs out with the 50-year-old Slater.
"I don't go up there just to have deep and meaningful [conversations] and try and tap into him, but when you're around a guy like that you always take something out of the encounter," Scott said Tuesday at Waiʻalae Country Club. "Even yesterday, being up there on the North Shore, just going out for a swim in the ocean with him was ... it sounds too spiritual, but it was a bit of an enlightening experience. Being able to let go a little bit. That's a feeling I get from Kelly a lot, like [he says], 'Adam, just let go a little bit.'"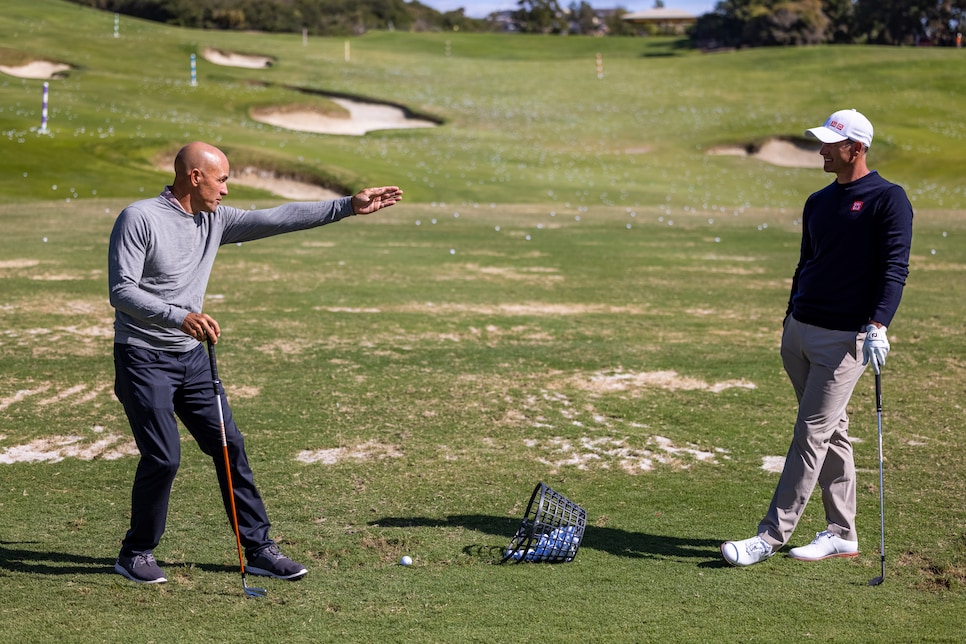 Adam Scott is impressed with how much confidence surf star Kelly Slater shows on the golf course. (Photo by Fairgame Golf)
Slater has played golf since the late 1990s and is a low single-digit handicap and once played as scratch. In 2018, he played the Pebble Beach Pro-Am in the same group as Scott. "My best years on [the WSL] tour were the first two years I started playing golf," Slater said recently on Fairgame Golf, which Scott co-founded.
"[Slater and I] were even talking about golf yesterday and one of the amazing things about Kelly is he even communicates on a golf level with me like we're dead equals," Scott said with a laugh. "I really like that because he knows how to operate at such a high level in his own field that when he plays golf, he expects kind of the same. I do appreciate listening to anything he has to say and to get to go out and have a have a swim and be with one of the greatest [athletes] There is fun for me."
Coming off a 29th-place finish in last week's Sentry Tournament of Champions—Scott's first start in the 2022-23 season—the 42-year-old Australian is ranked 37th in the world and ended last year on a high note with T-5 finishes in two FedEx Cup Playoffs events—the FedEx St. Jude and BMW Championship. Scott is one of only two golfers (Matt Kuchar being the other) who have competed in all 16 playoffs, and he's reached the Tour Championship nine times.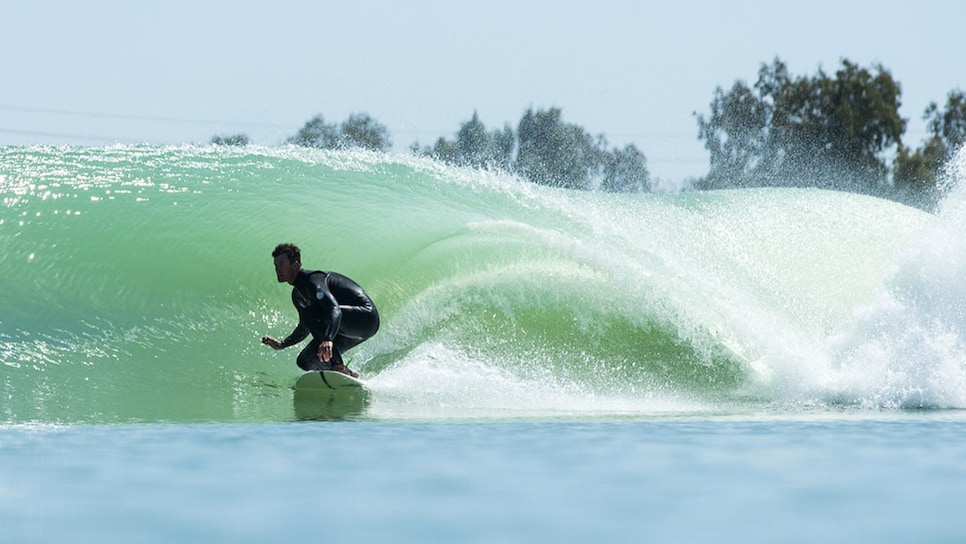 Adam Scott surfed at Kelly's Slater's Surf Ranch in Lemoore, Calif., in 2019. (Photo courtesy of World Surfing League)
As Scott eyes earning a second career major victory to go with his 2013 Masters triumph, he knows that mentality will be key. It's been 10 years since he became the first Australian to don Augusta's green jacket, but he'll need to forget the close calls and scar tissue if he wants to become a multiple major champion. A former World No. 1, Scott has had nine top-10s at the majors since the 2013 Masters, including two third-place finishes. The first was at the 2013 Open Championship and the second came in the 2018 PGA Championship, when Scott played in the final group with eventual champion Brooks Koepka.
"I think that's one of the general [takeaways]," Scott said of time with Slater. "I have other friends who surf [professionally] too. If you stereotype a surfy attitude—which, I don't know [if] Kelly fits into that or not—they're pretty go-with-the-flow type people. That's certainly something that came to mind yesterday with him and I think at this point in my career, it's a good thing to remember. I've done a lot of work over the years, and I know instinctively how to swing the club and chip and putt. But at this point I have to just let go and do it and not be so controlled."
Scott also said Slater's longevity was perhaps the most admirable quality, given the golfer is attempting to end a three-year win drought on the PGA Tour going back to the 2020 Genesis Invitational at Riviera. Men's professional golf is indeed becoming a younger game each year (all four major champions in 2022 were under 30), but it's nothing like the physically demanding sport of surfing. Scott noted that Slater's victory at the 2022 Pipeline Masters, just days short of his 50th birthday, and which ended a six-year drought on the WSL Tour, made it seem possible for Scott to win a second major in his 40s.
"Physically, I'm in a good in a good space," Scott said. "Kelly has worked hard on all those things physically. He's incredible. He's 50 years old and winning the [2022] Pipe Masters. He's a great example of longevity at the highest level. You never know whether you're going to get little pearls of wisdom here or there when you're hanging around people like Kelly Slater."