Masters
Adam Scott's scouting trip to Augusta National delivers an unexpected surprise: a hole-in-one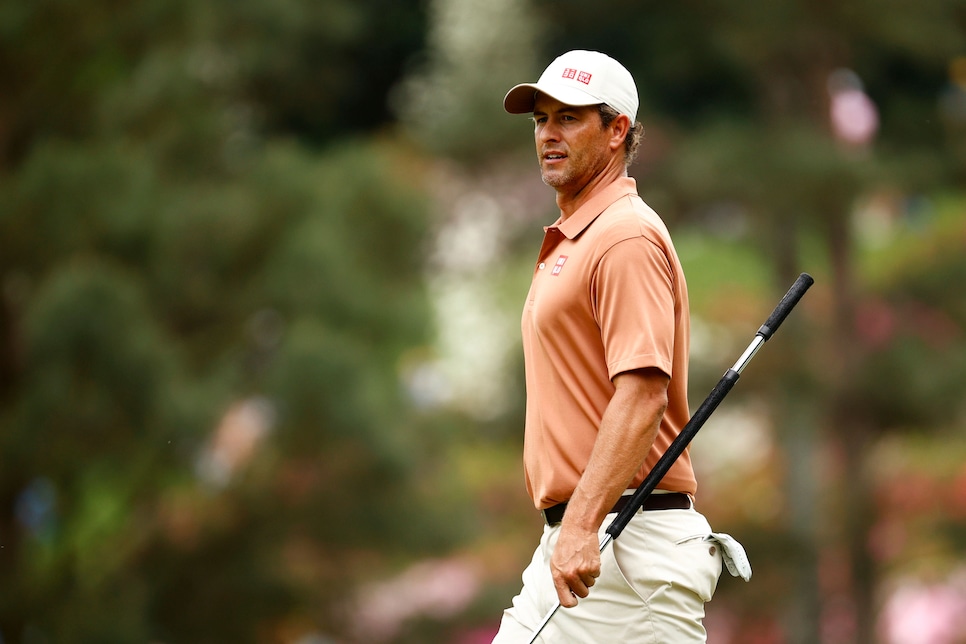 When Adam Scott travelled to Augusta National earlier this week for an early scouting trip ahead of the 2023 Masters, investigating the new, significantly longer par-5 13th was a top priority. But another hole wound up grabbing the Australian's attention—the par-3 sixth. Turns out that Scott made a hole-in-one there during a practice round, which he casually slipped into an interview ahead celebrating the 10-year anniversary of his 2013 Masters victory.
"That was fun," Scott said. "I guess good things do happen to past champions."
The former World No. 1 Scott was playing with an Augusta National member and Patrick Cantlay, when his tee shot at the downhill par 3 was heading straight for the flag. The Augusta member called the ace while the ball was still in the air.
"I was in wet weather gear, because it had been raining heavily," Scott said. "I had about 183 yards and I hit a 7-iron. I hit it nicely. The member we were playing with said, after I hit it, 'That'll land past the hole and spin back in.' And it did. The greens were a little soft because of the rain, so I flew the ball about five yards past, it came back down the hill into the hole on the left side of six. It was a front left pin."
It was Scott's second ace at Augusta National, having bagged one at the 16th during the 2012 Masters, when he tied for eighth a year before his breakthrough major triumph. A hole in one during the Masters is rewarded with crystal bowl by Augusta National. But when it's a standard practice round, there isn't really a prize.
"You get a high five," Scott said with a laugh. "I won the hole, which was good. Patrick made birdie, so that felt good to get that hole from him."
But back to the 13th. The famous par 5 at Amen Corner has been lengthened by 35 yards and will now max out at 545 yards this year's Masters. Scott liked the changes, especially that it will demand more long irons from players who want to go from the green in two.
"You're no longer really able to take on those trees on the left from the tee, so I think a decision has been taken away from us with the tee shot, which makes it easier for us," Scott said. "If you hit the fairway, it's still a tough shot of that side slope. Then you have to decide if you're going for it in two. Shots from outside 200 are generally one of my strengths; I like hitting long irons. That's been one of my strengths my whole career.
"I think it looks great. I think it's going to play well. It'll be good to see the guys challenged with a 5-wood, 3-wood or even a long iron. I think that's going to be exciting."
MORE GOLF DIGEST MASTERS PREVIEW STORIES: