News
A career first for Sergio, another rules situation for Lexi and fan injured after tour player's club slam: What you missed this weekend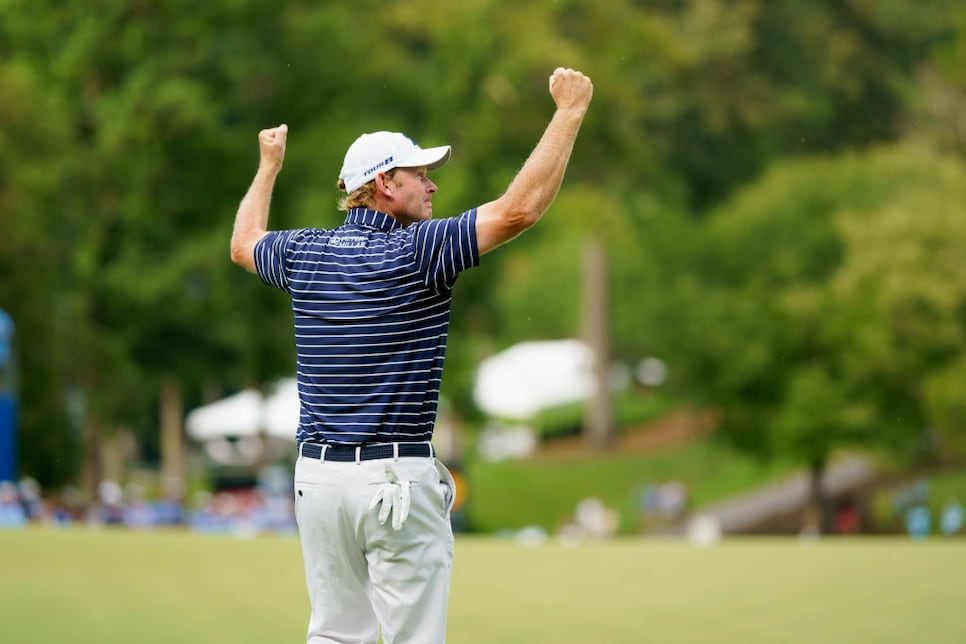 Welcome to the Dew Sweeper, your one-stop shop to catch up on the weekend action from the golf world. From the professional tours, trending news, social media headlines and upcoming events, here's every golf-related thing you need to know for the morning of Aug. 20.
Sneds returns to winner's circle
This time last year Brandt Snedeker announced his bruised ribs, an ailment that caused him to miss most of the summer, would sideline him for the FedEx Cup Playoffs. Now the 38-year-old enters the 2018 postseason on a heater.
"I guess I'm turning into Bubba Watson, wanting to cry every two seconds," Snedeker said afterwards. "To do it here, to shoot 59 on Thursday, to be in the lead all week, to deal with that pressure every night, to be able to step up to the plate today and shoot 65 when I had to means the world to me."
Despite the Thursday fireworks, the tournament was still in doubt late on Sunday, as C.T. Pan and Webb Simpson made charges at Sedgefield Country Club in Greensboro, N.C. But Simpson, who shot a final-round 62, bogeyed the 18th hole while Pan made double, giving Sneds a two-shot cushion when he reached the final tee. Not that Snedeker needed it, dropping a 20-foot birdie for a three-shot win.
The performance jumped Snedeker from 80th to 30th in the FedEx Cup standings. Following an up-and-down campaign in his return from the aforementioned injury, he has now logged four top-10 finishes in his last eight outings. Snedeker will need a lights-out display in the playoffs to make a viable case for Ryder Cup consideration, but boasting a 3-0 record during the Americans' rout at Hazeltine, a streaking Snedeker is not what Team Europe wants as Paris draws near.
Speaking of the playoffs …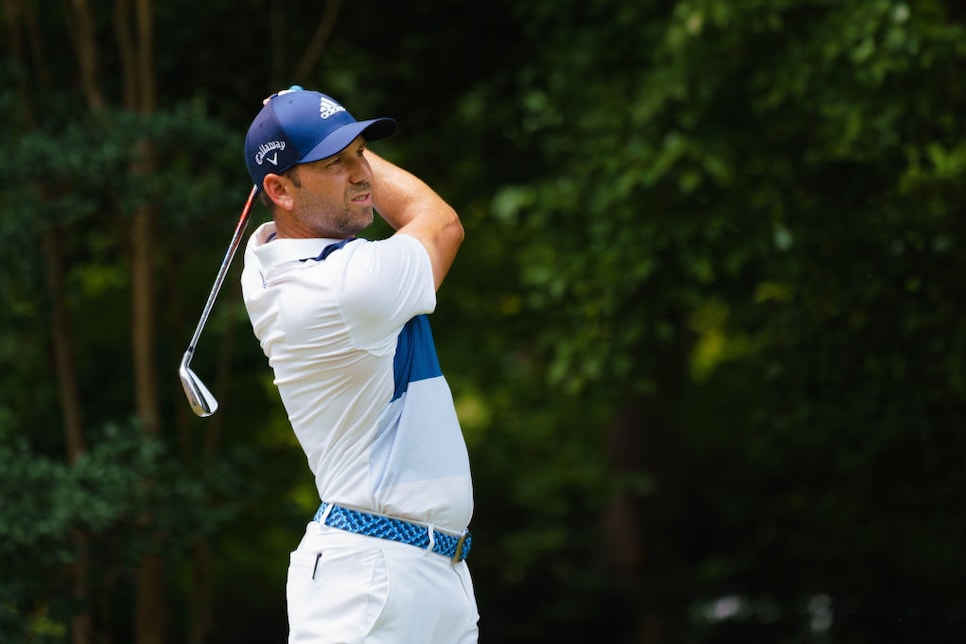 A career first for Sergio Garcia
It's been a season to forget for Sergio Garcia. A season, at least on the PGA Tour, that has come to a close.
Garcia, who entered the Wyndham ranked 131st in the FEC standings, made a spirited run at Sedgefield. His 12-under par total through 54 holes was good enough for eighth place, a standing projected to move him to the Northern Trust. Alas, he went sideways on Sunday, his so-so 70 trickling him back to 24th, leaving the Spaniard on the outside looking in for the tour's postseason for the first time in his career.
Garcia was one of 13 players to make the playoffs since the cup's inception in 2007. (Two other stalwarts, Luke Donald and Bill Haas, also failed to keep their streaks alive. The remaining 10 are Snedeker, Charley Hoffman, Charles Howell III, Zach Johnson, Matt Kuchar, Phil Mickelson, Ryan Moore, Justin Rose, Adam Scott and Bubba Watson.) The blow carries extra significance, as it subtracts opportunities for Garcia to make a last-minute bid for a Ryder Cup captain's pick. He has missed eight cuts in his last 11 tour appearances (including the weekend at every major), and his lone top 10 since March is a T-8 at the Open de France.
Garcia has made eight Ryder Cup appearances for the Europeans, and owns a 19-11-7 career record at the biennial event. But the European team already has its share of experience in the projected automatic picks, and with backfire of veteran selections Lee Westwood and Martin Kaymer in 2016 still fresh, don't be surprised if Garcia is watching the proceedings at Le Golf National from the stands.
Hovland cruises at Pebble
Technically the U.S. Amateur final went 31 holes. In reality, it was over on the fourth. That was when Viktor Hovland heaved his drive right at Pebble Beach, down the cliffs and into ice plant. Hovland scaled down into the hazard and proceeded to do this:
"I had a perfect lie," Hovland later said. "The contact wasn't the big issue. It was getting the right line and right distance. That was just a hit-and-hope moment. It ended up pretty sweet.''
Hovland took the lead with a birdie, built his lead to 5 up after 11 and never gave UCLA's Devon Bling a chance, becoming the first Norwegian to win the U.S. Amateur.
"I've had a lot of tournaments before where I hit the ball really well, but the few times I missed a green or hit a bad shot I haven't been able to scramble or make putts," Hovland said. "This week it kind of all came together, which is really cool."
Hovland, who plays at Oklahoma State and had his coach, Alan Bratton, on the bag, trailed after only one hole in six rounds of match play at Pebble. He needed just 104 holes for his victory, tying Danny Lee's 2008 championship for fewest holes played in match play, winning 43 holes during his victory run.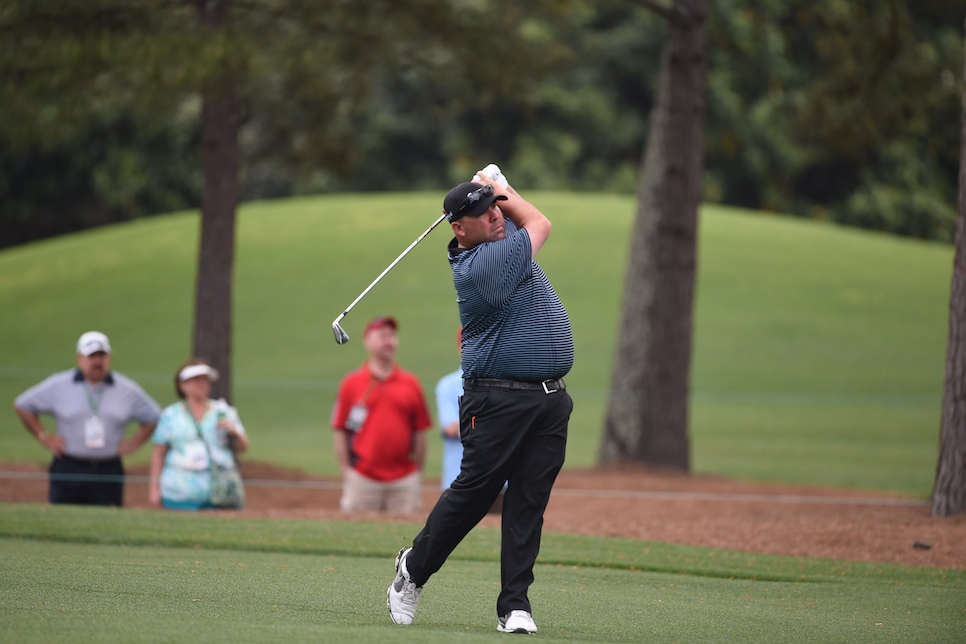 Tour player accidentally injures fan
Former PGA Tour player Kevin Stadler accidentally injured a fan at the WinCo Foods Portland Open on Friday by breaking his club. Shaun Micheel wrote about the incident at the Web.com Tour event Facebook Friday night. Micheel refused to name Stadler, referring to him simply as his playing partner.
"One of my playing partners played a poor shot with a 7-iron on the par-3 15th hole this morning," Micheel wrote. "In a fit of anger he slammed his club against the ground and the side of his foot which caused the club to break about 6" from the bottom. I had my head down but the clubhead flew behind me and hit a spectator to my right. It's been a while since I've seen so much blood. We stayed with him for about 15 minutes before the EMT's arrived.
"The last I heard was that he had a possible skull fracture but that he was doing ok otherwise. The player was absolutely shattered and we did our best to keep his spirits up. This was not done on purpose and we were astounded at the way the club was directed but it shows you just how dangerous it is to throw or break clubs."
ESPN's Bob Harig followed up on the story, which revealed that Stadler was the player in question. According to Harig, a rules official at Pumpkin Ridge Golf Club, host of the Portland Open, said the spectator was taken to a local hospital and received six stitches.
Stadler, son of former Masters winner Craig Stadler, has made more than 260 starts on the PGA Tour, highlighted by winning the 2014 Waste Management Phoenix Open. Stadler has not made an official appearance, however, since 2015, as the 38-year-old has battled a broken hand. The Portland tournament—he ultimately missed the cut—was just his third outing of the season.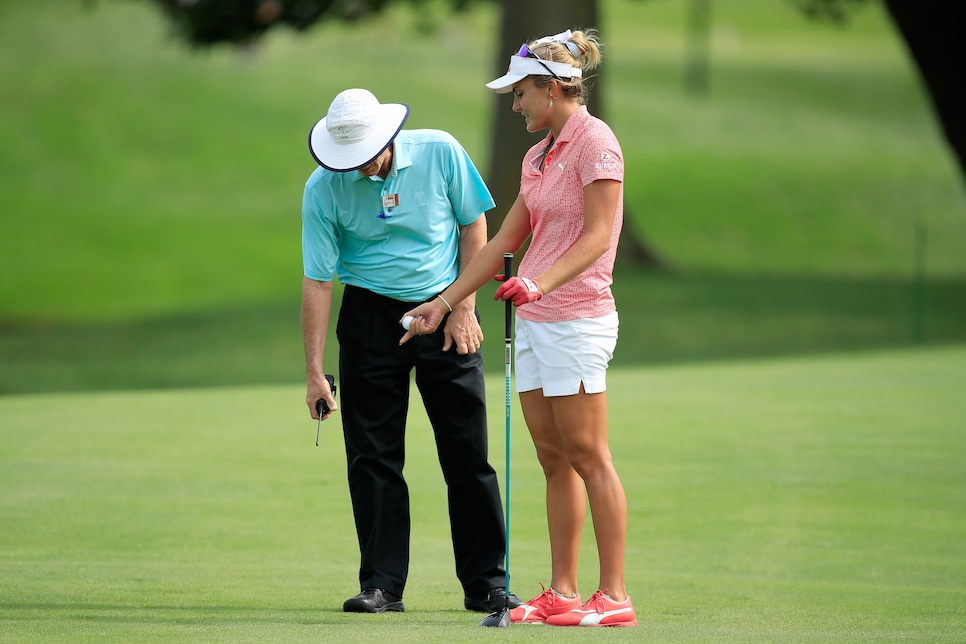 Another rules situation for Lexi
Lexi Thompson returned from her brief sabbatical from golf this weekend. Unfortunately for the American star, she found herself in another rules snafu.
Thompson, who admitted to still battling the effects of last year's four-shot penalty at the ANA Inspiration earlier in the week, leaked her drive at the par-5 10th hole at Brickyard Crossing into the adjacent sixth hole on Saturday. As local rules permitted preferred lies in soggy conditions, Thompson picked up her ball to clean and replace it. One problem: the rules only allow this if the ball is in the fairway of the hole you're playing.
Seeing what was happening, an official stepped in to explain to Thompson the situation. She was given a one-stroke penalty, which could have been two strokes had the official not intervened (the second for playing the ball from a wrong spot). Thompson managed to save par, and finished with a bogey-free 64 to get into contention.
Though she could not mount a Sunday surge, ultimately coming in T-12, it was a positive showing for Thompson in return, and instilled hope that a revival is around the corner.