News
Lexi Thompson involved in another rules issue, but still shoots 64 to stay in contention in her return to play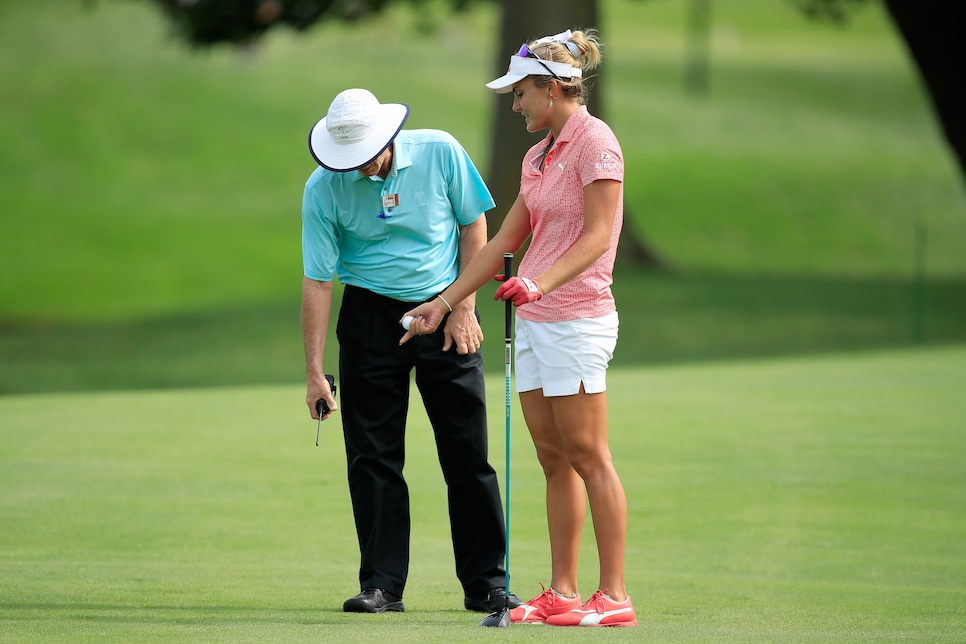 Until Saturday at the Indy Women in Tech Championship, Lexi Thompson's return to the LPGA after a month-long self-imposed break to mentally re-charge had been seemingly uneventful. The tournament's defending champion had shot a pair of 68s to jump up the leader board again at Brickyard Crossing Golf Club in Indianapolis.
But during the third round, Thompson found herself in the midst of the last thing the 23-year-old wanted: A discussion with an official about a potential rules infraction.
Thompson had teed off on the par-5 10th hole, her drive leaking right into the adjacent sixth fairway. With the round being played under local rules for preferred lies after rains in the area had left the course water logged, Thompson picked up her ball and was going through the procedures to clean and replace it. However, the rule specified that it applies only if the ball is in the fairway of the hole you're playing.
Seeing what was transpiring, an official stepped in to explain to Thompson the situation. Eventually, she was given a one-stroke penalty, which could have been two strokes had the official not stepped in (the second for playing the ball from a wrong spot).
Of course, Thompson famously was involved in a rules controversy at the 2017 ANA Inspiration, where she was ultimately assessed a four-stroke penalty that cost her the tournament title. In a press conference this week, Thompson talked about the need to step away from play earlier this month, earnestly noting the highs and lows she had suffered since 2017 and the toll they had taken.
Impressively, Thompson did not let Saturday's mistake get to her. She had made six birdies on her front nine, turning in six-under 30. After making a par on the 10th hole with the extra stroke, Thompson carded two more birdies to close out a bogey-free 64 that left her in fourth place entering Sunday's final round, five strokes back of leader Lizette Salas.
"I'm really looking forward to tomorrow," Thompson said afterward. "Hopefully just go into it and hit it the same way I did these last few days, and still have a few of those—more putts drop, so we'll see where it goes."