News
A blown 7-shot lead, Tiger tamed by putter, Phil and Rory poke USGA and Cauley involved in accident: What you missed this weekend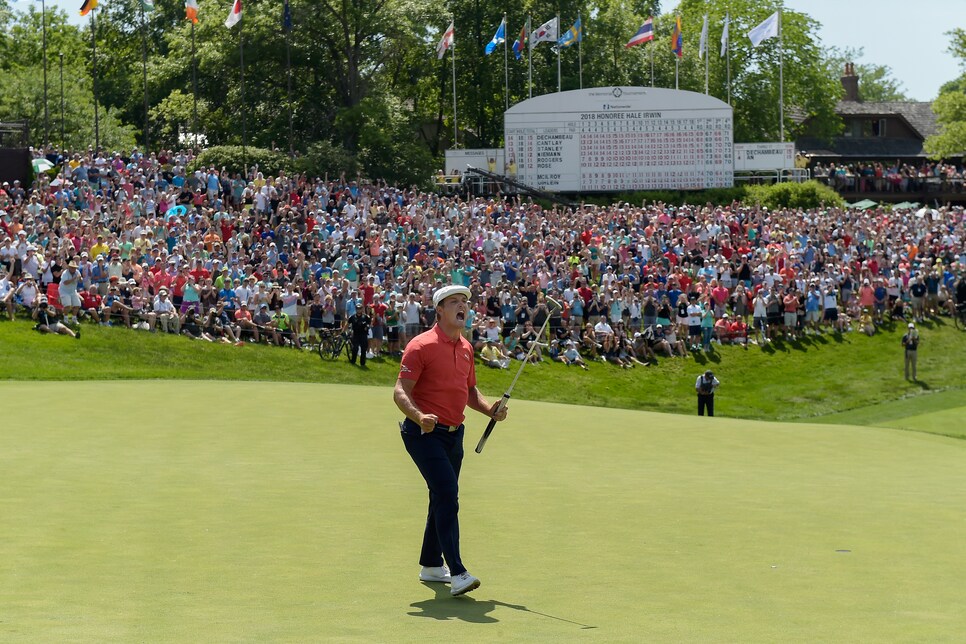 Welcome to the Dew Sweeper, your one-stop shop to catch up on the weekend action from the golf world. From the professional tours, trending news, social media headlines and upcoming events, here's every golf-related thing you need to know for the morning of June 4.
DeChambeau's winning formula
This time last June, Bryson DeChambeau was in danger of losing his tour card. A year later, the cerebral amateur prodigy has put himself in line for a Ryder Cup bid, as DeChambeau defeated Byeong Hun An in sudden death to capture the Memorial.
"I can't even describe it right now," DeChambeau said. "Just to be able to win [Jack Nicklaus'] event is such an honor. He's the greatest to play. To be able to do that, I am speechless honestly."
DeChambeau, who had a chance to win in regulation but missed a 10-footer for par on the 18th, made amends by sinking a birdie of the same length on the second playoff hole, which was played on the 18th. Fitting, as the flat stick propelled the 24-year-old throughout the weekend, finishing sixth in the field in strokes gained/putting.
The victory underlined the dramatic turnabout from DeChambeau in 2018, with his conquest at Muirfield Village the sixth top-seven finish on the season. (For context, Rory McIlroy and Jordan Spieth have a combined four top-sevens.) The win also moves DeChambeau into eighth in the U.S. Ryder Cup standings. Though those point totals will fluctuate over the summer, especially with three majors still on the docket, that DeChambeau finds himself in such a position following his initial struggles upon turning pro—to say nothing of the criticism levied at his cerebral strategy—is a testament to his fortitude. A fortitude that could do wonders in France this fall.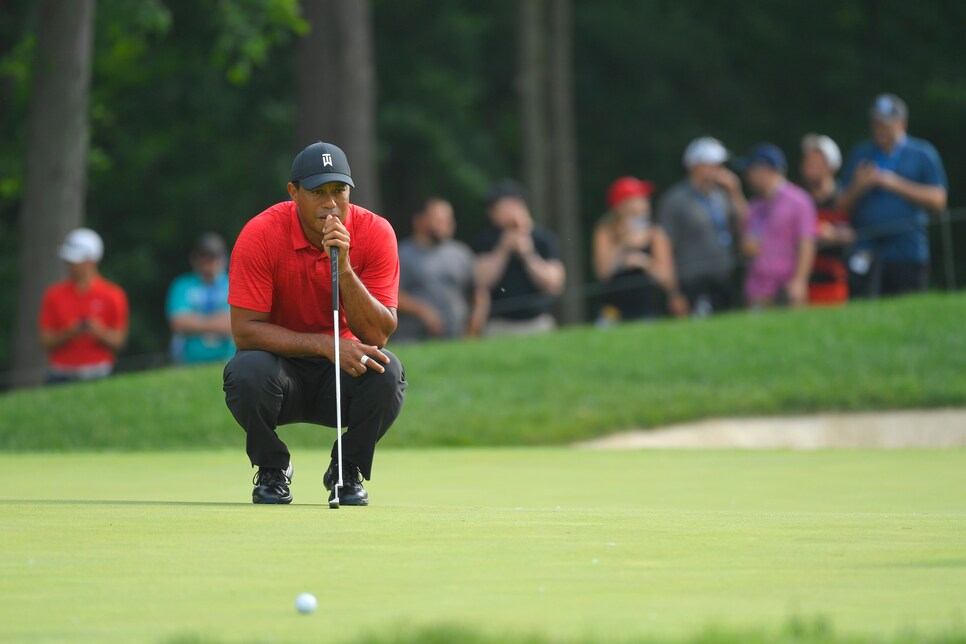 Tiger Woods submitted one of his best iron displays in years in Columbus, leading the field with an an absurd 11.16 sg/approach figure. Not that you would know by looking at the scoreboard. Despite his second-shot prowess, Woods, who teed off two groups ahead of the leaders on Sunday, finished a disappointing T-23 at the Memorial. A standing single-handedly engendered by an ice-cold short game.
"This week I didn't really have, didn't feel comfortable with my lines and my feel was a little bit off. Consequently I missed a bunch of putts,"Woods said. "If I just putt normally, I probably would be right there with those guys and up there in the last couple of groups."
That's not an embellishment. The 42-year-old had a -7.695 sg/putting figure, last in the field, with double-digit misses from inside seven feet.
In itself, it's not particularly jarring; though his putting was also off at the Wells Fargo Championship, it's mostly been fine this campaign. Conversely, Woods has failed to assemble a complete four-day performance. This is particularly true on Sundays, where Woods ranks T-72nd on tour in fourth-round scoring (compared to ranking T-2 on Saturdays).
Tiger remains one of the U.S. Open Vegas favorites, and asserted that he's pleased with the overall health of his game heading to Shinnecock Hills. But Sunday was a reminder that his latest comeback remains a process, and though the pieces are there, they have yet to come together.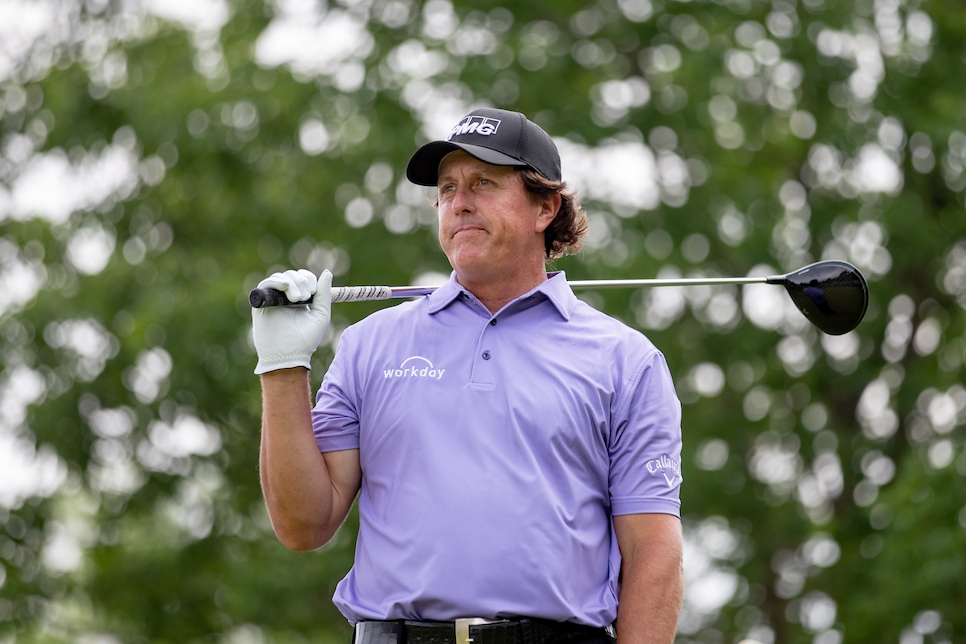 Phil, Rory take shots at USGA
Players disparaging the USGA is a time-honored tradition, right up there with the Masters' Champions Dinner, Tiger rocking red on Sunday and Matt Kuchar backing his way into a top-10 finish. However, said pejoratives are usually hurled during the U.S. Open. Phil Mickelson and Rory McIlroy, however, decided to get some early cuts in.
Speaking to the media at the Memorial, Mickelson was asked about Shinnecock Hills' seventh hole, which was infamously unplayable during the 2004 U.S. Open. The six-time Open runner-up was frank in his assessment: "I think it's a great hole until the USGA gets a hold of it." This followed comments from McIlroy, who was candid in his thoughts towards the USGA's Open set-ups.
"I think the USGA thinks that we're better than we actually are, if that makes sense," McIlroy said. "I think they overthink it. I think that—and I don't want to single out [USGA CEO] Mike Davis here—I think it's a collective thought process. I don't think it should be as much of an exact science to set up a golf course as it is. I mean, get the fairways sort of firm, grow the rough, put the pins in some tough locations, but fair, and go let us play."
McIlroy further explained that the organization tends to be reactionary, expressing his belief that Erin Hills' easy configuration was a byproduct of complaints regarding Chambers Bay.
In short, fingers-crossed for a theoretical trophy presentation between Davis and Mickelson or McIlroy.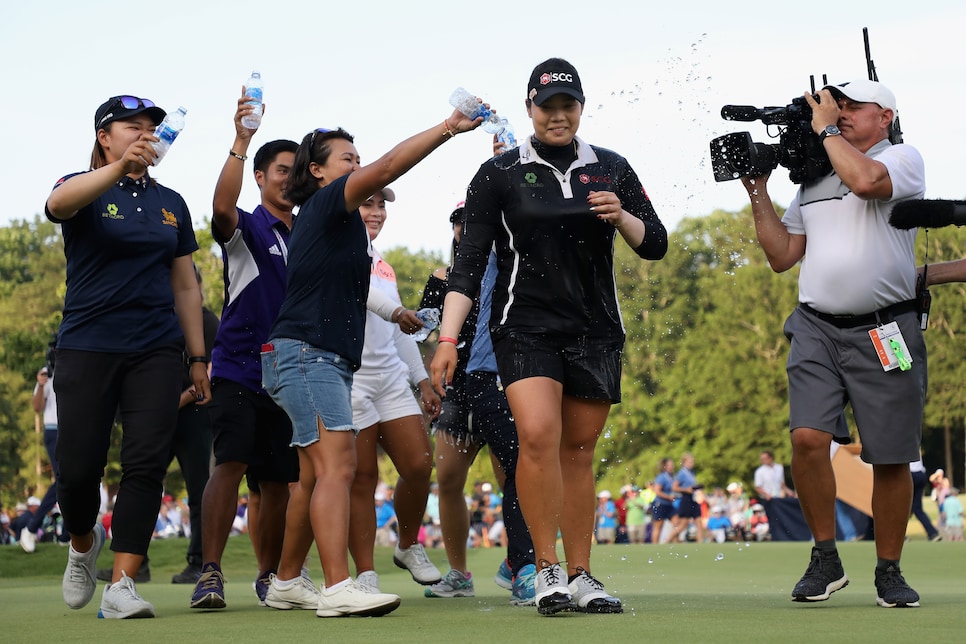 Christian Petersen/Getty Images
Jutanugarn blows 7-shot lead...and wins
Ariya Jutanugarn is now forever beloved by golf scribes. Because we hacks can't do much with a seven-shot blowout. The drama she delivered at Shoak Creek, however, writes itself.
Seven shots was the advantage Jutanugarn held at one point on Sunday at the U.S. Women's Open, her opponent not the field but Juli Inkster's 72-hole U.S. Open scoring record. Alas, the 22-year-old carded a triple and three bogeys on her final nine, two of which came on the 71st and 72nd holes. Coupled with a five-under, bogey-free day from Hyo Joo Kim, Jutanugarn stunningly—I believe that's the word we're looking for—found herself in a two-hole playoff. And after Kim dropped a bomb for birdie on the first hole of overtime (the 14th), it appeared the collapse was complete.
Yet when both players missed the green on the second playoff hole (the 18th), it was Jutanugarn who cobbled together a nice up-and-down. And, after trading pars on the third hole, Jutanugarn again made a clean save from off the 18th green, placing her chip to tap-in range. When Kim's par putt slipped by, Jutanugarn claimed the crown that looked to be hers hours before.
Due to the wobbly finish, Jutanugarn missed out on Inkster's scoring record. But even she would admit, how Sunday ultimately played out makes for a hell of a story.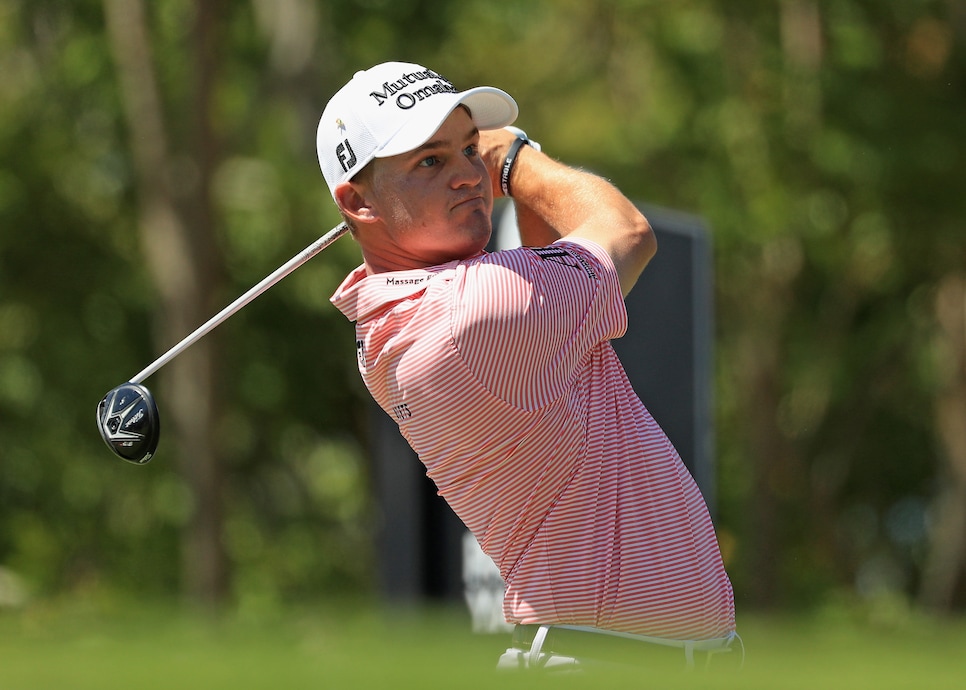 Bud Cauley involved in car accident
Bud Cauley was involved in a car accident Friday night, one that left the 28-year-old with several serious injuries, including broken ribs and a collapsed lung. Cauley, who was a passenger, had just completed his second round at the Memorial. Though he had missed the cut, he was supposed to play in a U.S. Open qualifier on Monday (he has withdrawn).
Cauley's father, Bill, told Golf Digest that his son had surgery on Sunday, a procedure that involved putting plates on several of his broken ribs. While Bud is "doing great," he will likely remain in the hospital for recovery, and will be unable to fly for weeks due to the collapsed lung.
Justin Thomas, a friend and Cauley's former Alabama teammate, posted a heartfelt message to Cauley on Twitter, and spoke to the media about Cauley on Sunday.
"[Bud] was doing good yesterday," said Thomas, who saw both Cauley in the hospital on Saturday. "It calmed me a lot after seeing him. I couldn't hit a shot, couldn't play a hole without thinking about him...It sucks when your best friend's in a serious car accident and there's nothing you can do and nothing he can do."
In 17 events this season, Cauley has made 11 cuts, highlighted by a T-7 at the Safeway Open.