News
How Bryson DeChambeau developed his formula to compete—and win—on the PGA Tour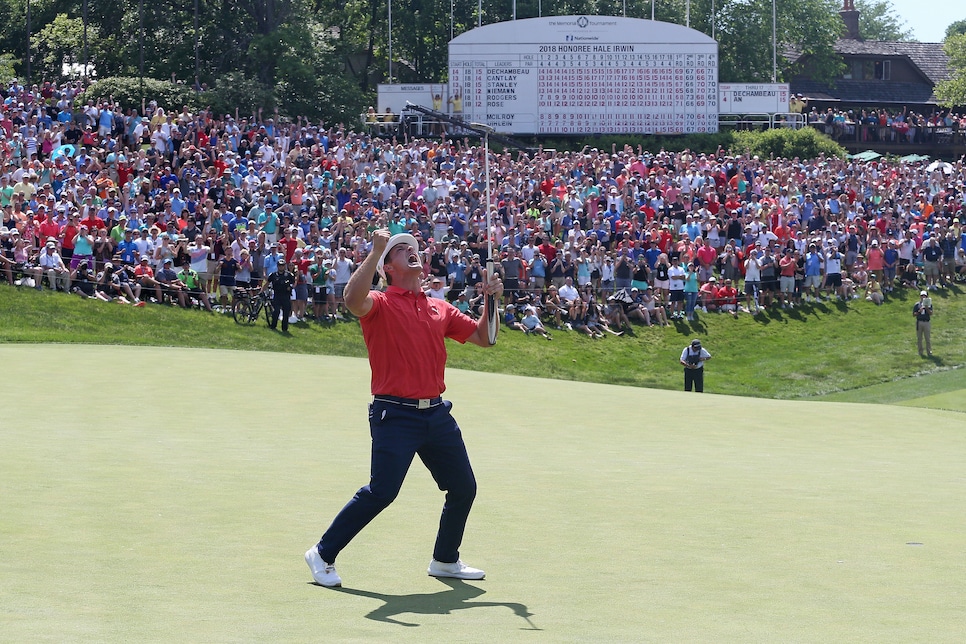 Photo By: Matt Sullivan/Getty Images
DUBLIN, Ohio — Winning golf tournaments is often as much about the ability to rebound after a poor play as it is capitalizing on good shots. Bryson DeChambeau did a lot of the former this week, which is why he won the 43rd edition of the Memorial Tournament.
Owner of the golf swing built as much in a lab as on the practice range, DeChambeau was more mad scrambler than mad scientist at Muirfield Village Golf Club, leading the field by saving par from off the green a tournament-best 17 times in 21 attempts. Yet it was three solid shots that eventually enabled the former U.S. Amateur champion to get past another past Amateur winner, Byeong Hun An, on the second hole of a sudden-death playoff.
After missing the 18th green his first two tries on Sunday—the first costing him a bogey that dropped him into a playoff with An and Kyle Stanley—DeChambeau got it right the third time, drawing an 8-iron to just inside 12 feet above the hole and sinking the decisive birdie putt for his second PGA Tour title.
When the putt dropped, DeChambeau excitedly pumped both arms in rapid-fire fashion.
"That was a big celebration there," said DeChambeau, 24, who apparently likes golf in central Ohio even though he hails from Clovis, Calif. Each of the previous three years DeChambeau qualified for the U.S. Open via sectional qualifying at Columbus-area courses.
The 54-hole leader, DeChambeau carded a final-round 71 to finish at 15-under 273 before winning the first three-way playoff in Memorial history and the fourth playoff in the last five years. Stanley, the second-round co-leader, had a 70 while An shot 69.
The victory, worth $1.602 million, lifted DeChambeau to fourth in the FedEx Cup standings and eighth in the U.S. Ryder Cup standings, a goal that tops all others for the second-year tour member. But the real prize for golf's deepest thinker is backing up last year's victory in the John Deere Classic with another win, one that came with tournament-host Jack Nicklaus looking on and against a field that included eight of the top 10 in the World Rankings and five-time Memorial winner Tiger Woods.
"To be able to win on Jack's course is pretty special," said DeChambeau after fifth top-five finish of the season, most on tour. "I know coming here a couple years ago I wanted to do it then. My game wasn't near good enough to win, so it's taken a couple years for me to get to that caliber.
"This is probably the most important win I think of my entire career, because of the fact that it happened here at Jack [Nicklaus'] course and also because it's kind of validity to me being out here on tour as well, me being able to get the job done. I know I can do it consistently."
DeChambeau's winning putt followed a deft flop shot by An to three feet after he missed the green to the left. On the first playoff hole, both DeChambeau and An missed the green long but got up and down for par, while Stanley bogeyed the hole for the second time in 20 minutes. It was his bogey on the 72nd hole, as well as one by DeChambeau after again overshooting the green with an 9-iron, that dropped them into the playoff with An.
A dejected DeChambeau needed to find a way to regroup, and quickly. "I had to say to myself I still have a chance."
That he did rebound, and then survived another mistake on the first playoff hole, might prove a meaningful juncture in his still developing game and career.
As a bit of solace, An, the youngest winner in U.S. Amateur history with his victory in 2009 at Southern Hills Country Club in Tulsa, Okla., equaled his career best finish.
"Overall, tied second is pretty good, but first place, you know, I wasn't expecting to be in the playoff, but that was a bonus," An said. "Yeah, some missed shots in the playoff hole. I could have just hit it somewhere right. I knew that left wasn't good, but Bryson made a birdie. I did what I could and then couldn't have done better."
At this point last year, DeChambeau really couldn't have done much worse. He was in the midst of missing eight cuts in a row—and wasn't even in the field at the Memorial—and 13 in his first 17 starts of the year, a string that ended with a poor U.S. Open performance.
But that rebounding theme isn't restricted to a round or a tournament. In this case, it was about his career, one that wasn't going according to plan after becoming just the fifth player to capture the U.S. Amateur and NCAA title in the same year in 2015.
"That was tough a tough pill to swallow. Because I felt like I didn't belong out here for a little bit," DeChambeau said. "But I was able to go back home that weekend [after Erin Hills] and look myself hard in the face and mirror and say, 'Look, you have to figure out something if you want to stay out here.' And so I went back to the drawing board, kind of figured something out, and ultimately wound up winning the John Deere four weeks later."
That was the first of two times that DeChambeau, who in 2011 began playing clubs that have the same shaft length, said he "went back to the drawing board."
His analytical approach isn't how most of his peers would draw up success, but DeChambeau doesn't care what anyone thinks. He cares about results.
Nicklaus, the first player on tour to walk off yardages, was in no position to question the young man's methods, noting that he was technical in his own way. "If that's what winds your watch," the Golden Bear noted.
There's no telling exactly how the cerebral Bryson DeChambeau is wound. And he doesn't really want us to know. But there's no doubt that his time is coming, and it will be worth watching.