News
Ariya Jutanugarn squanders seven-shot lead, but defeats Hyo-Joo Kim on fourth playoff hole of U.S. Women's Open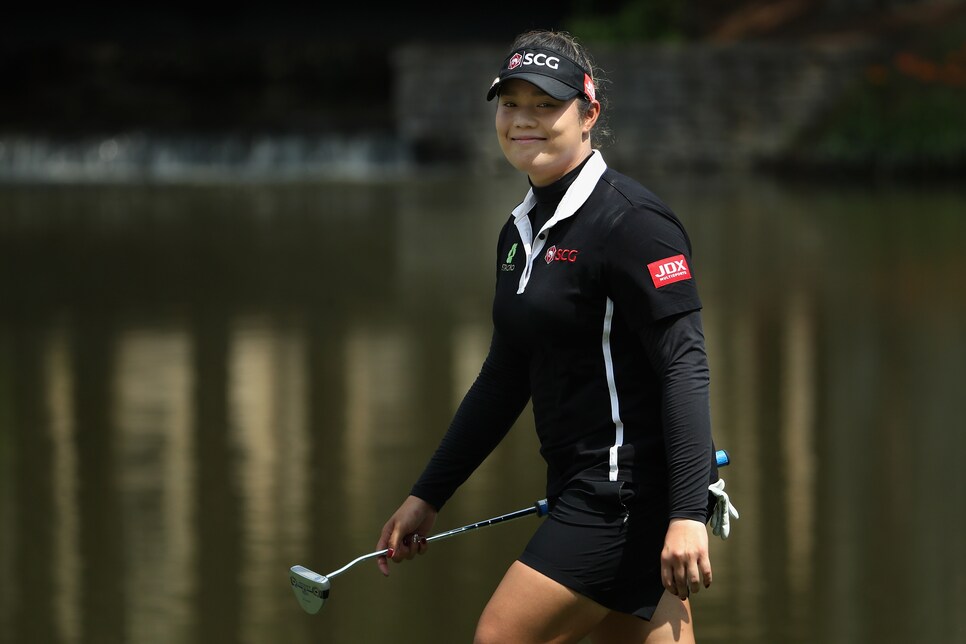 Ariya Jutanugarn benevolently injected drama where there had been none on Sunday, turning what should have been a back-nine victory lap at the U.S. Women's Open into a nightmare that still somehow ended well.
The 22-year-old from Thailand squandered a seven-stroke lead with nine holes to play, before defeating South Korean Hyo-Joo Kim on the fourth playoff hole at Shoal Creek Golf Club in Birmingham, Ala.
The victory was Jutanugarn's ninth career LPGA title and second major championship, though it's likely more accurate to say she survived it, rather than won it.
Jutanugarn began the final round with a four-stroke lead that grew to seven when she made the turn. Then she hit her tee shot right and into a hazard at the 10th hole, leading to a triple-bogey 7. Moments later, Kim improbably holed a birdie putt in the vicinity of 70 feet to cut Jutanugarn's lead to three.
It became two when Jutanugarn bogeyed the 12th and one when Kim holed a 50-foot, left-to-right breaker for birdie from off the green at 15.
Jutanugarn rebounded by hitting it stiff on the par-3 16th, where made birdie to give herself a two-shot cushion. She needed only to par one of the final two holes to win, but was unable to do so. At 18, her second shot came up short and in a bunker, and she failed to get it up and down for par.
On the first of a two-hole aggregate playoff, Kim holed a 30-foot, left-to-right birdie putt at the 14th, then gave it back with a bogey on the 18th hole to send it a sudden-death playoff.
On the fourth extra hole, Kim was unable to save par from a bunker in front of the green on No. 18, missing a 15-foot putt, while Jutanugarn from the back bunker hit an exceptional shot to inside two feet for a tap-in par and the win.
Jutanugarn, who closed with a one-over-par 73 and a 72-hole score of 11-under-par 277, has won two of her last three starts, and she has finished in the top seven in seven of her last eight starts. She started the week at Shoal Creek, however, under difficult circumstances when her golf clubs failed to arrive on Monday. They finally made their way to Birmingham on Tuesday, but given their detour and the rainy weather that caused the course to be closed early in the week, Jutanugarn only was able to play nine practice holes before the start of the play on Thursday.
She came into this championship sixth in the Rolex Rankings, though given her form chart she again is playing like the No. 1 she once was. She might get there again, provided, that she plays as well as she did in her first 63 holes at Shoal Creek and not as poorly as she did in her last nine.