News
No clubs, no practice, no problem for Ariya Jutanugarn, who leaped up the U.S. Women's Open leader board on Thursday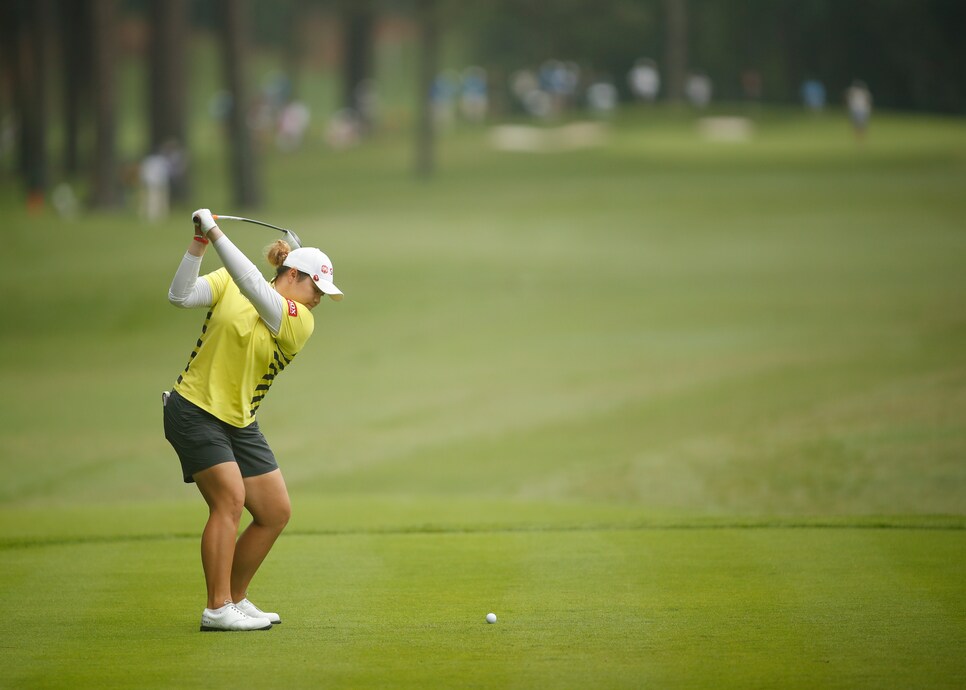 BIRMINGHAM, Ala. — The entire field at the U.S. Women's Open has had to come to grips with uncertainty—and a little bit of chaos—this week at Shoal Creek. The thunder, lightning and 4½-plus inches of rain left the course closed all of Tuesday and the first half of the day Wednesday. Several players got in just nine holes on Monday and another nine on Wednesday afternoon as they're lone look at the course. It's a lot less practice than they're used to.
One golfer played even less than that. Ariya Jutanugarn got to the course on Monday, but her golf clubs didn't thanks to an airline luggage snafu. They arrived a day later, but that meant that Jutanugarn was only able to play the back nine with them on Wednesday before starting her first round in the morning wave on Thursday.
Yet in the end, it didn't seem to matter much. Jutanugarn took advantage of the soft conditions and shot an opening five-under 67 to take the early lead by two strokes over Danielle Kang and Michelle Wie.
Jutanugarn is a former World No. 1 who has won eight times on the LPGA Tour, most recently at the Kingsmill Championship two weeks earlier. But her track record in Women's Open is surprisingly shaky. In five previous starts, she has made the cut just once, finishing T-17 in 2016. Her opening 67 this week was the lowest round of the 13 she's played, and just the second in the 60s.
Despite the less than stellar track record and the lack of preparation, Jutanugarn says she wasn't nervous when she teed off on Thursday.
"I can trust my caddie," she explained, Leslier Luark having gone out and walked the course when Jutanugarn was waiting on her clubs.
It's been a big year for Jutanugarn, without even considering her own stellar stats—she has had nine top-10 finishes in 13 starts. Her sister, Moriya, finally claimed her first LPGA win in April.
As for her own game, Ariya has been happy with the results so far in 2018.
"I've been working on commitment. It's pretty tough for me because I've been playing pretty good and my focus—I want to win and [I hadn't had a] win," said Jutanugarn of breaking through at the Kingsmill. "Commitment to me means I'm just going to do what I want to do and that's it. If I miss it, so what."
That go-with-the-flow attitude is likely to serve her well at Shoal Creek, where uncertain continues to reign.