News
The U.S. Women's Open is off to a tough start, but it could be worse. Ask anyone who played in 1986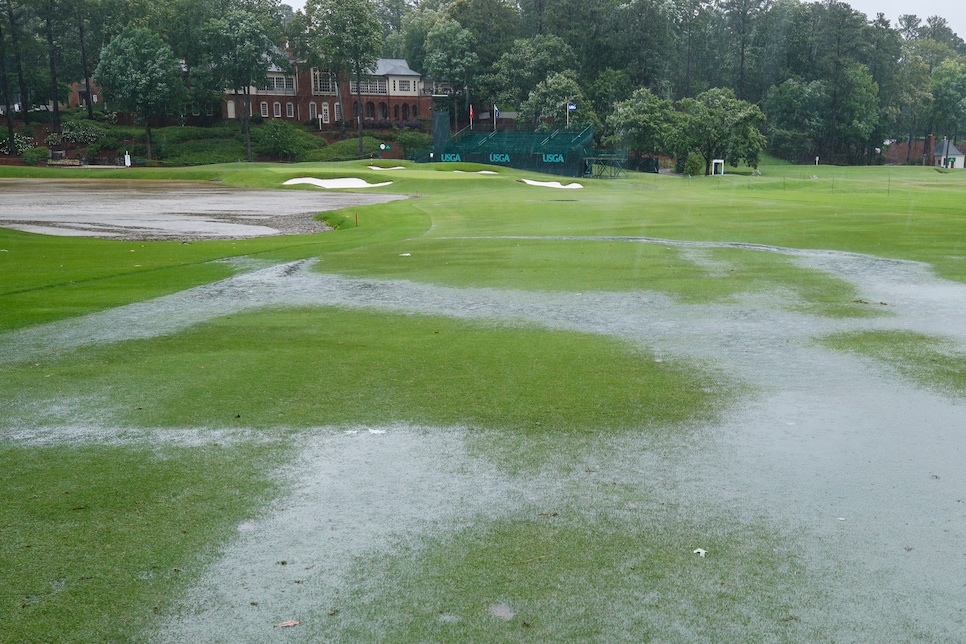 BIRMINGHAM, Ala. — The rain the past few days in Alabama has been unrelenting, which shouldn't be a surprise. Leading into the 2018 U.S Women's Open, rain was always in the forecast. But this is turning into more than a few showers. Rain, thunder and lightning from subtropical storm Alberto has hit the area and continues to soak Shoal Creek C.C.
USGA officials had to cancel Tuesday's practice rounds out of concerns for the safety of players and spectators. There was some solace when the range did open in the afternoon to allow players to practice. On Wednesday, the course and media center were closed all morning (I'm writing this piece from the friendly confines of my hotel room), less than 20 hours before the first players are scheduled to tee off in the 73rd playing of the national championship.
Since Sunday, 4.4 inches of rain have fallen on the golf course, and rain is expected to continue until Wednesday evening.
There are a lot of questions left unanswered right now. Will the event start as scheduled? Will the course be playable in time? When the women do play, will it be lift, clean, and place? Is this event going to extend into next week? If so, how far? And do I have to change my flight home?
While tournament organizers are faced with the Herculean task of solving all of these problems (OK, maybe not my flight; I'll handle that one), players are left to figure out how to prepare and how to fill all of the downtime.
Defending champ Sung Hyun Park was spotted hitting balls at the Topgolf Birmingham. Others in the field, including Michelle Wie and Jessica Korda, have posted pictures and video on social media of indoor putting practice. Several golfers have taken to Twitter in their off-time.
Tiffany Joh made a funny video pointing out that this is the fourth event this year where the LPGA Tour has had to deal with really bad weather.
And Paula Creamer ventured that this U.S. Women's Open could be the wildest one yet.
Yes, the current situation in Birmingham is pretty bad, and the players' pre-tournament preparation schedules have been completely shattered. But things could be worse. Actually, things at a U.S. Women's Open have been worse. I give you: The 1986 U.S. Women's Open in Dayton, Ohio.
Dayton sees Birmingham's heavy rain, lightning and unplayable course, and raises it an overturned railroad tanker, which released poisonous clouds of smoke into the town; an earthquake; and flesh-eating flies.
The most impressive part of all of this? The tournament finished all four rounds by Sunday. Sure, it was a tie, and Jane Geddes had return to the course for an 18-hole Monday playoff against Sally Little and win the title. But still, all of those cartoon-worthy disasters occurred and the players and the organizers were able to get it done basically on-schedule.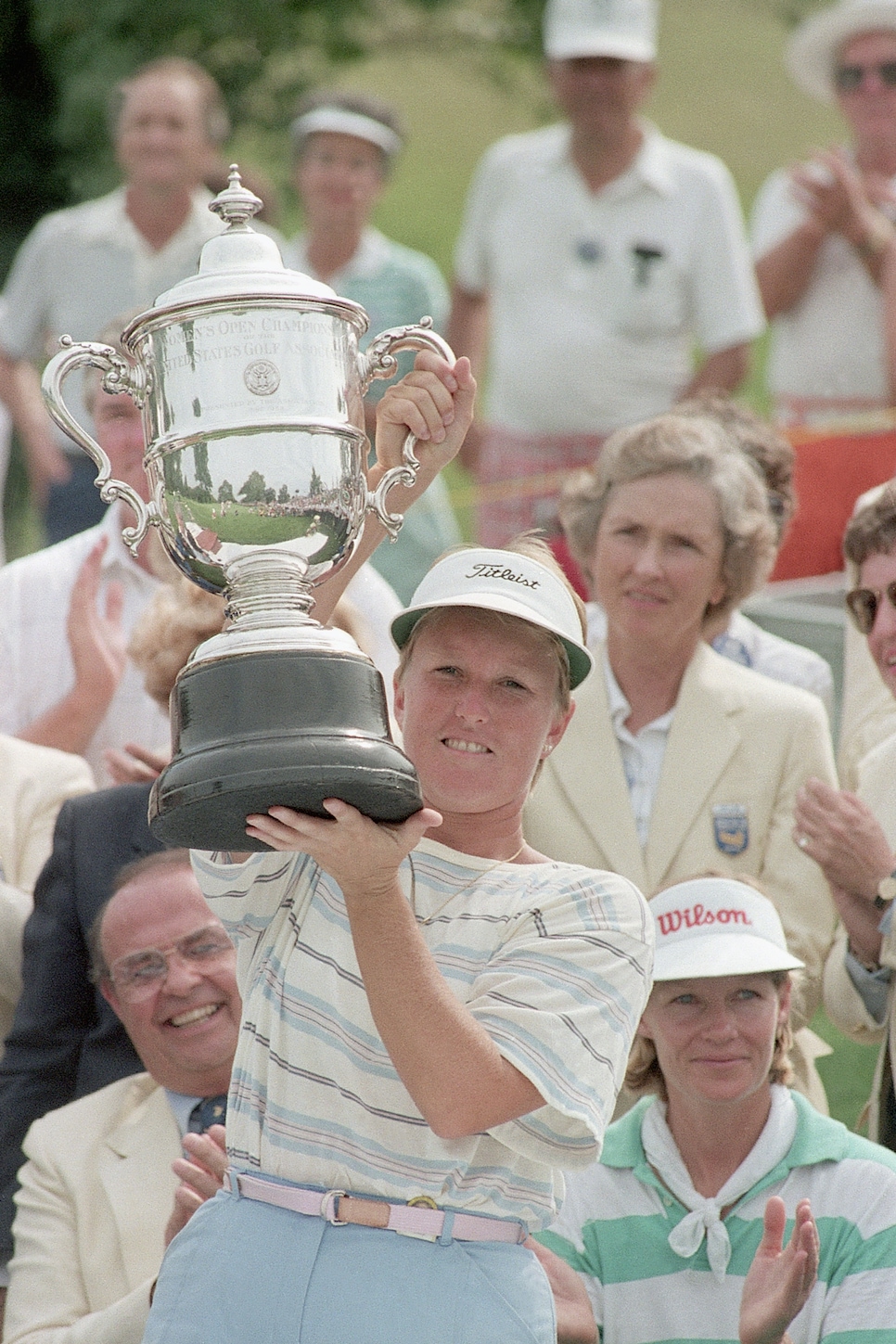 To get an idea of what it was like playing three decades ago in what I'm willing to call the most peculiar U.S. Women's Open of all time (tweet at me if you know of a better one), I called two of my most trusted sources: Mom and Dad.
My Mom, Mary Anne Widman, played on the LPGA in the 1980s and my Dad, Jim Levins, would occasionally ditch his day job to come out and caddie for her. Mom was playing and Dad was on the bag at NCR C.C. in 1986.
"I missed the cut, so I missed the flesh eating flies," Mom remembers. "I don't remember being able to practice a lot. We were just kind of holed up. If you can't prepare, that's the worst feeling. Nobody ever wants to enter a U.S. Open feeling unprepared."
Once the players did get out on the course, play was interrupted by weather delays and groups were packed onto the course more tightly than normal to try and get the rounds in on time. One par 3 was so backed up, there were three groups waiting on the tee together.
"As a player, you're constantly trying to keep yourself in a position to go back into the mode you were in," Mom said. "You're not really absorbing what's going on behind the scenes, what the organizers are doing, what decisions are being made. I was just trying to always keep my momentum up. Stopping was so hard for me. Even though you're out of synch when things start to change, you're just trying to focus."
The course itself was soaked.
"I saw some of the biggest divots I've ever seen taken at that course. Two inches deep, a foot long … the course was so wet, irons were just diving into the ground," Dad remembers.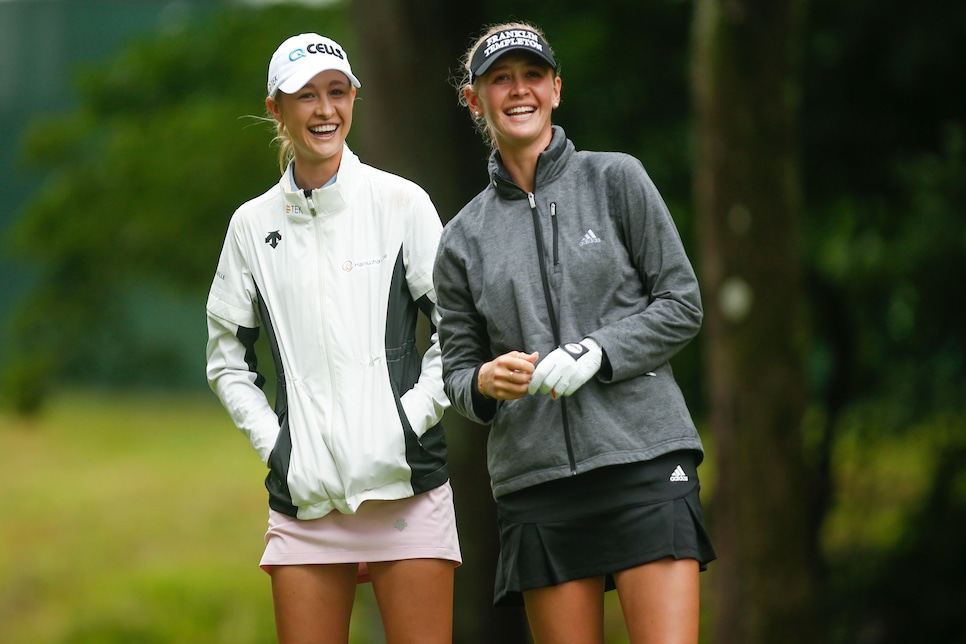 Copyright USGA/Darren Carroll
For a novice caddie, all of the calamity around the NCR was a lot to take in. "I remember wondering, When are we going to get out? When are we going to see the course? When are you going to be able to practice on the course or even just hit balls? It was all shaken up. Nothing was according to plan. With so many things going wrong, I remember thinking, 'OK, what's going to happen next?' "
Ultimately, the players and caddies at the 1986 U.S. Women's Open, my parents included, came to the same conclusion that the players will be forced to come to here at Shoal Creek: There's nothing a player or caddie can do except fill the downtime and try to stay focused.
Though it's not a position any athlete wants to be in before one of the biggest events of their year, it's far more enviable than what the grounds crew and event organizers have ahead of them. There are still four rounds to play on a very wet golf course.
As I finish this piece, an email from the USGA alerts me that practice rounds will begin at 1 p.m. today. Maybe this week won't be so calamitous after all.