News
Ariya Jutanugarn wins Kingsmill in playoff, rounding into form for the U.S. Women's Open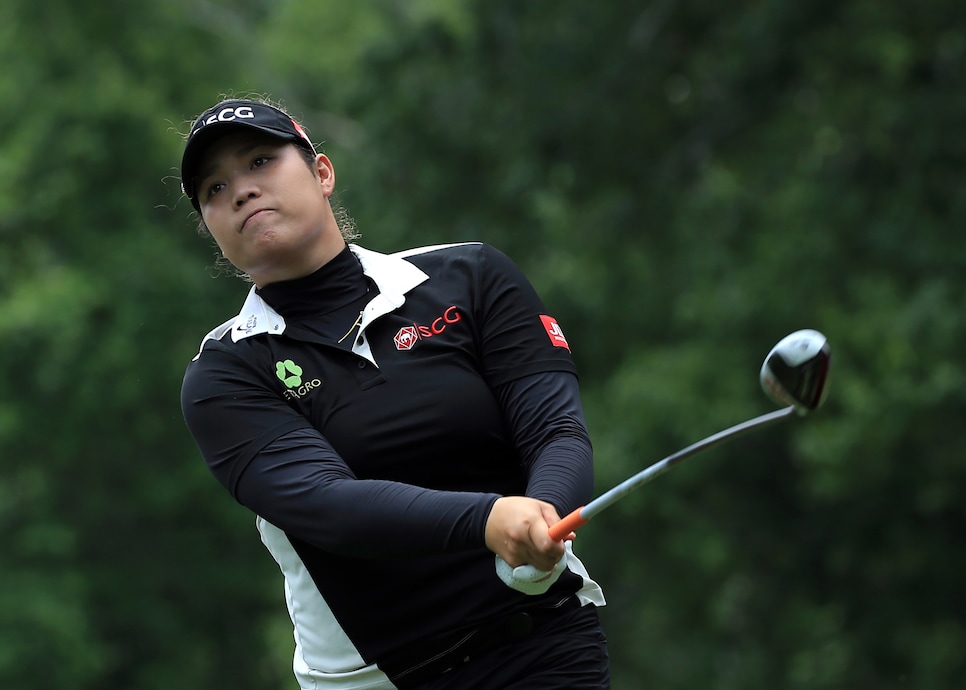 For the second straight tournament, bad weather caused havoc for the LPGA Tour. After shortening the Volunteers of America LPGA Classic to 36 holes, officials faced a similar dilemma in Virginia at the Kingsmill Championship, eventually cutting the tournament 72 holes to 54 because of the rains. But to get a champion on Sunday night, it actually took 56 holes, Ariya Jutanugarn needing two playoff holes to win the title for the second time in three years.
Jutanugarn, who shot a closing 66, outlasted Japan's Nasa Hataoka (67) and South Korea's In Gee Chun (68), the trio finishing at 14-under 202. Jutanugarn and Hataoka advanced past the first playoff hole with birdies on the 18th hole at Kingsmill's River Course. Jutanugarn then knocked out Hataoka with another birdie on their second playoff trip on 18.
The win is Jutanugarn's eighth victory on the LPGA Tour. Coming just two weeks before the U.S. Women's Open, it leaves the obvious question: Is the 22-year-old Thai native a favorite to win at Shoal Creek?
The simple answer? Of course.
Start with the fact that Jutanugarn is the most accomplished player ever from Thailand. She is the first woman from the country to win on the LPGA Tour, and her 2016 Ricoh British Open made her the first player, male or female, from Thailand to win a major. When her older sister, Moriya, won the Hugel-JTBC LA Open, Ariya and Moriya became jut the second set of sisters to win on tour, following Annika and Charlotta Sorenstam.
But beyond all of these accomplishments, there are specifics aspects of her game that deserve as much attention.
It starts with the fact that Jutanugarn is long. She hits it so far, she rarely uses driver—she didn't use it during the final round of the Kingsmill. Still, she's ranked fourth on tour in driving distance (274.4 yards). She also leads the tour in birdies, in part thanks to her putting average (28.7 putts per round, No. 2 on tour), and she's the only player in the 2018 season to play the first 12 events and make the cut in them all.
If you put it all together, she's a consistent, long-hitting, strong putter who knows how to score and has control of her mental game. The combination was enough to win the Kingsmill, maybe it'll prove enough at the U.S. Women's Open.
Asked about the U.S. Women's Open during her Sunday night press conference, Jutanugarn said she's trying to downplay the pressure of the coveted major.
"The U.S. Open is always really tough conditions, and one of the hardest tournaments to win," Jutanugarn said. "But I'm not going to take it like [no] big deal, because I just really want to be chilling and try to work on what I've been working."