News
How much prize money every golfer earned at the 2018 U.S. Women's Open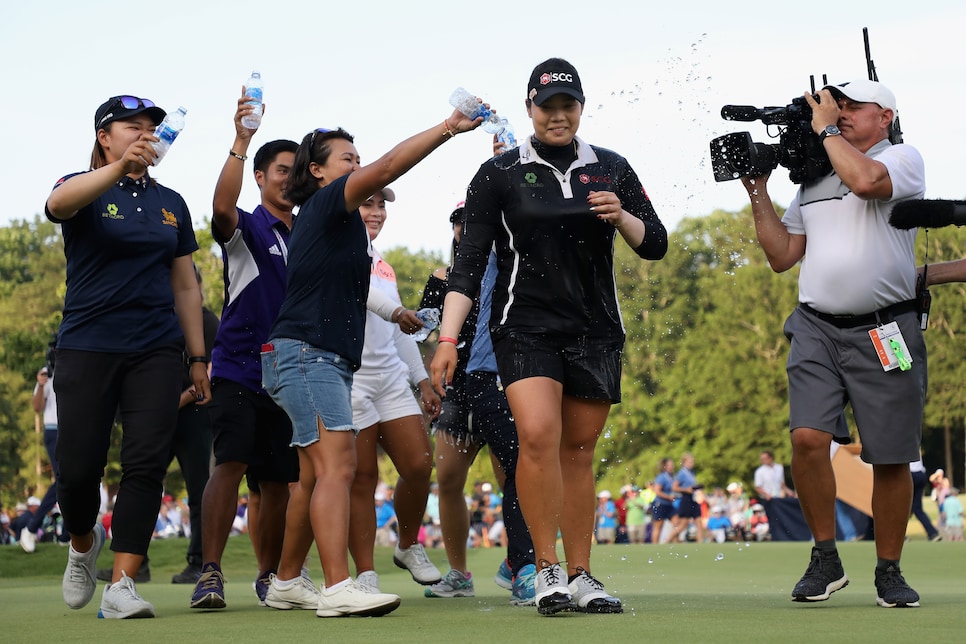 Christian Petersen/Getty Images
Say what you will about the roller coaster final round Ariya Jutanugarn played on Sunday at the U.S. Women's Open. There's no doubt that the 22-year-old from Thailand earned every penny of her first-place prize money at Shoal Creek in Birmingham, Ala.
And a big check it is. The $900,000 first prize is the richest in all of women's golf.
Jutanugarn looked as if she would be able to deposit the money earn after expanding a four-stroke lead at the start of play on Sunday into a seven-stroke cushion at the turn. But the former World No. 1 found playing with such a large cushion to be harder than expected, losing all seven strokes to South Korea's Hyo-Joo Kim by the 72nd hole.
The pair played a see-saw two-hole aggregate playoff, then two more sudden-death holes before Jutanugarn won the championship with a par when they played the 18th hole for a third time.
It was the ninth win of Jutanugarn's career, and her second major championship victory. She now has earned $1,704,614 this season and $6,287,946 in her career, as she became the 43rd player in LPGA history to break the $6 million mark with her win on Sunday.
How much prize money did everyone in the field at Shoal Creek earn? Here's a breakdown for all those who made the cut.
Win: Ariya Jutanugarn, $900,000
P-2: Hyo-Joo Kim, $540,000
3: Carlota Ciganda, $349,079
4: Danielle Kang, $244,704
T-5: Lexi Thompson,$182,487
T-5: Patty Tavatanakit (a), $0
T-5: Wei-Ling Hsu, $182,487
T-5: Sarah Jane Smith, $182,487
9: Inbee Park, $145,919
T-10, Michelle Wie, $104,505
T-10, Charley Hull, $104,505
T-10, Nasa Hataoka, $104,505
T-10, Angela Stanford, $104,505
T-10, Nelly Korda, $104,505
T-10, Megan Khang, $104,505
T-10, Jihyun Kim, $104,505
T-17, Jin Young Ko, $66,075
T-17, Lizette Salas, $66,075
T-17, Su-Hyun Oh, $66,075
T-17: Jeongeun6 Lee, $66,075
T-17: Eun-Hee Ji, $66,075
T-17: Madelene Sagstrom, $66,075
23: So Yeon Ryu, $52,436
24: Albane Valenzuela (a), $0
T-25: Jennifer Song, $47,292
T-25: Brittany Lincicome, $47,292
T-27: Marina Alex, $37,993
T-27: Hye-Jin Choi, $37,993
T-27: Kristen Gillman (a), $0
T-27: Teresa Lu, $37,993
T-27: Sei Young Kim, $37,993
T-27: Jenny Shin, $37,993
T-27: Jodi Ewart Shadoff, $37,993
T-34: Georgia Hall, $29,225
T-34: Minjee Lee, $29,225
T-34: In-Kyung Kim,$29,225
T-34: Luna Sobron Galmes, $29,225
T-34: Caroline Masson, $29,225
T-34: Elizabeth Wang (a), $0
40: Rumi Yoshiba, $25,352
T-41: Moriya Jutanugarn, $20,575
T-41: Austin Ernst, $20,575
T-41: Brittany Altomare, $20,575
T-41: In Gee Chun, $20,575
T-41: Emily Kristine Pedersen, $20,575
T-41: Chella Choi, $20,575
T-41: Azahara Munoz, $20,575
T-41: Emma Talley, $20,575
T-49: Lydia Ko, $14,906
T-49: Hyun Kyung Park, $14,906
T-49: Jane Park, $14,906
T-52: Wichanee Meechai, $12,544
T-52: Ryann O'Toole, $12,544
T-52: Cristie Kerr, $12,544
T-55: Hailee Cooper (a), $0
T-55: Lucy Li (a), $0
T-57: Ashleigh Buhai, $11,705
T-57: Linn Grant (a), $0
T-59: Pernilla Lindberg, $11,337
T-59: Saranporn Langkulgasettrin, $11,337
61: Daniela Darquea, $11,127
62: Jillian Hollis, $11,022
63: Lindy Duncan, $10,919