News
Tiger Woods says game 'is where it needs to be' heading into the U.S. Open, except for one club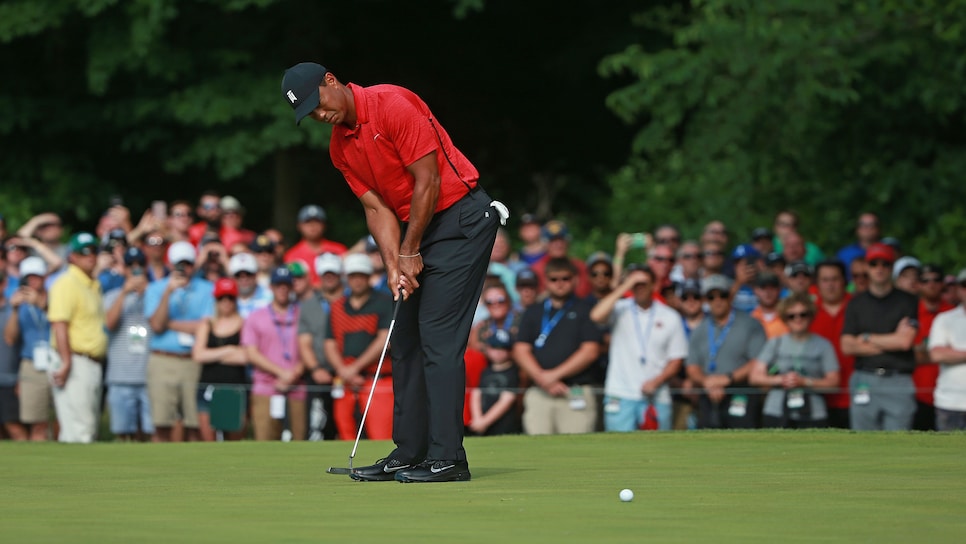 DUBLIN, Ohio — Tee to green, Tiger Woods seldom has looked better. On the greens, well, he saw red. And not the kind that wins tournaments.
Like a baseball team that outhits its opponent but loses by not pushing runs across the plate, Woods outhit the field at the Memorial Tournament yet went home Sunday afternoon with a dyspeptic T-23 finish. The five-time Memorial winner led the field in three important ball-striking categories, but was second-to-last in putting, which led to a final-round 72 on a day that began with him lurking just four strokes behind.
"I had some chances to shoot some good rounds this week," Woods said after finishing at nine-under 279, a score that was good enough to win his fifth Memorial title in 2012 but this time was six adrift of the trio of players who got into a playoff—Bryson DeChambeau, Beyong Hun An and Kyle Stanley. "Overall, my game is where it needs to be heading into the U.S. Open and that's something positive."
The negative was obvious: "I just need to hit better putts."
Woods, 42, finished first in strokes gained/tee-to-green, strokes gained/approach and proximity to the hole, averaging just under 24 feet. His putting wasn't a total dumpster fire; he did rank T-6 in putting per green in regulation. But his 118 total putts led to a strokes gained/putting rank of 72nd out of the 73 players who made the secondary cut and played the final round. On Friday, he was 119th in the 120-player field.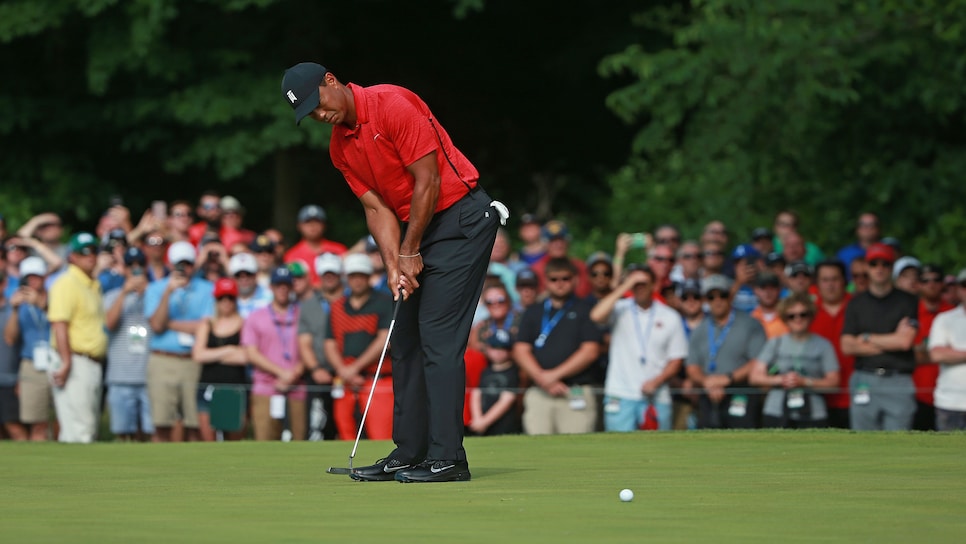 "This week I didn't really have, didn't feel comfortable with my lines and my feel was a little bit off. Consequently I missed a bunch of putts," said Woods, who, nevertheless, drew huge galleries each day around Muirfield Village Golf Club. "If I just putt normally, I probably would be right there with those guys and up there in the last couple of groups.
"But I hit it really good this week, so that's a positive going into Shinnecock, where ball-striking is going to be a must. Obviously way different golf shots around the greens [at Shinnecock], lots of bump and runs and putters or spinners. It will be a very different golf course, but overall if I hit the ball like this, I'll be pleased in two weeks.
Asked the last time he struck the ball as well as he did in Ohio, Woods was blunt. "I haven't hit it like this in a while," he noted, figuring it was probably five to six years ago.
Woods planned to spend next week practicing at home in Jupiter, Fla., and "hanging out with the kids" before heading to Southampton, N.Y., for the 118th U.S. Open. As frustrated as he was with his putting, he didn't seem worried about it leading into his first Open since 2015.
"It's just a minor tweak here and there," he insisted. "I've just got to get more comfortable with my lines, make sure I'm consistent with my lines. But it's just reps. As soon as I get the reps in I'll be all right."