Weather
U.S. Open 2021: Be prepared to hear a lot about 'marine layer' at Torrey Pines. Here's what it actually is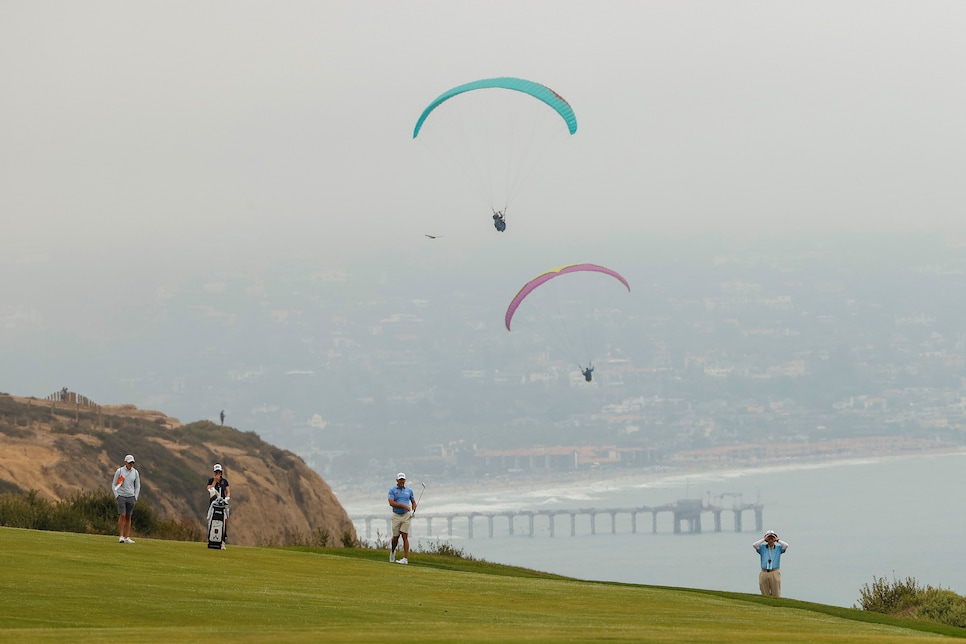 Against the gray marine layer, paragliders fly over the Torrey Pines South Course during a U.S. Open practice round.
Ezra Shaw
SAN DIEGO — First, let's make this clear. For the edification of us novice weather forecasters, there is indeed a distinction between fog and marine layer.
"There can be a marine layer without fog," the USGA's meteorologist, Jake Swick, was saying on Tuesday at Torrey Pines. "It depends on the moisture of the marine layer. If you get enough moisture, then you'll have fog."
"But you can have fog without a marine layer," Swick added.
See, that's the thing. We're probably going to hear quite a bit about "marine layer" this week during the U.S. Open being played on the Southern California coastline, because it's really the only weather element that could affect how smoothly the tournament runs. There is zero chance of rain. Thunderstorms? They're about as rare at San Diego beaches as socks with sandals.
Yet, how it's going to play out is still a bit of a mystery—even to Swick, who admits that if he nails the forecast correctly on five of the seven days he's here, then he's hoisting the weatherman trophy.
"The marine layer has a mind of its own when it comes down to it," Swick said.
In layman's terms, a marine layer occurs when cool air from off the ocean mixes with warm air above the surface, creating a temperature inversion that can be seen in what resembles a low cloud cover.
The very good news: Swick's models are telling him that this should be a very good weather week. (Some would contend there aren't bad weather weeks in San Diego.) Starting Thursday and running through Sunday, he said the forecast calls for clouds in the early morning that should break up to reveal sunshine for the rest of each round. As for wind, the USGA wouldn't mind seeing it blow a bit to toughen the test, but Swick said it doesn't look like it'll be more than single digits in speed during competition.
On Tuesday, there was virtually no marine layer (or fog) at Torrey Pines and the temperatures were in low 70s. Fifteen miles east, some communities were roasting in triple digits.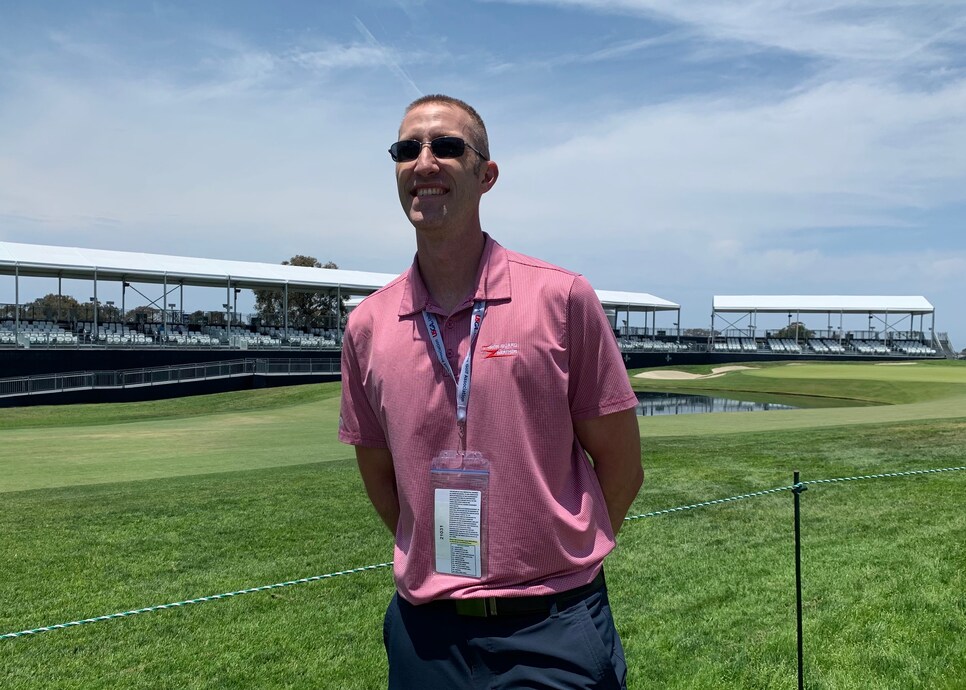 USGA meteorologist Jake Swick says he's happy if he can predict five of the seven-day tournament week's weather correctly. Tod Leonard
"If we can have the perfect weather that I expect Thursday through Sunday, then it will make my life easier," he said. "And if my life is easier, it makes everybody's life easier. If I'm dealing with storms and four inches of rain, nobody wants that."
Torrey Pines has not been without weather issues during the Farmers Insurance Open's January play dates. Dense fog that rolled in and out in 2013 delayed the third round and forced the tournament to be completed on Monday, with Tiger Woods winning a yawner by four strokes. In 2020, fog blanketed Torrey and caused another third-round delay of two hours, though the event was able to finish on time.
Swick has been with the USGA since 2002, so he's been through the weather wars. Worst, he said, was probably the 2009 U.S. Open at Bethpage in New York, where he arrived one day to find his lightning detection equipment standing in four inches of water. "That wasn't pleasant," Swick deadpanned. The tournament was pretty much a disaster, pushed to Monday before Lucas Glover prevailed.
Thunderstorms can be tricky—and very dangerous—though Swick said they're actually more predictable than wind and fog. Among the toughest venues for a weather guy is where Swick was two weeks ago, in San Francisco for the U.S. Women's Open, where the marine and fog layer can vary wildly from one hole to the next. Swick recounted that in 2012 for the U.S. Open at Olympic, the weather was clear all week until the last two groups teed off on Sunday and it was damp and dreary the rest of the day.
Other tough spots, he said: Shinnecock Hills on eastern Long Island and Pebble Beach. In 2019 at Pebble, a cloud cover rolled in on Wednesday at midday and didn't let up throughout Gary Woodland's victory.
"Anything near water makes it harder," Swick said.
Swick has three weather stations positioned on the course, as well as several buoys that are always in the Pacific Ocean. The National Weather Service sends up a couple of balloons a day to gauge what's happening farther up in the atmosphere.
It all seems like enough technology to create spot-on predictions, but Swick said he still sometimes sees a computer model that says one thing and he can tell it's inaccurate. How?
He simply looks out the window.
MORE U.S. OPEN 2021 STORIES FROM GOLF DIGEST: