U.S. Open 2021
U.S. Open 2021: Here's why Phil Mickelson did the work to 're-learn' Torrey Pines after decades of playing there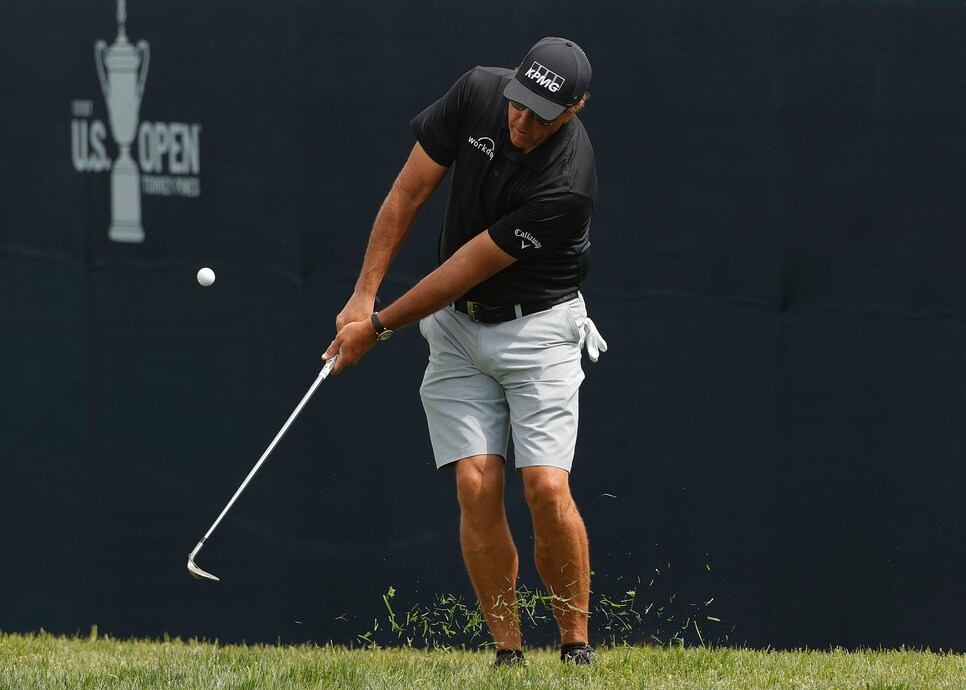 Phil Mickelson chips to the 13th green during a practice round prior to the start of the 2021 U.S. Open.
Ezra Shaw
SAN DIEGO—If his victory in the PGA Championship wasn't enough indication, the work that Phil Mickelson has put in to prepare for this week's U.S. Open at Torrey Pines speaks volumes to how badly he'd like to complete the career grand slam in his hometown. It's clear that Mickelson isn't here to accept 30 years of accolades and hope for the best.
Prone through the years to play the week before a major championship to be game ready, Mickelson took a different tact for this one. After missing the cut in the Charles Schwab Challenge at Colonial two weeks ago, Mickelson came home, took a couple of days to relax, and then hit the Torrey Pines South Course a week ago—on the first Monday it was completely closed to the public.
Just this past weekend, in fact, Mickelson played with fellow locals Xander Schauffele and Charley Hoffman—which is a frequent grouping when they all are home (and let's not be surprised if the USGA decides that it's a fine threesome for the first two days of the tournament).
If Mickelson's pre-tournament work seems rather odd for a guy who grew up here and has played in San Diego's PGA Tour event at Torrey Pines 29 times as a pro, it's that Mickelson said he made an effort in the last week to "re-learn" the greens that were fashioned in Rees Jones' 2001 redesign of the South.

"I don't spend a lot of time out here other than the Farmers. I really made an effort here, having the last week off, to spend time out here and really learn, re-learn the greens," Mickelson said on Monday after playing a practice round with Bryson DeChambeau and Akshay Bhatia. "So I spent a lot of hours out here on the greens last week to see if I can get that local knowledge again, and we'll see how it goes."
Mickelson said he's also shut off his phone this week and is trying to eliminate distractions.
"It's a unique opportunity because I've never won a U.S. Open. It's in my backyard," he said. "I have a chance to prepare properly, and I wanted to put in the right work."
Mickelson will acknowledge that he lost virtually all of his home-course advantage with the South redesign. Before it, he won three times, including two straight in 2000 and 2001. He hasn't won the Farmers Insurance Open since, posting five top-10s while not coming close to contending in a decade.
He was asked if he was being stubborn in not trying earlier to more closely analyze the greens.
"Maybe. I don't know," he said. "There's a proper way to play here. I mean, Tiger's won here [eight] times. There's a proper way to play here to each pin, and I just have tried to do too much in the past."
The way Mickelson explained it, instead of looking to throw darts, he's prepping for 30- to 40-foot putts, and either making those or coaxing them close. After all, in an U.S. Open, par is almost always an acceptable score. He called it his "safety net."
"When you see the way the ball rolls, you know where you have to be for your approach and you know what kind of shot is the best shot to hit into certain approaches," Mickelson said.
In the 2008 U.S. Open at Torrey Pines, Mickelson tried a novel approach, not packing a driver in his bag, and it generally did not go well, though he charged with a 68 on Sunday (with his driver) to tie for 18th at six over. Now, he'll essentially have two drivers of sorts—his normal one and a "mini" driver that he also refers to as his 2-wood. He used a similar club at Kiawah Island in his PGA win, though this one will be a little different.
In the last Open here, Mickelson went out of his way to praise the setup, even though he's not a fan of Jones' design work, and he is again lauding it, dubbing it "exceptional." And as we know, he doesn't do that for every course on which the U.S. Open is played.
"It's very difficult to get it to some of the pin positions, and it's going to be a difficult test," he said. "As long as it is at sea level it's going to be a difficult task, but it seems like the setup is pristine, and it's going to be a fun, very difficult challenge."
MORE U.S. OPEN 2021 STORIES FROM GOLF DIGEST: