Run for your life
Ryder Cup 2023: WATCH this wild scene of fans racing to reach grandstand at first tee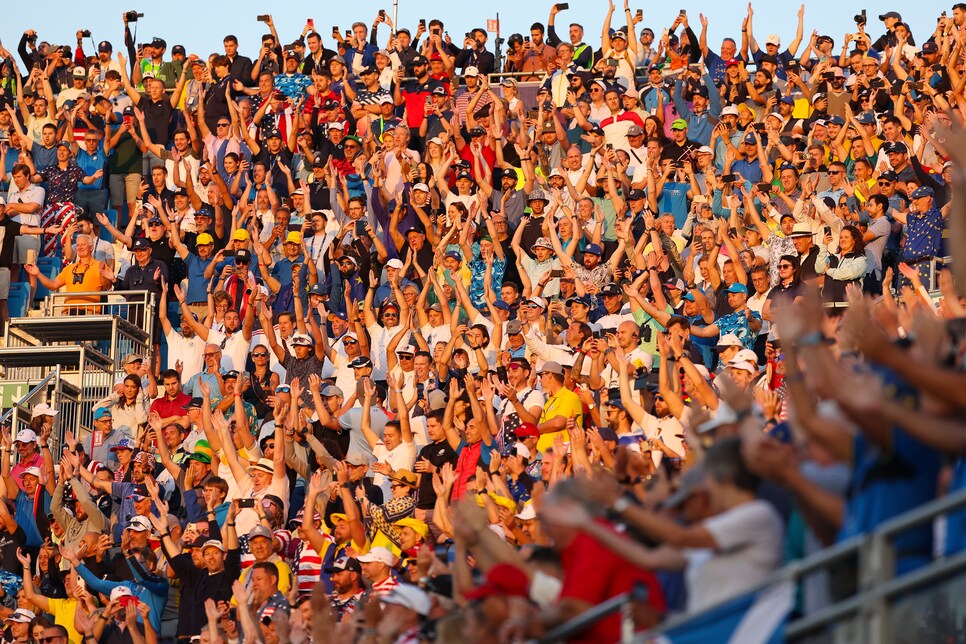 Fans cheer in the stands on the first hole during the Ryder Cup at Marco Simone.
Scott Taetsch/PGA of America
ROME — There is the running of the bulls in Spain. There are the starts to the Boston and New York City marathons. In golf, the WM Phoenix Open has its hustle to the stadium grandstand at 16 for the 3,700-plus seats available.
In all cases, it's truly fascinating and comical to watch thousands of people try to burst into a run without running over each other.
The Ryder Cup Race ranks up there with all of them. Thanks to the return of the largest crowds since before the pandemic, Friday morning at Marco Simone Country Club was quite the spectacle. At 6:45 a.m., 15 minutes before sunrise, officials let a horde of men, women and children go running toward the approximately 5,000 seats available in the massive grandstand that, rather impressively, in aesthetic tries to mimic the Roman Colosseum.
Here's the official race video put out my the Ryder Cup.
Maybe a couple of things caught your eye like they did ours: The woman, looking like she's about to dodge Rome's many scooters, jogging across the cart path just before they're set free; the brave photographers standing their ground (at least for a few seconds); and just the fact that about 80 percent of the fans look like they haven't run to their mailbox in maybe the last 10 years.
Upside: Nobody appears to pull up lame, fall down and cause a pileup.
We don't know who "won" the race, being the first to the grandstand, but we're going to bet it wasn't an American, because this probably set the tone for the rest of Europe's morning runaway.
MORE FROM GOLF DIGEST @ THE RYDER CUP