Voices
Masters 2022: Rory McIlroy enjoys a brilliant finish of 64, but it's too little, too late again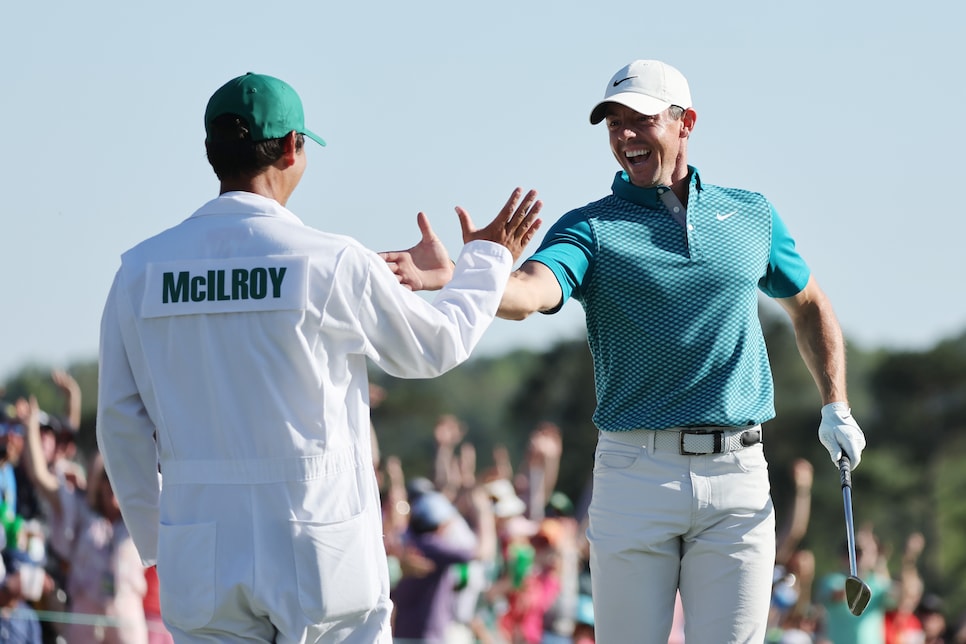 Rory McIlroy and caddie Harry Diamond celebrate after McIlroy holed out a bunker shot for birdie on the 18th hole on Sunday.
Gregory Shamus
AUGUSTA, Ga. — Of course, like every Irishman who has earned the honor of representing his country in amateur golf, Rory McIlroy has already owned and worn a green jacket. But not the green jacket. The garment that means most to the only European golfer who has annexed three of the game's four major championships is soon to take up residence in Scottie Scheffler's closet, not his own.
Indeed, it's a frustrating business. Despite a performance that included his lowest round at the Masters, a sensational hole-out from a greenside bunker on the 72nd hole for one last birdie and a runner-up finish, three strokes back at seven under, that is the best-ever at Augusta National by him or any of his compatriots, McIlroy remains "just" a four-time major champion and one rung short of the career Grand Slam.
The same is true of Ireland. Four other Irishmen as well as McIlroy—Fred Daly, Padraig Harrington (twice), Darren Clarke and Shane Lowry—have Open Championship wins to their names. Graeme McDowell and McIlroy have both claimed the U.S. Open title. Harrington and McIlroy (twice) have each hoisted the formidable bulk of the Wanamaker Trophy skyward in the wake of PGA Championship victories.
But finishing first at the Masters? Nope. Not in the 55 years that have passed since amateur Joe Carr became the first of (so far) 14 Irishmen to tee-up in golf's youngest major.
Still, at first glance, this 86th Masters represents progress for the Emerald Isle. In addition to McIlroy's silver medal, Lowry pulled up in a tie for third, two shots behind his compatriot. Impressive indeed for such a small, sparsely populated land. But first glances can be deceptive. In truth, this week was more of what has become an unadventurous same for McIlroy. Following a pattern that has become all too familiar, he appeared as if from almost nowhere to record his 24th top-10 in major championship play. Therein, however, lies a tale.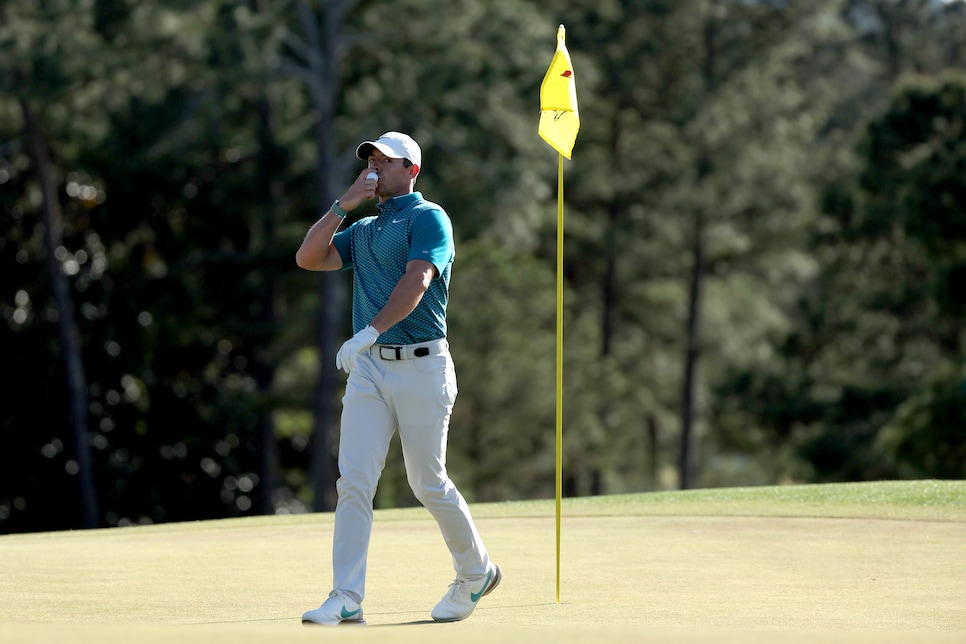 Rory McIlroy kisses his ball after holing out his bunker shot at 18.
Gregory Shamus
In his first 25 major championship appearances, the now-32-year-old Belfast Boy led or co-led at the end of rounds on 17 occasions. En route to that figure and in addition to his four victories, McIlroy threw in six other top-10s. Since then, however, he has not once seen his name at the top of a leader board at the conclusion of any round at any major. Yet, during that time, he has notched up a further 14 top-10s, including this most recent late-to-the-party dance with destiny.
In other words, following a credo that says "hanging around" in major championships until the final day is the approach that makes most sense, McIlroy—at least since his second PGA Championship victory at Kiawah island in 2014—has become cautious more than cavalier. And given the fact that he hasn't added a fifth title to his collection in almost eight years, such a policy is clearly not working.
Think about it. No one remembers the consistent guy who hits singles and bunts effectively. The memorable man is hitting home runs. Sandy Lyle is a two-time major champion who has only two more top-10 finishes in his 100 Grand Slam starts. Lee Westwood has 19 top-10s in majors, nine of those top-threes. Guess which of those two players is in the World Golf Hall of Fame?
None of which seems to be registering with McIlroy, who opened this Masters with 73-73. In the immediate wake of what was the sort of performance—a bogey-free, eight-under par 64—that makes him the most exciting golfer on the planet, the six-time Ryder Cup player was still talking like a man who prefers to play safe rather than live on the edge. For the first three days of tournaments anyway.
"I thought if I could shoot 63 today, it would give me a chance," he said after completing what he felt was one of his "best-ever" rounds in any major championship. "That was sort of my number today. I didn't quite get there, but I gave it a good shot. And I did that by being a little more aggressive. My aim points with my second shots were a little more aggressive. I took dead aim at the flag on 1. I took my tee shot a little further left on 2. I took my tee shot a little further right on 3 in an effort to drive the green. I gave myself a little less margin for error. It was go out there and give it a go—if it doesn't quite work out, it doesn't really matter. But if it does work out, I could have a day like this and have some fun."
Exactly. At last, this was "Sandy Lyle" talking.
Ah, but McIlroy then veered off that course, justifying the conservative approach that has brought him consistency and that succession of "back-door" top-10s.
"Thursdays in this golf tournament is not the time to be super aggressive," he maintained. "It's a day to just hang in there and hang around. I don't think it is the right strategy to go for broke from the first day. Obviously, you can get on a run and shoot a good score, but you're basically trying to just play yourself into the tournament. That's what this event is all about: hang around until you get to a spot where you feel comfortable to be aggressive. Which was where I was today.
"I found myself a little too far back, but that wasn't because of my game," he continued. "I feel like I've played OK, especially yesterday. I played well to shoot under par. But Scottie had such a lead. So, I thought my strategy this week was really, really good. I know I said after the first two days I could have been a few shots better—there was that bogey, double-bogey run on 10 and 11 on the second day. Apart from that, I basically did everything I wanted to this week."
Except win. Which is where we came in. Come on Rory, go for it earlier next time.
MORE MASTERS 2022 STORIES FROM GOLF DIGEST