The Loop
The 9 times you should apologize on the golf course (and the times you shouldn't)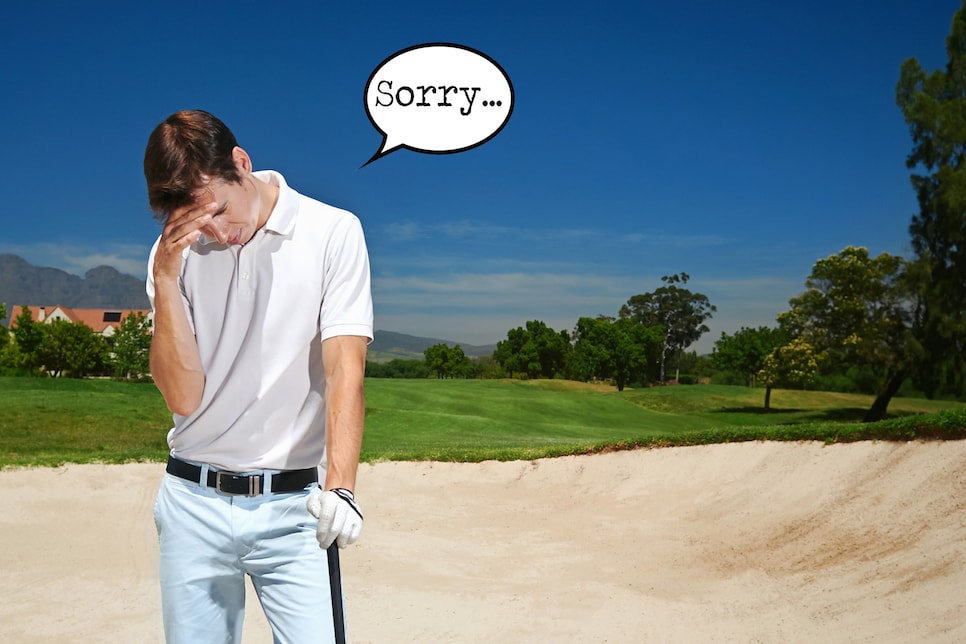 By our unofficial accounting, the typical golfer makes an average of 187 mistakes per round. Factor in choices made when getting dressed, and the number is even starker.
But not every blunder merits an apology. Golf is hard. We get it. If we offered a "sorry" for every time a golf ball landed somewhere other than its intended target, there'd be no time to talk about anything else.
So when should you apologize in golf? Like the course itself, this is tricky terrain, hence some guidelines:
DON'T apologize after hitting your tee shot out of bounds. You're the one paying for it in the form of a golf ball, a penalty stroke, and a sliver of dignity.
DO apologize if the sliced drive comes after ignoring a partner's emotional plea to hit a 6-iron instead.
Throw in a bottle of wine if said tee shot happens to collide with your partner's windshield.
DON'T fret when hitting out of turn off the tee. You made 6, they made 5. In the interest of pace, now is not the time to stand on ceremony.
DO apologize for callously teeing off first moments after a playing partner just holed out for the greatest eagle of their life.
DON'T apologize for a partner losing a golf ball. Unfortunate, sure, but it's not on you.
DO apologize if you spent the time searching for the ball with your feet up on the cart scrolling Twitter; or you found a ball, really liked the logo and didn't realize until later it was the same ball everyone was trying to find.
Consider a hand-written apology when a partner's lost "ball" is actually a lost "60-degree wedge" left on the fringe that you pocketed as well.
ALSO apologize if the lost ball is a byproduct of you blurting out "Hey cart girl!" at the top of their backswing.
DON'T apologize to your caddie just because they're carrying your bag. Provided you're paying them a fair rate, it's what they signed up for.
DO apologize if you call your caddie "Caddie."
ALSO apologize if the bag they're carrying has a medium bucket of balls in the pockets.
DON'T apologize for an innocent scorecard error. Someone has to do the clerical work, and math isn't your strength.
DO apologize when you give yourself an extra three a side to win $50, and now you're being threatened with a 7-iron.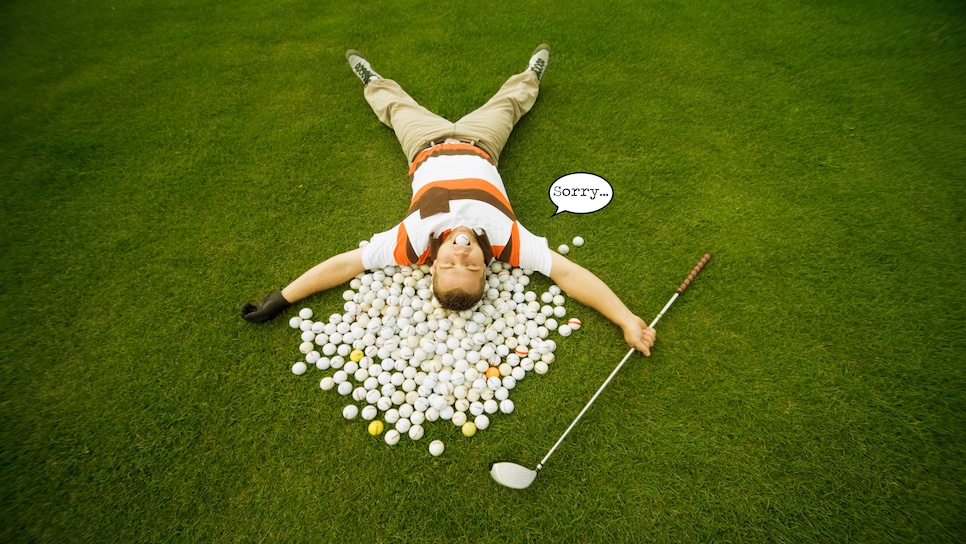 DON'T apologize for the occasional disaster hole. They happen to the best.
DO apologize if it interrupts play on an adjacent hole as you spend the next seven minutes deliberating the best club to punch back into play.
ALSO apologize if it ends with you studying a three-footer from both sides of the hole before rolling it in for an 11.
DON'T stress about occasionally needing your phone when real life intervenes.
DO apologize if you "need your phone" to binge watch multiple episodes of Narcos in between shots.
OR if you turn a playing partner's own disaster hole into a viral Tik Tok without their consent.
DON'T apologize for being yourself at a private club. Being a worthy guest shouldn't mean being a different person.
DO apologize when it's noted later you spent the entire round insulting the golf course, the locker room staff, the overcooked burger and the woman the next fairway over who, it turns out, was your host's wife.