Only One Way To Find Out
Stupid Golf Arguments: Could you win the Masters teeing off from 100 yards on every hole?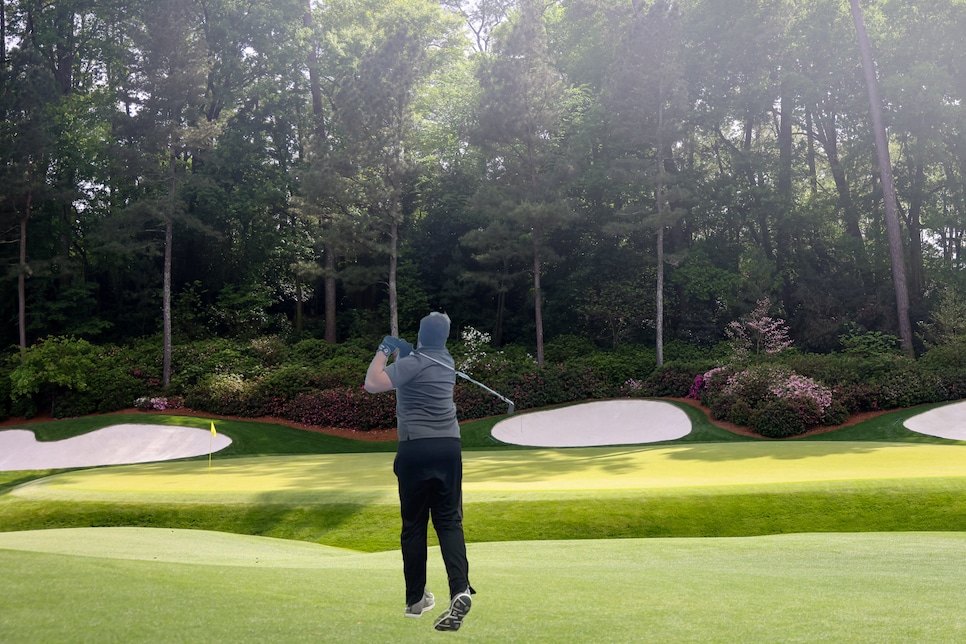 Thanks in part to the pandemic, I have a large and thriving friend group on Slack, composed of original IRL pals and Internet people who have become IRL pals, and many of us love golf. In our #channel-unlike-any-other, it was Jamieson, the best golfer among us, who asked the question that launched a thousand takes on Tuesday:
"If you could start every hole from 100 yards away, and par was unchanged, could you win the Masters?"
What seemed like a simple thought exercise spiraled into an hours-long debate, but before we get into the nitty-gritty, let's set the ground rules of the thought experiment:
1. As Jamieson said, you're 100 yards away on every hole, with a good, flat lie on the fairway. The pros are playing the regular course.
2. Par remains the same, meaning that if you get on the green with your wedge on a par-5, you're putting for albatross. You obviously have a theoretical edge on those holes and the par 4s, while on the par 3s you're slightly closer than the pros but have no other advantage.
3. You're playing in the actual Masters, under tournament conditions, with the massive galleries, and you'll be paired with another professional based on your results each day. Meaning if you have an actual chance to win this thing, you're playing with Scheffler or Rory or somebody on Sunday, you're looking sweaty and terrified on national TV, and every time you catch a shot slightly thin there's a giant groan from the patrons and Jim Nantz very politely tells America that you're a hopeless choker.
Given all that, could you win the Masters?
As somebody who has been trying to break 80 for the past year on my local course, getting close but never quite there, my answer is "absolutely f***ing not." I played Pinehurst no. 2 last year just after the North & South Men's Championship, and I saw firsthand what a tough course in tournament shape looks like. If you gave me a 20-yard pitch shot, the odds I was holding one of Donald Ross' crowned greens were maybe 50%, and putting was a nightmare. Add in the pressure of a gallery, and I know that for every rare "eagle" I make on a par 5, I'm taking a humiliating 10 on a par-3. I would force Fred Ridley to apologize for inviting me out in the first place.
"He's no Dude Perfect," Ridley would say, as the Pinkertons hustled me off the grounds.
My opinion was not totally representative. Of 25 people polled in the Slack, 19 believed they would fail, and their handicaps ranged from 10-20. But our friend Erik, who estimates his handicap as between 23 and 25, was absolutely certain he'd win the green jacket.
"My answer would be different from 125 yards," he wrote. "A hundred yards is just too much free money...I think it would be very close, but at the end of the day, for every 5 or even 6 I would inevitably register, I think there are more 4s and 3s...I also love putting. Those greens are pretty massive. Get me on the dance floor and I like my chances of a 2-putt."
As you might imagine, he was roundly attacked as delusional until he admitted that he had never putted on anything like Augusta greens and had also just consumed several beers. However, he still DM'ed me to say that everyone who thought he'd fail was mentally weak.
Scott, another true believer and a 13 handicap, had this to say: "I'd hit 12/18 greens from 100 yards. On the 6 I miss, I'll give myself 3.5 add'l strokes to hole out (27 strokes). On the 12 I hit, I'll give myself 2.5 to hole out (42 strokes). So target final score is -12, we'll see how that holds up."
"This will sound crazy," wrote Jamie, a 16 handicap, "but I think the crowd would allow me to focus more. I'm saying yes because I'm playing three practice rounds before Thursday."
Jamieson, a scratch golfer, and Colin, a 2.8, also believed they could win, and their arguments felt more, shall we say, grounded.
"I think I'd be able to make hay on the par-5s," Jamieson wrote. "The greens on the first three are receptive, and from 100 yards out I'd expect at least a few "eagles." There are a few greens that would be tricky no matter what—1, 3, 15—but they mostly offer safe misses that I should be able to err on the side of with a sand wedge in my hands. From that distance, wind and conditions in general wouldn't be much of an issue, particularly since, as fast as the greens are kept, Augusta doesn't generally let them get baked out and overly firm. Does the pressure worry me? Yes, but I think I'd be embraced by the Augusta faithful as an everyman, cheers ringing out everywhere I go."
"One of the other things is how significant this advantage is on holes like 5, 10, 18," Colin added. "18 becomes one of the easiest holes on the course. Excellent eagle chance. These are tough holes for everyone else and a big leverage point."
Colin even went so far as to put together a spreadsheet showing how he could shoot 64 while allowing himself several three-putts and missed greens. ("As I open this spreadsheet, I'm convincing myself it will come to fruition and I'll get to be there," he said.)
For the rest of us, the feeling was less optimistic.
"The nerves would get to me at some point and it'd hamper my short game, and I'm not good enough to build up a significant enough lead to try to ride that out," wrote Jake, a 9.2.
"There's too much you have to get right on Amen Corner," wrote Anthony, who I personally watched hit a 3-wood from 257 yards to 10 feet at our last group Ryder Cup event, "and about 5 other holes. Downhill lie on 2, water on 15. And then the whole putting thing."
"I think if you started me on the green I would still not win," said Aaron, who hits the ball comically far but is still a work-in-progress on the short game. Aaron also wanted to know how many sandwiches he would be allowed to eat and whether he would get to stay at Butler Cabin, though it did not change his answer.
("I'll stay at the La Quinta Fort Gordon and still win that ****," Erik, the 25 handicap, responded.)
"It's gonna be wet this week," wrote Drew, with whom I recently shot a 70 in a two-man scramble. "Would you like some Tostitos with your chili dip, sir?"
"First bunker I hit I'm walking away," wrote Damon.
"You'd be eliminated after one bunker for the amount of times you ground your clubs," Zac replied.
Overloaded with opinions, I realized it was time to seek the advice of an expert. I reached out on Twitter to Lou Stagner, the Data Insights Lead at Arccos, and prayed he would be amenable to settling a stupid argument. I was in luck—he came armed with Arccos statistics to ground our discussion in something more like reality.
"It's an interesting question," he wrote. "To make the math easy, if we say 16 under wins, that is an average of 4 under each day (68). That would be an average of ~3.78 on each hole. From 100 yards in the fairway a 10 index will average ~3.39 strokes, a 15 index is ~3.60 strokes, and a 19 index is exactly 3.78. This is across all courses/conditions. So how much do we add for 1, playing at Augusta, and 2, playing in front of crowds? We definitely add something...very tough to say exactly what the buffer would be. Quarter shot per hole? More? That's the wild card...for some people, that would CRUSH them and they would shoot a million."
This is where the debate departs from the realm of pure science, since the "buffer" Stagner described is far less quantifiable. Still, there's nobody more expert on this subject than him, and his conclusion?
"I think a 10-index would be ballpark about the cutoff. I don't think a 15 can win. A 20 has zero chance."
So there you have it...kinda. What's great about this debate is that there's always room for speculation. Maybe you'd only need to reach 11 under! Maybe you'd thrive under pressure! Maybe you'd get in a groove hitting the same club over and over! Maybe the crowd would love you! And the beauty of it is that nobody can ever prove you wrong, because there's one thing that's still beyond dispute: Nobody is letting us within 100 miles of Augusta National with a golf club in our hands. The green jacket is safe.