7 Word Clouds From Pros' Press Conferences
Ever wondered what a PGA Tour pro's press conference looks like? Well, we took the transcripts of every press conference from these seven pros so you can find out.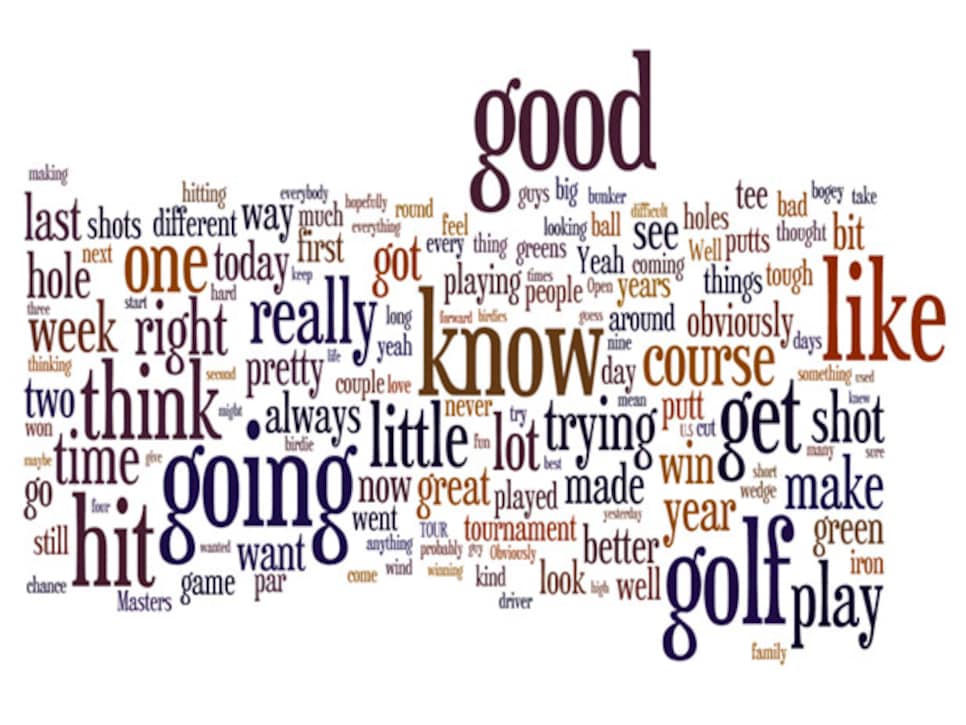 Bubba Watson
Bubba's become known for his occasional outbursts, sometimes at the media, but on the whole his press conferences are pretty bland. Lots of "goods" and "likes" and "plays."
Rickie Fowler
You can see how generally positive Rickie is in his press conferences by stringing together some of his most-used phrases: "Going good," "play really well," definitely fun." You can also see the word "Butch," which shows how much Rickie's talking about his new coach.
Rory McIlroy
Another word cloud like Rickie's. Very enthusiastic, lots of "goods," "tryings," "wins" and "birdies." For a top player, he's also pretty open about his faults, too. You can see how often he confronts talk of his "bad holes" towards the left side of the graph.
Tiger Woods
It's almost sad looking at Tiger's word cloud. Lots of talk about his "back" and about whether he'll be "able to play." You can also see phrases like "really different" and "long way."
Tom Watson
You can see how much the Ryder Cup dominated all of Watson's press conferences last year. Lots of talk about who's "playing well" and who could "make the team."
sergio garcia
If you look towards the bottom left portion of the word cloud you can see the word "Rory." Nobody else here talks about another tour player as much as Sergio talks about Rory.
phil mickelson
Of course this would be Lefty's word cloud. Lots of talk of how he "thinks" and "feels" surrounded by other generally positive statements.