Instagrams
The Week In Instagrams: 03-20-2017
Tributes to Arnie, surviving a blizzard, and honoring the LPGA Founders.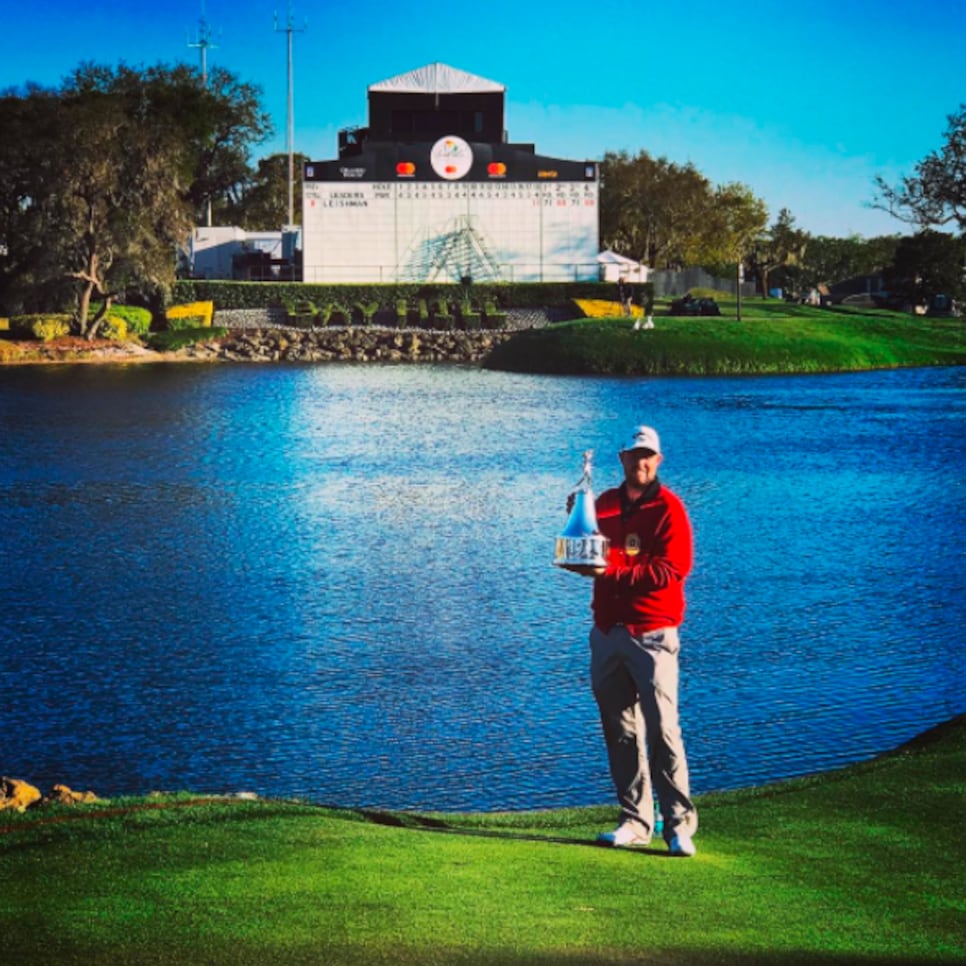 Arnold Palmer Invitational @apinv
#LifeWellPlayed
Golf Digest @golfdigest
The one. The only. The King .
Rickie Fowler @rickiefowler
Legends never die!! Honored to be here this week at the
@apinv
to celebrate a life well played!! To The King
Anna Nordqvist @a_nordqvist
Can't stop smiling. Thanks to everyone who believes in me, supports me and pushes me to become a better athlete. This is where my journey started 10 years ago and I cant thank everyone who made this journey possible enough and this win is for YOU guys!!! Love being a Sun Devil and this feels like winning at home!! One of my proudest moments as an athlete hands down!!! #TeamANNA
@isagenix
@rolex
@jlabaudio
@sklz
European Tour @europeantour
Arnie just after impact 👊 Arnold Palmer in action at the 1968 World Match Play Championship at Wentworth GC.
Rory McIlroy @rorymcilroy
At the King's desk as #arniewould
@apinv
Fore Play @foreplaypod
Playing the iconic 18th at Times Square last night...
Ashley Mayo @ashleykmayo
In just two weeks, the world of golf will turn its attention to this beautiful oasis .
Bryson DeChambeau @brysondechambeau
Justin Rose @justinprose99
#TB to the 2015 Open Championship - Special few moments with #TheKing while out playing a practice round. #ArniesArmy
Carly Booth carlyabooth
When your new sofa arrives and you fall in love A💕 This could be dangerous
Cheyenne Woods @cheyenne_woods
A💕🤜A💕🤜🏽A💕🤜🏽🤛A💕🤜🏽🤛🏼
Paige Spiranac @_paige.renee
When you don't know what to do with your hands haha. Always awkward, always smiling #golf
Christina Kim @thechristinakim
Thank you
@lpgafounders
for celebrating the indomitability of thirteen brave women, without whom I wouldn't be able to pursue my dreams and hope to inspire the next generation.
Justin Thomas @justinthomas34
Trey is married!! Huge congrats to 2 of my favorite people
@treymullinax
@abiessman
on getting married today. Such a blast and happy for what the future has in store for them #matchmadeinmullinax
Pebble Beach Resorts pebblebeachresorts
Still enough light to finish! #sundaysunset #mypebblebeach #beautifulgolfcourses A💕🤜🏽🤛🏼📷 Bart Keagy
Anna Rawson @annarawson
A💕🤜🏽🤛🏼📷💋A💕🤜🏽🤛🏼📷💋💋A💕🤜🏽🤛🏼📷💋💋💋
Ryann O'Toole @ryannotoole
True inspiration these women are #founderslpga #founders
@lpga_tour
@lpgafounders
without them I wouldn't have a job playing professional golf. Thank you
John Peterson @jpetepga
On this Sunday of the first
@apinv
, even though I'm not there, I can't help but be thinking about the legacy of Arnold Palmer today. The thousands of lives he touched and the small gestures like these notes he would write to us players after an extraordinary tournament. Receiving this letter from The King at 22 was something I took for granted then, but a piece I will cherish for the rest of my life now. #ThankYouArnold #ArnieWould
LPGA Tour @lpga_tour
#Priceless #lpgafounders
Lexi Thompson @lexi
Got to meet these two cute girls last night that are big fans of women's golf and obviously
@puma
gear and on top of that have great games as well!
Michelle Wie @themichellewie
Love that we have a week dedicated to honoring our Founders of the
@lpga_tour
! Because of all their sacrifices and hard work to create the LPGA, I am able to play a sport that I love for a living. Thank you Founders ❤A💕🤜🏽🤛🏼📷💋💋💋💙❤
PGA Tour @pgatour
A little bit of paradise on earth. The final round at Bay Hill.
Sean Ogle @breakingeighty
You would never fly across the country to play the golf course at Skamania Lodge outside Portland. But if you're ever looking for a weekend getaway in the northwest, this is a fantastic option. The lodge has great views, and fantastic pool and spa, and what may be one of the quirkier courses in the area.
Niall Horan @niallhoran
Nearly never did it . . Gutted !
Beatriz Recari @beatrizrecari
Absolutely stunning golf course #scottsdalenational
@pxg
Natalie Gulbis @nataliegulbis
Bandon Dunes Golf Resort @bandondunesgolf
North breeze on #BandonTrails No. 5