SOCIAL MEDIA
The Week In Instagrams: 05-16-2017
Si Woo Kim's big win, Rickie's ace and celebrating Mother's Day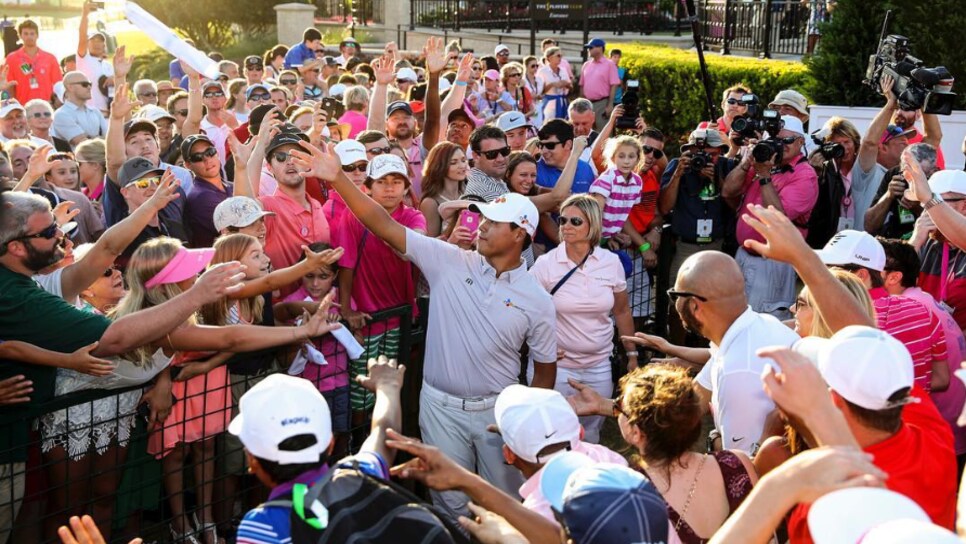 Photo By: My mom gives the best hugs ❤️❤️❤️ #thismoment
PGA Tour @pgatour
When you wake up as the PLAYERS champion ... 🤗
Justin Thomas @justinthomas34
Rickie Fowler @rickiefowler
BUCKETS☝️
Alex Myers @alexmyers3
Max Latimore, 9, wound up with Rickie Fowler's golf ball that got stuck in a tree on 18. Might be the happiest kid in the world.
Andrew 'Beef' Johnston @beefgolf
Morgan Pressel @mpressel
Had a great weekend in Ponte Vedra with #Optum and their guests at #ThePlayers. Only had the chance to watch about an hour of golf, but had to go out and see the famous 17th hole for myself!
Channing Benjamin @channingbenjaminphotography
Michelle Wie @themichellewie
Photo By: My mom gives the best hugs ❤️❤️❤️ #thismoment
Cabot Links @cabotlinks
Let the games begin! ⛳️🤗👎🏽📸🎉 #cabotlinks #weareopen #linksgolf #2017 #golf #walkinggolf #golfseason #Inverness #CapeBreton #NovaScotia #ComePlay #PlayBeautifully
Michael Phelps @m_phelps00
Another fun day on the course!! #gripnrip
Lexi Thompson @lexi
Happy Mother's Day also to my amazing godmother! Love you so much ❤
Morgan Hoffmann @morganhoffmannpga
Lydia Ko @lydsko
Happy Mother's Day to all mom's ❤️ Especially to Mama Ko for guiding, supporting and loving me no matter what!!! Love you 🤗👎🏽📸🎉😘
PJ Koenig @pjkoenig
The par 3's at Seattle Golf Club will make you want to call your Mother and thank her for giving you life. But, you should just do that anyway. #HappyMothersDay
Paige Spiranac @_paige.renee
☀ Sunny days are great for getting rid of that terrible hat tan line haha 🤗👎🏽📸🎉😘👌🤗👎🏽📸🎉😘👌🏻 ☀ How's your Monday been so far?
Hunter Mahan @huntermahan
We're never sure what life will bring us, but I know that with you by our side we can get through anything! Thanks for being the best Mom our kids could ever dream of. Happy Mother's Day!
Ashley Mayo @ashleykmayo
The only thing more fun than celebrating the grand opening at
@SandValleyGolf
was writing about it for Golf Digest . Hit the link in my bio if you're interested in learning about the Bandon of the Midwest . (And by the way, this
@kjus
jacket is the first jacket I've worn that lets me swing freely without feeling constricted.)
Si Woo Kim @siwookim95
#victory #teamfoley#playerschampionship #cj#travismatthew#taylormade thankyou🤗👎🏽📸🎉😘👌🏻👍
Belen Mozo @belenmozo
⚡ 🤗👎🏽📸🎉😘👌🏻👍🅓ⓔ🤗👎🏽📸🎉😘👌🏻👍🅓🅣ⓔ🤗👎🏽📸🎉😘👌🏻👍🅓🅣🅡ⓜ🤗👎🏽📸🎉😘👌🏻👍🅓🅣🅡🅘ⓝ🤗👎🏽📸🎉😘👌🏻👍🅓🅣🅡🅘🅐ⓣ🤗👎🏽📸🎉😘👌🏻👍🅓🅣🅡🅘🅐🅘ⓞ🤗👎🏽📸🎉😘👌🏻👍🅓🅣🅡🅘🅐🅘🅝 ⚡
@skechersperformance
: [@jpgb_] (https://instagram.com/jpgb_) menudo menudo crack de fotógrafo! 🤗👎🏽📸🎉😘👌🏻👍🅓🅣🅡🅘🅐🅘🅝💥
Smylie Kaufman @smyliekaufman10
Happy Mother's Day to my Mom! Loved having her out there watching me play. Thanks for all that you do!
Hally Leadbetter @hallyleadbetter
5 weeks until we meet again. 🤗👎🏽📸🎉😘👌🏻👍🅓🅣🅡🅘🅐🅘🅝💥💯🤗👎🏽📸🎉😘👌🏻👍🅓🅣🅡🅘🅐🅘🅝💥💯😍
George Bryan IV @georgebryaniv
We love you mom 🤗👎🏽📸🎉😘👌🏻👍🅓🅣🅡🅘🅐🅘🅝💥💯😍😘! #youdabest
Beatriz Recari @beatrizrecari
Great week off at home. Worked hard on my game and I'm excited to play next 3 weeks. Check out
@benjaminortega
profile if you like amazing pictures. I'm a huge fan of his work with
@jonolsson1
vlog. Best stuff on YouTube!
Cory Bradburn @corybradburn
When you're working on Friday but golf is life... • A📷: @benwalton_gd