The 13 most terrifying, frightening, fear-inducing holes in golf
Most adults view Halloween as an excuse to a) Drink b) Go into a sugar coma c) Dress in an inappropriate manner. Personally, I appreciate the holiday for its inherent sadistic tone. After all, what other time is it totally OK to scare the bejeezus out of someone? "Sadistic" is the outlook many harbor towards the game of golf, which makes sense. There are certain things you see on a course that you can't unsee. But what holes in particular emit universal terror? Here is our list of the 13 most terrifying, frightening, fear-inducing holes in golf.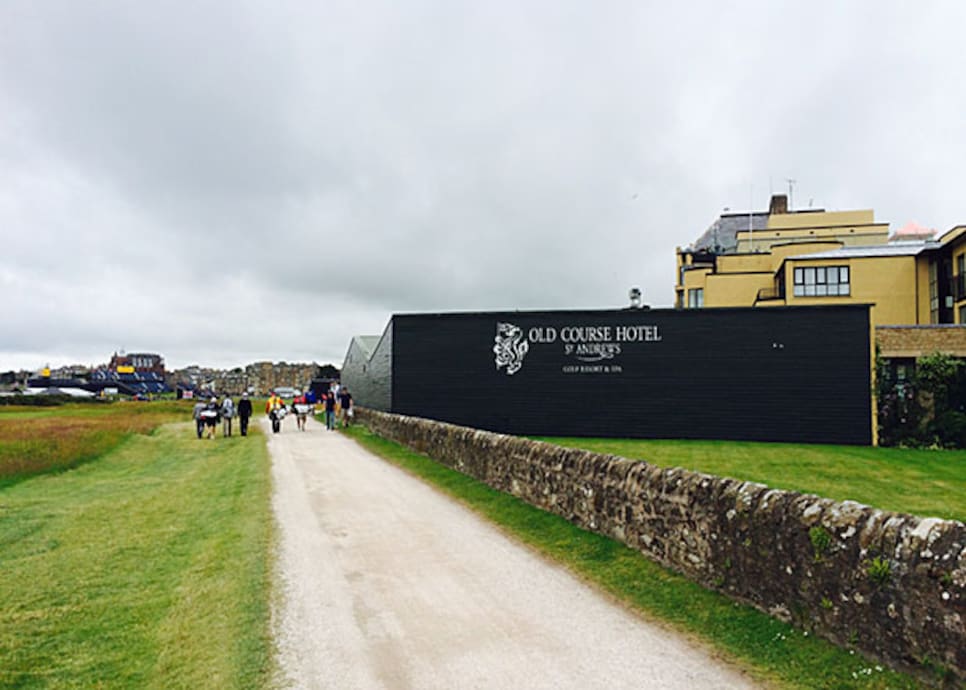 Photo By: Stephen Szurlej
Photo By: Stephen Szurlej
17th Hole -- Old Course, St. Andrews
In the opening round of this year's British Open, the field averaged a bogey (4.8) on the Road Hole. Not sure why. All the 450-yard par 4 requires is a tee shot over a railroad shed/hotel to a blind, dogleg-right fairway surrounded by heather, with an approach to a narrow green guarded by a bunker that's harder to escape than most prisons and a stone wall lining the back of the hole that garners overrun balls. Nothing to it.
18th Hole -- Blue Monster Course, Doral
For years, the Blue Monster's finishing holes lived up to its namesake. However, following Donald Trump's $250 million renovation to the course, the 18th has made tour players tremble in even greater fear. Specifically, a tightened fairway has correlated to an uptick in balls in the lake. During Thursday-Friday play at the 2015 WGC-Cadillac Championship, there were four birdies in 145 attempts against 69 bogey-or-higher scores.
12th Hole -- Augusta National
Many a green jacket dream has drowned in Rae's Creek at Augusta National's 12th hole, which Lloyd Mangrum once called "the meanest little par 3 in the world." Swirling winds and the whirlpool effect wreak havoc, not only on players' shots, but their mindset. Two-time Masters winner Ben Crenshaw blames the hole's location on an old Indian burial ground. "Sometimes it comes down to superstition. When the wind comes up while the ball is in the air and knocks it into the water, the local caddies will say, 'The spirits got it.' "
Fourth Hole -- Bethpage Black
How can this 517-yard par 5 at Bethpage Black -- one of the hardest layouts in America -- be the course's second-handicapped hole? For one, add 100 yards to that distance, because the hole makes a severe track uphill. The view from the tee will make the most courageous individual seek shelter from their mommy -- go left, you're in a cavernous bunker; right, in thick rough. Traversing up the hill requires a long shot over a deep wall of sand, with the green surrounded by, you guessed it, more beach.
17th Hole -- TPC Sawgrass
"It's like having a 3 o'clock appointment for a root canal," Mark Calcavecchia once said of the 17th at TPC Sawgrass. "You're thinking about it all morning and you feel bad all day. You kind of know, sooner or later, you've got to get to it."
17th Hole -- Ocean Course, Kiawah Island
In compiling
Golf Digest's 20 Toughest Golf Courses in America
, one of our panelists said, "I think the 17th hole is the toughest par 3 in the world. If the wind blows, watch out." Tipping out at 231 yards, the 17th will bring those of weak demeanors to their knees.
18th Hole -- Carnoustie
Or, as it's commonly known, the site of Jean van de Velde's meltdown. Enough said.
Photo By: Stephen Szurlej
13th Hole -- Whistling Straits
Thanks to a strong Sunday gust at this year's PGA Championship, Bubba Watson overdrove the 409-yard hole. However, don't let Bubba's feat fool you: The hole known as "Cliff Hanger" is one of the most arduous challenges in championship golf. Anything less than an accurate tee shot will find the sand. Same sentiment applies to the approach, with shots off to the right falling towards Lake Michigan.
First Hole -- Oakmont Country Club
Hitting off the
first tee is hard enough
. When the opening hole is a 482-yard par 4 with eight bunkers off the fairway and two more by the green? It can be a downright dream-killer.
Eighth Hole -- Pebble Beach
The Pacific Ocean hugging the cliffs is breathtaking...until you put your tee in the ground, and in that case, the view becomes breathtaking in a different manner. A well-hit drive can overrun the fairway and into the drink, and the green, which runs front to back, is guarded by four traps. Forget making par; not losing a ball is the real goal.
Photo By: Stephen Szurlej
14th Hole -- Coeur d'Alene Golf Resort
Fact: 80 percent of scary movies take place near a remote lake. Throw in a 218-yard shot to the floating island, along with a boat ride to the green, and we're staying far away from this Idaho resort.
Photo By: Dom Furore
Fifth Hole -- Pine Valley
While many of Pine Valley Golf Club's holes don't leave much room for error, the par-3 fifth does not suffer fools. The 220-yard hole requires an uphill shot over water and bunkers to a narrow, sloped green. Bogey is your friend.
Extreme 19th -- Legend Golf & Safari
The longest par 3 in the world at 395 yards, a shot from the top of Hanglip Mountain takes close to 20 seconds to land at this South African course. Players have to take a helicopter to reach the tee. God forbid if you bring the wrong club.