Swing Sequence: Marc Leishman
Marc Leishman's swing has little tension and produces big power.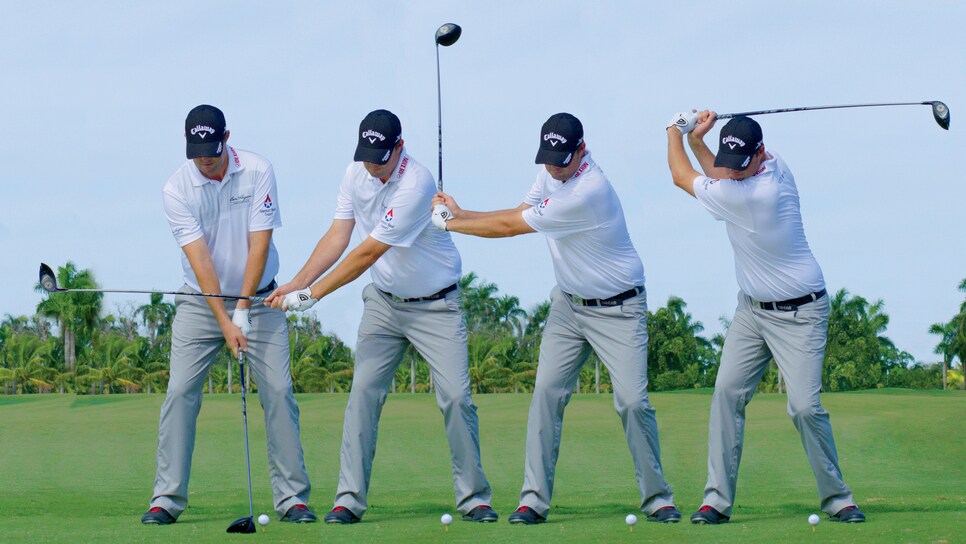 Marc Leishman's teacher had a plan for his young student in 2002: "Marc had players he looked up to—like Greg Norman and Ernie Els—but we never tried to copy a swing. We continually tried to develop a better version of Marc Leishman."At 18, Leishman, who is Australian, met teacher Denis McDade and entered the renowned Victoria Institute of Sport in Australia. VIS is the government-funded program that has produced players like Geoff Ogilvy and Stuart Appleby and has become a blueprint worldwide for developing elite golfers.Now 14 years later, McDade has seen Leishman go from top junior player to 2009 PGA Tour Rookie of the Year to major-championship contender. (He lost to Zach Johnson in a playoff at the British Open last summer.)Leishman got an early start in the game, at Warrnambool Golf Club across the street from his childhood home. He says he learned more by playing than practicing and was always challenging someone to a contest. "The course required creativity and the ability to maneuver the ball," McDade says. "The result is a player who has more shots than anyone I've ever coached."
PRO-FILE: MARC LEISHMAN
32 / 6-2 / 205 pounds / Virginia Beach, Va.
DRIVER: Callaway XR 16 9 degrees
BALL: Callaway Chrome Soft
A RELAXED START
In his setup, Marc Leishman is balanced, athletic and tension-free, with his head well behind the ball. "All great keys for driving it long and straight," says his teacher, Denis McDade, director of coaching at BannLynch Golf in Melbourne, Australia.
TOGETHERNESS
"Marc is swinging his arms and the club away in sync with his upper-body rotation, and his lower body is providing a stable base," McDade says. "Look at how the ratio of arm swing, upper-body turn and lower-body turn are in balance with each other."
STAYING LOOSE
At the top, Leishman is coiled but shows no stress. Note the relaxed look of his arms—he even lets the left elbow bend—which allows a free-wheeling motion down and through. "Amateurs tend to tense up going back," McDade says. "Marc's as tension-free as they get."
LOWER BODY LEADS
Starting down, Leishman shifts toward the target and starts his move into impact. "His upper body is still closed to the target, his arms are still relatively soft, and his head is staying back," McDade says. "Those positions are perfect for driving with power and control."
AN AGGRESSIVE RIP
Leishman looks balanced, tall and strong at impact. His body has rotated open relative to address, which supports the impact position of the hands leading the clubhead. "Impact is the only frame where Marc looks like he has any tension in his arms," McDade says.
FINISHING TOUCH
It's all about rotation here. "In every frame of the downswing Marc's head is turning forward," McDade says. "He's a little inflexible in his left hip, so to make a full release and stay in balance, he lets his left foot rotate out. It's another way of matching his swing to his physical capabilities."
"Marc is swinging his arms and the club away in sync with his upper-body rotation, and his lower body is providing a stable base," –Denis McDade