From the Archive
Reflections On The U.S. Open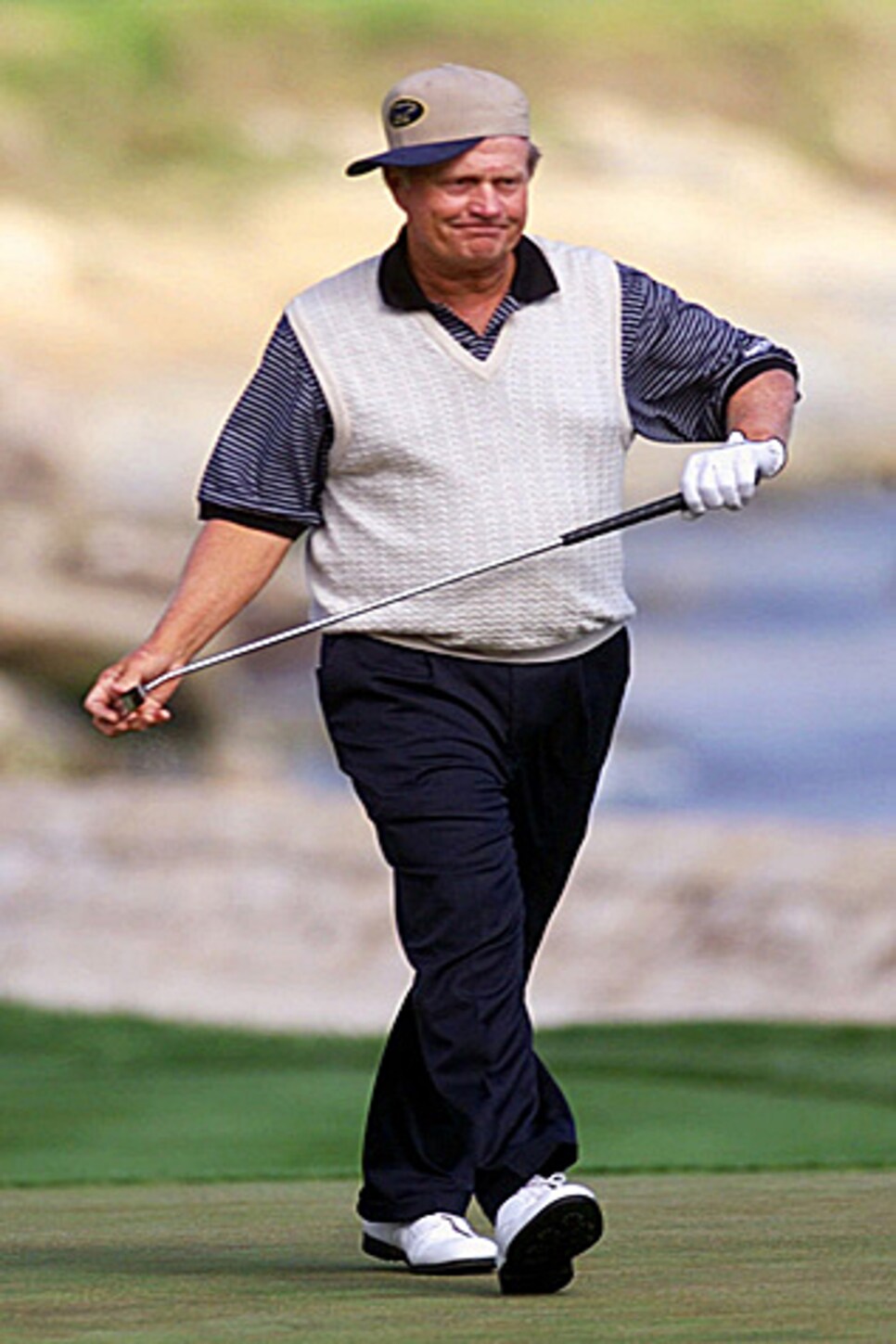 Photo By: Lenny Ignelzi/AP Photo
Photo By: Stephen Munday/Getty Images
Photo By: Elise Amendola/AP Photo
Photo By: Stephen Szurlej
Photo By: Eric Risberg/AP Photo
Photo By: Doug Mills/AP Photo
Photo By: Gene Puskar/AP Photo
Photo By: Stephen Munday/Getty Images
Photo By: Doug Mills/AP Photo
Photo By: Peter Southwick/AP Photo
Photo By: Diane Hires/AP Photo
Photo By: Nick Laham/Getty Images
Photo By: Golf Digest Resource Center
Photo By: Ross Kinnaird/Getty Images
Photo By: Ed Betz/AP Photo
Photo By: Stephen Munday/Getty Images
Photo By: Matt Bernhardt/Sarasota Herald-Tribune/AP Photo
Photo By: Jim Moe/AP Photo
Jack Nicklaus, on the traditional Open setup: "A difficult golf course eliminates a lot of players. The U.S. Open flag eliminates a lot of players. Some players just weren't meant to win the U.S. Open. Quite often, a lot of them know it."
Photo By: Lenny Ignelzi/AP Photo
Sam Snead: "It goes without saying that my biggest disappointment was never winning the U.S. Open. I'm reminded of it all the time. It hurts when people remember you for the things you didn't do, rather than for the things you did do."
Photo By: AP Photo
NBC's Roger Maltbie, on Sam Snead: "It's 1999, and we're doing the Open at Pinehurst. I'm in the tower at 18 with Dan Hicks. We decide to do an interview with Sam. He was what, 87 or something? We were advised that Sam had good days and bad days, so we decided to do the interview on tape. The last thing you want to do is embarrass anybody. It started slowly, but all of a sudden Sam turns to Dan and says, 'You know, I sat down and thought about it once, and if I had shot 69 in the final round of the Open, I'd have won eight of them.' From that moment, he snapped in and he was lucid. Clear as a bell. So then Dan asked him about his longevity. Sam said, 'Well, I never drank much. Always took pretty good care of myself. Got to bed early, got a lot of sleep.' Then, with an old Sam Snead grin, he looked at Dan and said, 'Course, I did shake those bedsprings every now and then.' With that, we lose it. So the interview never aired, but it was tremendous."
Photo By: Stephen Munday/Getty Images
Tom Weiskopf, whose best U.S. Open finish was a T-2 behind Jerry Pate at Atlanta Athletic Club in 1976: "When people say they dream of playing in the U.S. Open someday, what they're really saying is, they'd like to be good enough to play. Trust me, the U.S. Open is not fun."
Photo By: AP Photo
Jerry Pate, on the pressure during the final round of his Open victory: "My caddie, John Considine, and I get on the 17th tee, and I always used to stand like this, kind of crossing my hands, putting them on my headcovers. We're waiting for [Al] Geiberger and Weiskopf to get off the green. John had lit a cigarette. I felt something like a bee sting, and I look over at my hands, and John's so nervous he's just holding his cigarette there, burning the back of my hand. We started laughing. So that kind of loosened me up."
Photo By: AP Photo
Jim Furyk, asked whether a woman streaker showing up during the final round of his Open victory at Olympia Fields in 2003 was the weirdest thing that had ever happened to him on a golf course: "I would hope so."
Photo By: Elise Amendola/AP Photo
Hubert Green, on Jack Nicklaus putting off the first green on the first hole of the 1974 U.S. Open, "The Massacre at Winged Foot": "Jim [Colbert] and I were trying to decide who'd putt next after Jack. When Jack hit his putt, at impact we both said, 'Jack is.' " Added Colbert: "He putted across the green, toward the hole, and as it started going down the hill it rolled right over my coin. He lost ground. . . . He was still away, maybe 35 feet. Now this is the greatest open player of all time, right? When that thing quit rolling, he was stark white, the color of my shirt. I'll never forget that. 'Never seen a green that fast,' he says. 'Never seen a green that fast.' "
Photo By: AP Photo
Former USGA executive director Frank Hannigan, the tournament-relations manager for the 1964 Open at Congressional, on a fight between two marshals as a dehydrated Ken Venturi played the final hole: "Marshals tended to gather en masse at the 18th hole inside the ropes and get in everybody's way. In an attempt to impose regimentation, we came up with a simple plan. All marshals were to be adorned in silly plastic hats on which were affixed each man's hole number. He was entitled to be inside the ropes only on his hole. A captain was designated for each hole to enforce the provision. The system worked beautifully until Venturi inched his way down the 18th fairway. After Ken played his second shot, the hole captain spotted a marshal inside the ropes with a wrong number on his hat. The captain politely told the intruder he must go outside the ropes. The response was, 'You're the same bastard who threw me out this morning!' In addition, he launched a looping roundhouse right, slowed considerably by the effects of a significant intake of alcohol on a 100-degree day. The captain slipped inside the crudely thrown right and countered with a right of his own--a short but crisp effort. It landed directly on the instigator's chin. His plastic hat went up in the air, like something you'd see in a cartoon. They grappled and went down to the dusty ground, where they rolled about until the intervention of real police. Mind you, all this was happening very close to Venturi, who never saw a thing. The miscreant, I soon learned, was a Congressional member, a retired Admiral of the U.S. Navy. He capped his day much later in a club bar by shattering the bar mirror, using a whisky bottle as a missile. He was promptly expelled from the club."
Photo By: AP Photo
David Fay, on being the starter on the first tee at Oakmont in 1983: "Tom Watson and Seve Ballesteros were the last pair to tee off. I had an earpiece on, and Terry Jastrow of ABC was saying, 'Let's hold them for three minutes.' I pass this along to the players. They ask why, and I tell them. Seve is not happy at all, asking, 'What gives?' Tom stuck a little needle in him by saying, 'Seve, I'm glad you got here on time; we wouldn't want a repeat of what happened at Baltusrol, would we?' [Ballesteros was late for his tee time in the second round in 1980 and was disqualified.] You could just about see the smoke coming out of Seve's ears."
Photo By: Stephen Szurlej
Bob Rosburg: "On the final hole of the 1969 U.S. Open, I missed a three-foot putt that would have put me in a playoff. Left it short. At first I felt crushed, but within 24 hours I realized it was the best thing that ever happened to me. At the time I was trying to get a divorce and was struggling to come up with enough money to satisfy my wife while leaving something left over for me. It dawned on me that if I'd made that putt and won the prize money and everything else that comes when you win the U.S. Open, my wife at the time wouldn't have granted me the divorce. That, or she would have demanded a fortune. As it was, she let me go, and two years later I was able to marry Eleanor."
Photo By: AP Photo
Tom Meeks, longtime USGA official: "I was in charge of determining the hole locations at the Olympic Club for the 1998 U.S. Open. The 18th green at Olympic is small, but I was determined to use four distinct hole locations--front-right, front-left, back-right and back-left. It's traditional to do that, but the back-left location was very dicey. The slope there is severe, especially when the greens are running fast. The late P.J. Boatwright used the back-left hole location in 1987 and barely got away with it. Eleven years later it was even more slippery. When we cut the back-left hole on Friday morning I was very nervous, but I figured the grass would grow as the day went along and slow the green enough to make the hole location feasible. Well, it didn't grow fast enough. When the first group came through, I knew I was in trouble. Later that day Payne Stewart three-putted from eight feet and wound up losing by one. Tom Lehman four-putted. It was a disaster. A U.S. Open course is supposed to be difficult, and sometimes hole locations are on the threshold of being too difficult. But I crossed the line. It was a terrible mistake on my part and made the whole USGA look bad. There aren't a lot of highs and lows in my job, but this was a huge low. I still think about it."
Photo By: Eric Risberg/AP Photo
Meeks, on a chat with Payne Stewart before the 1999 Open at Pinehurst: "Payne came to me early in the week and complained that the 16th hole, a par 5 we turned into a long par 4, was unreasonable. 'That green was not designed to accept a shot with a long iron,' he said. I said, 'I'll make a deal with you: We'll move the tee back a little and play it as a par 5, if you promise me you won't go for the green in two. Why would you even try, if the green isn't designed to hold a long-iron shot?' Payne said, "'You are impossible,' and walked away."
Photo By: Doug Mills/AP Photo
Seve Ballesteros: "The U.S. Open has never been exciting to watch. It has always been a sad tournament. There is no excitement, no enjoyment. It is all defensive golf, from the first tee to the last putt."
Photo By: Gene Puskar/AP Photo
Colin Montgomerie: "The U.S. Open is my favorite week of the year. To a lot of people, it is the worst week of the year. To me, you should be punished if you miss the fairway. You should be punished if you miss the green."
Photo By: Stephen Munday/Getty Images
John Daly, on whether he's sorry for anything he has done on a golf course, like taking an 11 on one hole at Pinehurst in 1999: "The U.S. Open? Nah, I'm not sorry for that. I hit a moving ball, my third putt, after my first two rolled up and back. That was the eighth hole. Ninth hole, Tom Kite, who I'm playing with, didn't say a word. On the 10th fairway, he said, 'I might have done the same thing.' I got a two-shot penalty. No fine. I said after that, I didn't consider the U.S. Open a major. Not because Pinehurst isn't a great golf course. It is. But because of the way the USGA sets up the Open so unfair."
Photo By: Doug Mills/AP Photo
Jack Nicklaus: "If I ran into a genie and he granted me one wish to have one back, it would be '82 at Pebble Beach. That would have made five U.S. Opens. Nobody's done that. I really thought that was mine. Jack Whitaker was by the 18th green, congratulating me on TV. There was a monitor behind us, and then we heard this big roar. Oops. Tom Watson had chipped in for birdie at No. 17."
Photo By: AP Photo
Jack Fleck, setting the record straight about his 1955 U.S. Open playoff against Ben Hogan: "There has long been a rumor that after I blasted from a bunker on the third hole of the playoff, I apologized to Ben for slowing us up. He supposedly replied, 'That's OK, Jack, we're in no hurry.' The story was that his comment put me at ease and that he later regretted saying it. But the story just isn't true. I wasn't in a bunker there, I made no bogeys on the front nine and in fact never trailed at any time in the playoff. I won the playoff by shooting 69 on a brutal golf course, making only one putt of any length. But it has always been thought of as the U.S. Open that Ben Hogan lost, not the one Jack Fleck won. I never felt I was given credit for how well I played."
Photo By: AP Photo
Tommy Bolt: "When I won the U.S. Open at Southern Hills in 1958, we still had a 36-hole finish on Saturday. We didn't play on Sunday because that was the Lord's day, you see. But seven years later, the USGA and television discovered there was a lot of money to be made on the Lord's day, and that was the end of the 36-hole finish."
Photo By: AP Photo
Curtis Strange, Open champion in 1988 and 1989: "Nick Faldo stared a lot of guys down. He never choked. He had a way of folding his arms and looking at you as though he knew you were going to make a mistake. And guys would screw up against him. But in our playoff at Brookline [1988 U.S. Open], I was in a good frame of mind to handle Nick. . . . My feeling was, I'll wait for you to hiccup. And he did hiccup--he bogeyed No. 11, which gave me a two-shot lead--and I beat him. Faldo got the better of me a couple of times, at the Ryder Cup especially, but I got him at the big one when he was in his prime. I'm proud of that."
Photo By: Peter Southwick/AP Photo
Larry Nelson: "Shortly before the 1983 U.S. Open at Oakmont, I paid a visit to Ben Hogan. I played Ben Hogan equipment and over the years had developed a good friendship with him. I was visiting Ben to pick his brain about playing Oakmont, because he'd won the Open there in 1953. I said, 'Ben, those greens are so firm I'd think you'd have to hit the ball high to do well there. You were a low-ball hitter, so how did you do it?' Well, Ben took exception to my calling him a low-ball hitter. He said, 'I could hit the ball high when I wanted to, Larry. You want me to show you how?' So he takes me out to the practice range and taught me how to hit the ball high. The secret, he said, was to cup your left wrist more at the top of the backswing. That opened the clubface and made it easier to maintain loft through impact. He told me not to change anything else, to go ahead and release the club through impact the same way. Well, I did what he said. I worked on playing with that cupped-left-wrist position very hard, and during the Open I hit a high, soft fade all week. It worked."
Photo By: Diane Hires/AP Photo
Dan Jenkins, on the rain-delayed opening round of the 2009 U.S. Open at Bethpage: "I've seen shorter NBA seasons."
Photo By: Matthew Mahon
Phil Mickelson, on his double bogey on the 72nd hole at Winged Foot that gave the 2006 Open to Geoff Ogilvy: "I don't mind seeing it over again. I don't cover my eyes or anything like that. You learn from your mistakes, and my mistake there wasn't hitting driver off the 18th tee on Sunday. It was the next shot, the 3-iron. All I had to do was cut the 3-iron up by the green and get it up and down, like I'd been doing all day. I didn't hit a lot of fairways that day, if you remember. The hole before that, I was 50 yards in the rough off the tee. No, it was the second shot that cost me. I had a great lie, and all I had to do was cut it around the tree. I only had 190 or so yards to the green. Instead, I just blocked it into the tree. It happens."
Photo By: Nick Laham/Getty Images
Tom Watson, on choking: "Everybody has choked. In the 1974 U.S. Open, I kept hitting the ball right to right. My nerves wouldn't allow me to adjust. That's what choking is--being so nervous you can't find a swing or a putting stroke you can trust, and gaining momentum from it. Byron [Nelson] gave me the best cure for it. Walk slowly, talk slowly, deliberately do everything more slowly than you normally do. It has a way of settling you down."
Photo By: Golf Digest Resource Center
Michael Campbell, on when he first thought he might win the 2005 Open at Pinehurst: "When I holed the putt on 17 [in the final round], that put me three shots clear. But I have to admit, on the tee the name Jean Van de Velde did occur to me. I was lucky there was no water in front of me. The funny thing was, over that third shot, I was thinking, Don't shank it; don't thin it. I told myself not to be so stupid and just hit it. . . . Anyway, I hit it to five feet. After I won I spoke to my wife on the telephone. It was obviously an emotional call, so afterward I went to splash some water on my face [in the locker room]. Tiger was at the next sink washing his hands, and I asked him how he did this so often. He'd won nine majors at that point to my one, and I had found it so hard. He just smiled and said it was all down to luck, really. I said, 'Uh-huh; it takes a bit more than that.' It was a nice moment."
Photo By: Ross Kinnaird/Getty Images
Hubert Green: "Winged Foot is my favorite course, and the way it was set up for the 1974 U.S. Open also makes it the hardest course I've ever played. Two things made that tournament memorable for me. First, I shot the low round of the tournament, a 67, and I'm proud of that because the winning score [by Hale Irwin] was seven over par. Second, on the first green of the third round, there was a bird dropping on my line. I called over a USGA official and asked if it could be removed. He said, 'Yes, you certainly can remove it.' I said. 'Great. Would you mind removing it for me?' I was just joking, but before I could do anything he said, 'Of course' and bent down and wiped the dropping away with his finger. The USGA scored a lot of points with me that day."
Photo By: Ed Betz/AP Photo
Hale Irwin, three-time Open champion: "Many players have knocked on the door of a major championship and watched it open. But they can't get their feet across the threshold. They peek inside, and it's kind of dark, and they think, Wow, I don't know if it's comfortable in there. The fear of success gets the better of them. Then there are individuals who don't care if it's dark in there. By God, they are going to barge in and find the light. Those are the champions."
Photo By: Stephen Munday/Getty Images
Ken Venturi: "My victory at the 1964 U.S. Open at Congressional is viewed as heroic because I played the last 36 holes on the verge of collapsing in 100-degree heat. But I have to admit, my getting sick and dehydrated was my own fault. In the morning, I was so focused on playing I didn't take one drink of water. At the break I drank a lot of iced tea, which has caffeine in it, which is bad for you in hot weather. In the afternoon round I was in bad shape again. The doctor who followed me around, Dr. John Everett, kept feeding me salt tablets--I consumed 18 that afternoon. We know today that taking salt tablets on a hot day can further dehydrate you. In the end, I beat a tough golf course and a great field, but I also overcame my own mistakes."
Photo By: AP Photo
Billy Casper, on beating Arnold Palmer at Olympic in 1966: "Arnold led me by seven with nine holes left. He wanted the U.S. Open scoring record badly. I told Arnold I wanted to finish second--I was a couple of shots ahead of Nicklaus and Tony Lema--and Arnold replied, "I'll do anything I can to help you." I picked up a couple of shots early on the back nine, then two shots on 15, two more on 16 and another on 17. We're tied. On 18, Arnold lagged a long putt to within a few feet, leaving himself a tough little putt for par. He was partially in my line and asked what I wanted him to do. 'Go ahead, Arnold, you're hot,' I said. I wasn't being a smart aleck, it was just my answer. Anyway, he made it, we tied, and I won the next day in a playoff. Some say Arnold was never the same after that defeat, and I have to agree."
Photo By: AP Photo
Thomas L. Friedman, on caddieing at age 16 for Chi Chi Rodriguez in the 1970 U.S. Open at Hazeltine: "Years after the Open--after I had become a foreign correspondent for The New York Times and won Pulitzer Prizes and written a book--some close family friends of ours from Minneapolis ran into Chi Chi at the Innisbrook Resort in Palm Harbor, Fla. They struck up a conversation, told him that they had followed him at Hazeltine in 1970 and asked if he remembered who caddied for him there. Chi Chi thought for a moment, and, to my friends' surprise, said, 'Tommy.' My friends then said to Chi Chi--with great overstatement--'Do you know that Tommy's more famous than you are today?' Chi Chi thought about that for a second and said--with perfect understatement--'Not in Puerto Rico.' "
Photo By: Matt Bernhardt/Sarasota Herald-Tribune/AP Photo
Payne Stewart, 1991 and 1999 Open champion, on his father playing in the 1955 Open at Olympic: "I looked it up and saw he missed the cut. My mom said, 'Yeah, but the rough was so tall that year.' The championship meant a lot to him. When I first started entering the Open, he insisted that I write 'William Payne Stewart' on the entry form. He said, 'This is the United States Open. You have to put your full name on there.' "
Photo By: Jim Moe/AP Photo