The Interview Room
Lessons On Winning (& Losing) ## A collection of inspirational quotes, quips and anecdotes from Major champs and also-rans on competition, dealing with pressure and winning tournaments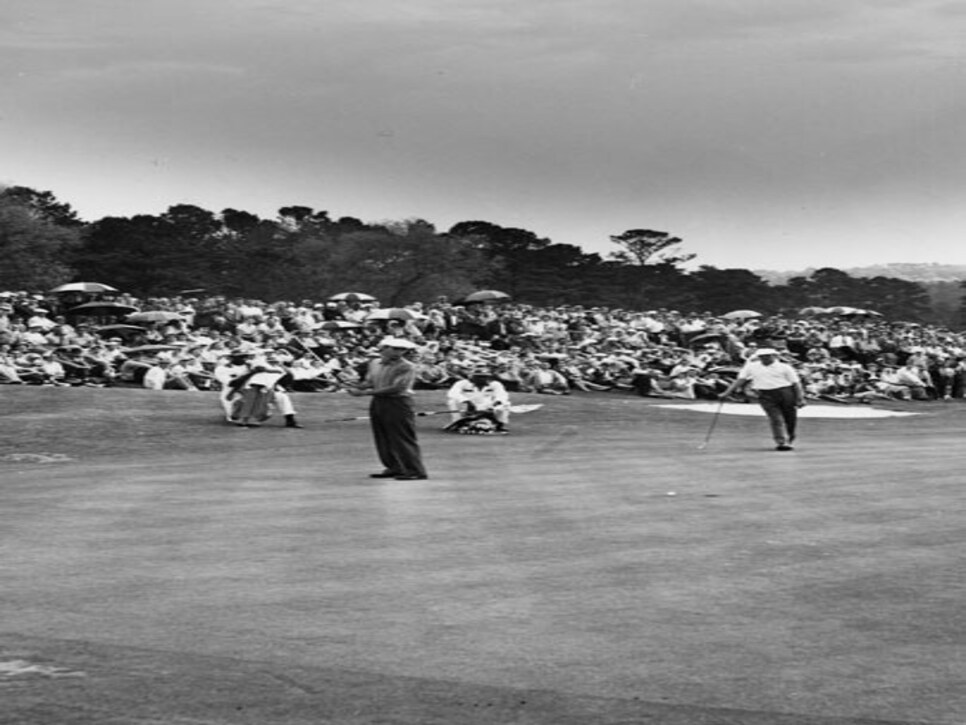 Jackie Burke, 2004
"Sometimes winning is easy. In 1958, Ken Venturi and I toured Japan. The morning after we landed, they took us out to our first "exhibition," which happened to be the Japanese Open, their national championship. Ken played great. He finished the last round thinking he'd won comfortably and sank himself in one of those huge, luxurious tubs, with enough sake to drown Godzilla. But Jack Burke, playing a couple of hours behind Venturi, got hot and tied him. I found Ken in that tub of hot water and told him to get his butt out of there and onto the first tee, that we were in a playoff. A few minutes later, they got Ken to the first tee. Like I said, sometimes winning is easy."
Notah Begay III, 2004
"Professionals have come a bit closer to achieving perfection, so the quest to master the game is perhaps more compelling because it seems more within reach. The desire to win on the PGA Tour, the way the game constantly keeps us on edge and misleads us into thinking we have it mastered, is very seductive."
Billy Casper, 2005
"I never got caught up in playing for history, seeing how many majors I could win, or rewriting the record books. Those are selfish objectives, and the guy who chokes usually does so because he dwells on what it all means to him. I was only worried about my family. And although I had my share of failures, it was never because I choked."
Mark Calcavecchia, 2002
"Golf-wise, I guess I did win a major. Of course, I'd still like to win another one, and I'm not saying I can't. Odds are, probably won't happen, but you never know, as streaky as I am."
Stewart Cink, 2010
"Big comebacks happen all the time, and they start with winning a single hole, which can change the momentum completely. Just try not to wait too long."
Ernie Els, 1998
"If I don't win the Masters, I will not feel I have achieved everything in my life as a golfer."
Nick Faldo, 2006
"Listen to your heart and your gut. That small voice inside you. How often have you left the house knowing you've forgotten something, and it turns out you have? Intuition is very powerful, and certainly it's true in golf. The young person tends to fight intuition, whereas people my age learn to go with it."
Sergio Garcia, 2007
"We all want to win, but only one guy can. Still, the thrill of competing, of being in the hunt, is what we're about. It's an honor to participate. It's fun. Like my dad [Victor] said, if you're in 50th place, if you're not in it, you don't have a chance to be disappointed."
Ben Hogan, 1967
At age 54 after a third-round 66 that included an inward-nine 30: "It was like going to the blood bank 18 times. As far as my chances of winning, a lot of fellows are going to have to fall dead for me to win. But I'll tell you one thing: I'll be playing as hard as I ever have in my life."
Ryo Ishikawa, 2008
At 17, Ryo Ishikawa was invited to play in the 2009 Masters. The news made the front pages of all the major sports newspapers in Japan. Back in in March 2008, he said, "I hope to play in the Masters when I'm 20. I have dreamed of winning the Masters since I first saw it on TV when I was 10."
Eddie Merrins, 2007
"Years ago John Wooden came by and gave my UCLA golf team a lecture. He spoke for an hour and 20 minutes, and not once did he mention the word 'winning'. All he talked about was preparation."
Phil Mickelson, 2001
"The winner of this tournament doesn't just win a major. He becomes a part of the history of the game, and that's what excites me. This tournament creates something that is very special, and year in year out, history is made here."
Johnny Miller, 2011
"There is a recipe for winning and some guys never quite find it. They leave out the Tabasco or something."
Byron Nelson, 2003
"I never suffered a crushing defeat. If you play long enough, a terrible setback is bound to happen. It never did happen to me. The result is that people ask me about winning, not losing."
Greg Norman, April 2002
"People say I'm very resilient, and I am. If I'd have won all those tournaments that I could've won or should've won — Bob Tway beating me from the bunker, Larry Mize chipping in, Nick Faldo coming from behind at the Masters — the only thing that would have changed is my trophy case.""Would I have liked to win all those tournaments? Of course, because I'm a competitor. Nothing would have satisfied me more in golf than winning the Masters."
Arnold Palmer, 1964
"It may have stopped me from winning there again, because I had the satisfaction of winning comfortably."Referring to Palmer's 1964 victory at Augusta: he led after every round in '64 and broke par in every round under ideal weather conditions after days of pre-tournament rain. His worst hole score was a 5.
Dr. Bob Rotella, 2009
"How can Trevor Immelman get to the 18th green of the final round of the 2008 Masters and not know where he stands? It's called staying in the present, and it's a philosophy I teach all the players I work with. It means not allowing yourself to be seduced by a score or by winning until you run out of holes. Instead, you get lost in the process of executing each shot and accept the result."
Adam Scott, 2011
"When people think you've got potential, they can be fairly harsh. When you're busting your ass and not getting anything out of it, you do get tired of hearing it. But look, I set lofty goals. I want to win majors. And if I'm not delivering and I get criticized for that, well, that's fair. But time isn't running out.""If I was picky, which I'm not, I'd love to win the Masters just to say that I'm the first Aussie ever to win that. After that, the [British] Open Championship."
Sam Snead, 2001
The three-time Masters champion: "Never make a golf bet where you have to shoot even par (with your handicap strokes) to win. Always figure you're going to shoot three or four over par."
Mike Weir, 2003
"When I won at Augusta, maybe that's the way Canadians thought it had always been for me, that I was always winning," Weir says. "But it took me a long time to get to the PGA Tour. I had to go through Q school six times before I made it. I felt like I had some talent, but it took a lot of hard work. I still feel I'm doing well, even if I haven't won in a few years. But that's the nature of the game. One small thing can happen and things change. Your confidence and your swing can erode quickly."