Contest Finalists & Winner
2016 Lido Design Competition
For the first time in the 19-year history of the Lido Competition, the golf design contest co-sponsored by Golf World and the Alister MacKenzie Society, contestants were required to design a par-5 that would represent the architectural principles of the grand golf architect Alister MacKenzie. Here's how 2016 judge Rees Jones judged the competition and arrived at a winner, presented in countdown fashion.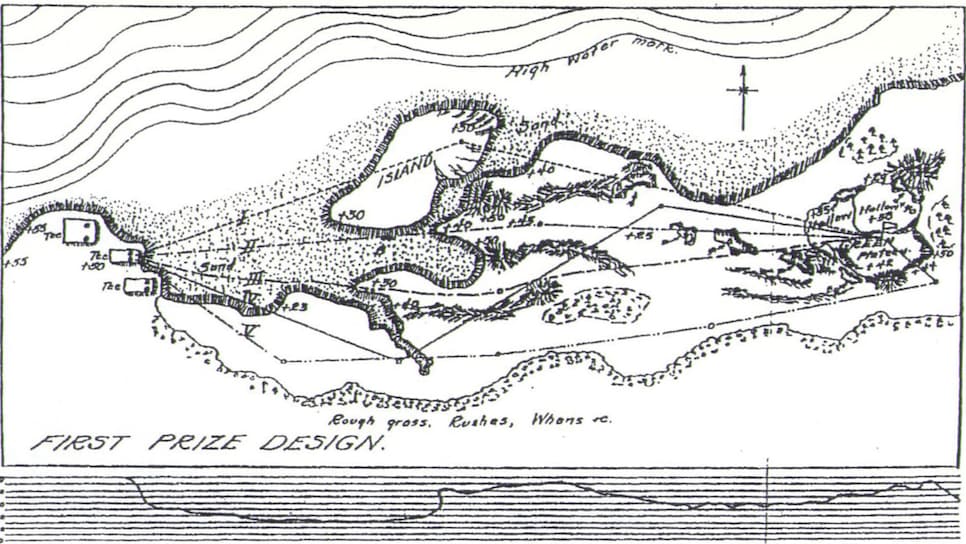 For the first time in the 19-year history of the Lido Competition, the golf design contest co-sponsored by Golf World and the Alister MacKenzie Society, contestants were required to design a par-5 that would represent the architectural principles of the grand golf architect Alister MacKenzie. Of the 93 entries submitted, 20 were selected as finalists for review by 2016 judge Rees Jones, the veteran golf architect who immediately noticed that a good many entrants emulated the extremely wide, triple route fairway design by MacKenzie that won the original Lido Competition back in 1914. (That hole, of course, was a par 4.) Here's how Jones judged the competition and arrived at a winner, presented in countdown fashion.
20.) Mark Burnaby-Davies, a building architect in London based his "Stronghold" design on the locale of the Dunnottar Castle on the rugged Scotland coast in Aberdeenshire. Jones felt it was an interesting hole down the left side, but the island fairway was unrealistic. "You can't tempt a long hitter by having their drive roll out and drop off a cliff."
19.) Gregory Smee, a retired doctor from Harrisburg, Pa., had his "Salamander" par 5 playing uphill all the way. "There's not really enough fairway on either side of the string of bunkers," observed Jones. "MacKenzie liked holes that looked harder than they actually played. This hole plays hard."
18.) Andrew Ruggles, a project architect for a building architecture firm in Brooklyn, N.Y. offered "Fault Line," using undulations in the earth's surface to define routes of play. He separated his fairways with a "Mine Field" and dubbed a greenside bunker "the Brass Knuckles." His two-level green was further subdivided into three hollows and one plateau. "At 645 and 605 yards, it's not really a reachable par 5," Jones said. So regardless of route, all golfers would seem to end up pitching blind, or nearly so, from the base of the hill to the elevated green.
17). Matthew James, an associate professor of landscape architecture at South Dakota State, suggested a bottleneck fairway with 11 bunkers, including a massive "Mac's Folly" in front of the green. "Again, no one would play to the island fairway on the right," Jones said. "It's too shallow and there's no reward, just a long forced carry into the green." He also felt the far left route made no sense. "No one would play a long second past the green and then pitch back on."
16.) Hiroshi Yoneyam, a building architect from Medford, Mass. entered "Lido MMXVI" with not just dual fairways but dual greens "... for further variety and more fun." Jones found the general concept intriguing, but noted "Great ideas don't always function." The right-hand green was so much smaller, it wouldn't be used as often. With play mostly to the left-hand green, the right-hand fairway would likely go unused. That would seem to be maintaining a great deal of turf at great cost for little benefit.
15.) Brian Curtis, a building architect from Scottsdale, suggested his hole, "All the Risks," would be built in natural dunes around Lochinver, Scotland, playing downhill off the tee, then uphill along a cross-slope. Jones liked the suggested green but again, didn't care for an alternate-island fairway, especially on the right and a dogleg on top of that. "Several entrants seem to get half the hole right, but not the other half," Jones observed.
14.) Gil Rampy, an architect from Princeton, N.J., submitted a hole shaped like a question mark with a wide, shallow green. "I should like this hole, because it resembles one we built at the Creek Course at Hammock Dunes in Florida," Jones said. "But there, we had to do it because of wetlands restrictions. This is an artificial carry over nothing but rough. To a green that's far too shallow. Plus, the fairway neck is too shallow."
13.) Craig Snyder, a golf instructor in San Diego designed his hole with a double-wide fairway landing area and a triple-wide approach area obscured by a high hill with two bunkers. "I like that he indicates the green has several slopes that funnel balls onto the green," Jones said. "The problem is with his tee shot. There's absolutely no benefit to playing down the left side since the fairway down the right side offers ample run-out space, a better angle and a view of the green."
12.) David Hoestra, a group leader at Vermeer Corp. in Pella, Iowa and the 2011 Lido champion wrote in his description of "Against the Grain" that "Backwards when it comes to strategy in golf course design is not a bad idea. Start with the green and work back." Jones did, and quickly decided that the tightly guarded hourglass-shaped green was at the wrong angle. Even though Hoestra indicated that a slope could steer balls onto the right front corner of the green, Jones found that spot nearly inaccessible. "I like this hole right until we get to the green. I don't like the green," he said.
11.) Bev Lane, a freelance graphic designer from Great Falls, Va. submitted "Chessman's Run" to "... offer every level of play a multitude of moves." Jones found it to be a far less complicated hole than other entries, but one that embraced a MacKenzie tenet: take the challenge off the tee and, if successful, be rewarded with an easy shot into the green. But he found the scale of this diagram to be off. If the hole is 555 yards long, then the fairway must be 200 yards wide and green 100 yards wide. It's doubtful that much land would be devoted to a golf hole these days.
10.) Ryan Yonce, a project manager at Bel-Air C.C. in Los Angeles proposed that his "Easy Money" hole of 520 yards had four potential avenues of play that ranged from "high-risk gamble" to "courageous" to "a line of charm." Jones didn't think there was anything easy about Easy Money: "Where do you hit it off the tee? It has sand bunkers with skinny fairway on either side. It has an alternate approach fairway on the right that's a shot you'd never want to attempt." He saw little resemblance to MacKenzie ideals in this design.
9.) Bo Links, San Francisco lawyer and Lido winner in 2007 and 2008 submitted the only ocean-edge hole in this year's contest. Rees felt is was a pretty hole and graphically well done, but "... you could never build a hole this close to the ocean. Maybe, since it's along a cliff, you might get permission. But no architect given this stretch of land would design the hole with that inlet right in the primary landing area." Jones concluded the even MacKenzie would have found the drive too difficult for the average player. "This is basically the 8th at Pebble Beach stretched into a par 5. It's better as a shorter par 4."
8.) William Kendall, a fourth year architecture student from Victoria, Australia and the 2013 Lido Design champion, positioned his design in the sandbelt region of Melbourne, with a green perched atop a sandy dune subtly patterned after MacKenzie's 12th at Sitwell Park in England. Jones found the green so heavily bunkered from every approach angle that it negated any strategic avenue of play. "It doesn't seem to matter where you hit it," he said. Sooner or later, a high approach is required. There's no chance of a ground game shot into this green.
7.) Joshua Pettit, a freelance golf course shaper and designer from San Anselmo, Calif. submitted an entry with a green sketch that mimics MacKenzie's famed water color diagrams. Jones found the design very interesting and he studied it several times. "There's a lot of MacKenzie thinking going on with this one," he said. "It's basically the 14th at St. Andrews without Hell Bunker. That's a hole and a course MacKenzie admired. It's a very interesting concept, but the burn, as it's configured, negates most options. Who would ever attempt to drive to that peninsula? And no one would ever aim at the burn and risk rolling in. So the only options are far left and far right, and there's nothing gained playing up the far left."
6.) Quinn Thompson, a self-employed writer from Chicago conceived "The Shepard's Hole" as if a farmer had asked Dr. MacKenzie to lay out a par 5 on his sheep farm, over and around his farm house. Said Jones, "This is wisely done. I like the strategies of a big target on the left with all sorts of things to worry about. It's a better direct target down the right. You risk the out of bounds off the tee, but you really want to play down the right. And that's some green, although not a practical one, because you can't seem to putt from certain parts of it to other parts of it. It's an interesting hole, but I'm afraid the green disqualifies it."
5.) Matt Schiffer, who provides freelance design production for golf architects from Sebastopol, Calif. had such a polished entry with "Khyber Pass" that Jones speculated, "This person must be in the golf business. He's a real artist." Jones liked the green, especially the back right pin position where players would have to release the ball to feed to the hole. But he didn't feel there were actual options of play to the green. There seemed no point to the little tongue of fairway on the right. The perspective diagram showed the same shots from left and right into same pin location, so who would ever take the right-hand route?
4.) Benjamin Warren, a shaper who worked on the Rio 2016 course for Gil Hanse and now lives in Tokyo, based his entry, "The Skerries," on the rocky coastline of his native North Berwick, Scotland. Jones initially liked the complexity of the hole, but upon closer inspection decided "... it's just too busy. It has a few too many hazards. If they carry the burn on the right, they end up in a bunker. Why? I don't see MacKenzie doing that."
3.) Blake Conant, owner of a golf course shaping company, Dundee Golf in Omaha, Nebr. based "Marina Beach" on protected sand dunes he'd observed at Marina State Beach north of Monterey, California. Conant described his green as "an epic little double punchbowl." Rees thought the links design "really captured MacKenzie's idea for slopes and bunkers. This has a lot more rub of the green than most. Shots can go every which way. Most of the strategies really works." But forced to nit pick among the final three entries, he found that fairway to the right of the right-hand fairway bunker was extraneous.
Ryan Farrow, a golf course shaper and photographer from Pittsburgh, Pa. had a very similar design with "The Punchbowl," writing that he designed it "... in a manner to encourage strategic thinking and rattle a player's nerves by obscuring large portions of the green." Jones was enthusiastic in his praise of this hole. "I really like this. MacKenzie certainly did some punchbowl greens. In fact, this green looks very similar to the 8th at Augusta National. I also like the random bunkering." Which made the artificial pot bunker in the center of the fairway, in play not for good players, but for high handicappers, look out of place.
Winner – Cameron Hurdus, on grounds crew of Sand Point C.C., Seattle, Wash., had previously won the Lido Competition in 2012. Set in a heathland setting like Alwoodley in England, his design favored a draw off the tee and a fade on the approach into the green. Jones found the hole ideal. "This is a very efficient hole, very realistic," he said. "It's practical and playable yet thought-provoking. I like the diagonal bunkering off the tee, ready to catch a long pulled tee shot. I like the long narrow green, a gettable target, yet a hard target. He allowed for balls to run out if going for it in two. It's got subtle nuances that MacKenzie used, mounds and contours that effectively kick balls left and right. It looks simple but there's a lot going on. And it's one of the few entries where you didn't have to play away from the green on any shot."
More About Cameron Hurdus
The 28-year-old's design of a par 5 was found to best capture the strategies and subtleties found on many a MacKenzie-designed hole. Golf architect Rees Jones, pronounced the winning hole "practical and playable, yet thought provoking," and speculated that the winner must surely be in the golf business. Hurdus is on the maintenance crew at Sand Point Country Club in Seattle, but it's the course-design business he'd really love to break into. This is his second Lido victory, the first coming in 2012, when he was a barista at a Starbucks in southern California and his imaginative par 4 caught the eye of judge Forrest Richardson. Hurdus also has three runner-up showings in the 19-year history of the competition, in 2015, 2013 and as a 13-year-old in 2001, when judge Nick Faldo wrote across his entry, "Come visit me in 10 years." For his victory, Hurdus receives a cash prize of $3,000 and, when he attends the MacKenzie Society annual meeting at Royal Melbourne in Australia in November, another $2,000 to defray travel expenses. With the design business as his long-term goal, Hurdus hopes to win the Lido at least once more, ideally with a par-3 hole to complete a hat trick.