Golf World's Annual Lido Design Competition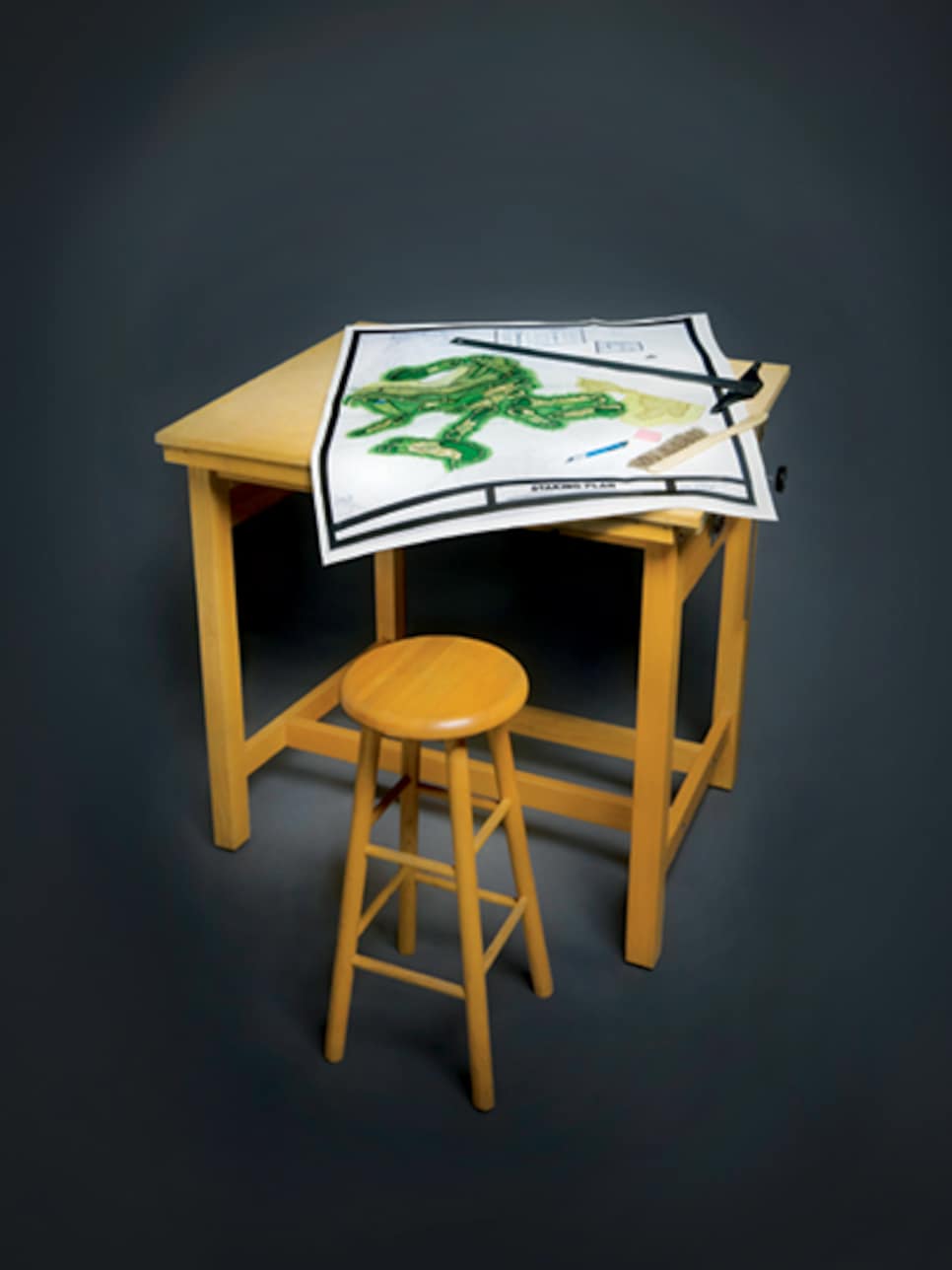 Watching golf architect Jim Urbina judge the entries in the 2015 Lido Competition, the annual design contest co-sponsored by the Alister MacKenzie Society and Golf World, was like watching him noodle on a real course design. The competition required a par-3 hole that reflects Alister MacKenzie's design philosophy, so to narrow down the 18 finalists (out of a total of 47 entries), Urbina selected five par 3s that he'd be proud to feature on one of his designs. From that final five, he then chose the winning hole. Here are his thoughts on each of the designs he reviewed →
Zachary King, Antioch, Calif.
"This is a really interesting green with lower quadrants left and right," Urbina observed. But as it plays considerably downhill, the deception bunker well short of the green isn't deceiving. King named his hole "Barb's Crossing" in honor of his late grandmother.
Eamon Sullivan, Dorking, Surrey, England
Urbina liked how the prominent front mound obscured the center of the green yet the left and right portions were still visible from the tee. But without a cross-section view, as required by the rules, it was unclear whether the hole played level, uphill or downhill.
Beverly Lane, Great Falls, Va.
With its perched green, this is strictly an aerial hole. Urbina felt MacKenzie would prefer to provide both ground game and aerial game options. Lane, the first female entrant in the history of the Lido Competition, included an elaborate backstory of how MacKenzie designed the hole for his friend Daniel Brady of County Clare, Ireland.
Alastair Jaffray, Preston, Victoria, Australia
"Slightly uphill and into the wind, this is a real test, even at just 138 yards," Urbina said. But there may be too many ridges and slopes on and around the green, he added, making it a hole strictly for skilled players. Not coincidentally, Jaffray called his hole, "Auld Clootie," a Scottish mythical term for devil.
Josh Pettit, San Anselmo, Calif.
Simple in its presentation, but the very narrow front portion of the green could be impractical. Urbina really liked the graphics, which mimicked watercolors done by MacKenzie. "This person has definitely looked a more than a few MacKenzie drawings," Urbina said. Pettit is an aspiring golf architect, still looking for his first project. Once he finds it, he'll no longer be eligible for the Lido competition.
Derek Drism, San Francisco, Calif.
"I like the alternate avenues, all playable from basically the same tee alignment, and I like the multi-level green, which reminds me of Pasatiempo," Urbina said. "But overall it doesn't feel good to me. It seems all aerial."
12A. Jeremy Ringer, Erie, Pa.
"For the first time, beauty has entered my thoughts," Urbina said as he looked at the diagram of the ocean-cove hole. "I don't want my judgment swayed by how beautiful this hole would look. It still has to be a good design. This one seems like it relies too much on the aerial game."
12B. Jeremy Ringer, Erie, Pa
.When Urbina later saw the color rendering Ringer also submitted, it reinforced his decision to pass on it. "This view would certainly dominate your senses," he said. "But would we actually get to build this hole today?
Robert Nelson, Forest Knolls, Calif.
.Urbina was impressed that this design had no formal tee boxes. "MacKenzie's partner, Robert Hunter, would be proud." he said. "He wrote that the starting point of a hole should be as important as the ending point." Unfortunately, Urbina found the landform tees the only original aspect of the hole, which Nelson based on the Eden at St. Andrews.
Bo Links, San Francisco, Calif.
"This looks like something you'd see built on a beachfront in Mexico," Urbina said. "It would be easy to like this hole. But the very small tee boxes are impractical in this age. You'd need far more tee space."
Links is a two-time Lido contest winner,
in 2007 and 2008.
David Hoekstra, Pella, Ia.
"I've seen horseshoe-shaped greens on MacKenzie designs before," Urbina said, "but never on an uphill par 3." He especially liked the diagonal freeform tee box laid out on a rolling landform. "It's not stair-stepped down; it rises and drops." But, he asked, what was the point of a maintenance road running through the hole? Hoekstra is another former champion, winning the Lido contest in 2011.
Brett Hockstein, Walnut Creek, Calif.
"I like that the teeing ground is just mown fairway, and that the right side of the green requires the aerial game but the left side does not," Urbina said. But he didn't care for the maximum length of 227 yards. "A well-designed hole shouldn't rely on distance to make it challenging," he said. Hockstein, a golf course shaper, is also an aspiring course architect.
Trevor Dormer, Kimberley, B.C.
"You'd think you're at Chambers Bay, looking at this hole," Urbina said. "I like its creativity and its free form tees, but there's so much eye appeal off the tee that I don't get to enjoy everything he did on the green. Sometimes you can overdo it."Dormer recently worked as a shaper on the Coore/Crenshaw-designed Cabot Cliffs in Nova Scotia, alongside 2014 Lido winner Riley Johns.
Ian Larson, Philadelphia, Pa.
"A Civil War buff would love this hole," Urbina said, "with the military entrenchments short of the green. Obviously this is related to MacKenzie's military career in camouflage." He also liked how faux military Redans were adapted as tee boxes. "Problem with this hole is the foreground is as entertaining as the green itself." Larson just formed a golf design-and-build firm called Surface Golf.08.
John Percival, Madison Heights, Mich.
"This would be my first par 3 on my course," Urbina said. "I love that it's a Redan played from two different directions by changing the angle of the tees. But it can't be the winning hole. In the flow of a golf course, there shouldn't be a fork in the road where golfers are left to wonder what the other route was like." Percival won Golf Digest's Armchair Architect contest back in 1991
Sam Burns, Queensland, Australia
"I'm not sure the geometric shapes are strictly in keeping with MacKenzie," Urbina said, "but I like the half-hidden view from the back tee. So this would be the second par 3 on my course." But it's not a winner, he added. "I know he offered offset tees to provide variety and playability, but I try to keep my tees in strict alignment. I want to provide the same entertainment value to the forward tee player."
Doug Infelt, Coralville, Ia.
"This would be the 8th hole on my front nine," Urbina said. "It's clever, merging two of the most talked about holes— the Biarritz and the Redan—into a single green. But it's a bit too much of a novelty to be the winning hole."
Cameron Hurdus, Gig Harbor, Wash.
"This one belongs on my back nine," Urbina said. "It's a simple yet effective hole that seems easy to build. I like that most of the tees play along the same line—provide the same thrill—and I like the offset kicker mounds. It's my second favorite hole." Hurdus won the Lido Competition in 2012.
1A. Clyde Johnson, St. Andrews, Scotland
As the winning entry, Urbina said, it wouldn't be the last par 3 on his course, but rather it the 10th hole on his single-loop design. "This hole is so good people would be willing to walk to the far end of the course just to see it." He liked the variety of options, the kicker slope to the right of the green and the devious swale in the left center of the putting surface. "I don't know what the intended backdrop of this hole is, and I don't care. I wouldn't waste this hole on an ocean."
1B. Clyde Johnson, St. Andrews, Scotland
Johnson, a British-born golf course shaper who helped build Tom Doak's 18 at Dismal River in Nebraska, now lives in St. Andrews. To help illustrate his hole, he created a clay model of his design, a variation of MacKenzie's famed Gibraltar Hole. He named his version "The Calpe," which is Latin for Gibraltar. "The Gibraltar stands out as the hole that potentially could have made or broke MacKenzie's career," Johnson said. The same may now be true of his winning design.