News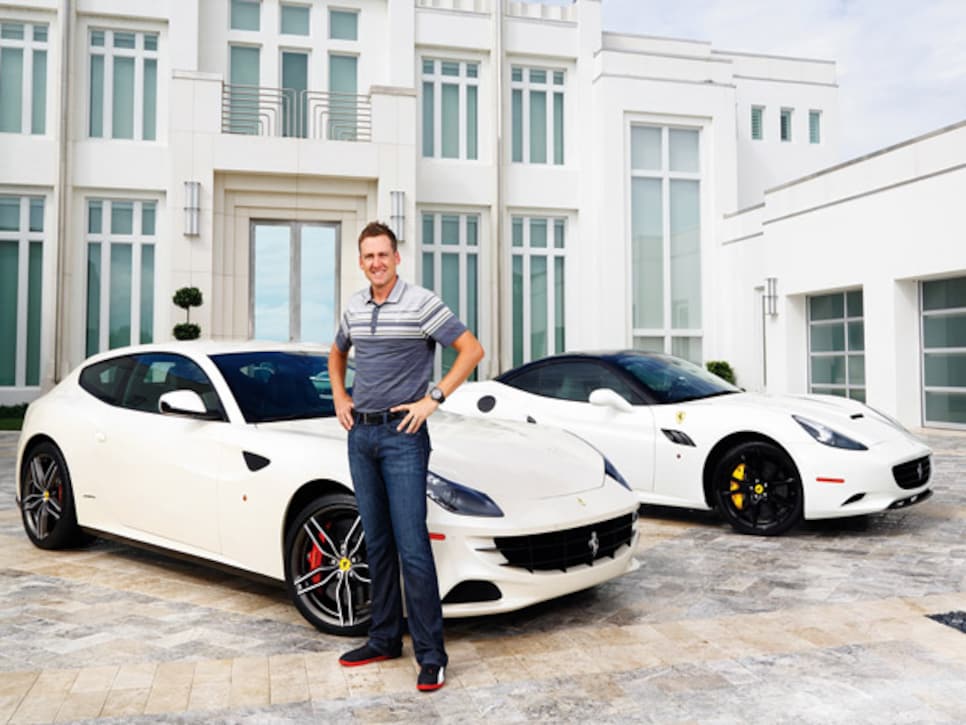 Ian Poulter with his 2012 Ferrari FF (left) and 2010 Ferrari California at his Lake Nona home in Florida.
2 days after leading Europe to an improbable comeback victory at the Ryder Cup, Ian Poulter was back in the kitchen of his new home in Orlando. But things were definitely not back to normal. "Did that really just happen?" he said, rubbing his face. "I'm utterly exhausted, but I couldn't sleep last night. It's such an incredible adrenaline high."
Some sanity-restoring downtime after the Ryder Cup would give Poulter time to finally enjoy two creative projects years in the making. In May, Poulter, his wife, Katie, and their four children moved into a new home in Lake Nona, the gated community that also counts European Ryder Cuppers Graeme McDowell, Sergio Garcia, Justin Rose and Peter Hanson as residents. Poulter supervised the construction of the 10,000-plus-square-foot, seven-bedroom home, with its distinctive modernist white-and-steel facade--a process that took almost three years.
A noted gearhead, Poulter had a three-bay garage built on one side of the marble-tiled plaza at the front of the house. A lift in the middle bay--"I've got a $3,000 lift holding up $750,000 worth of cars"--holds Poulter's second passion project: an ultra-rare customized Ferrari FF with interior accented by tartan he uses in his IJP clothing line. Poulter took delivery of the $450,000, 651-horsepower FF in August. It was the first one delivered to the United States through Ferrari's bespoke Tailor Made program.
"It's practical, it's elegant, and it's fast. It's got everything you'd want as a family man," Poulter adds. "A kid's car seat is even going in the back."
Poulter's favorite causes: Dreamflight / Nemours Children's Hospital, Orlando