Golf World tracked Alexis Thompson as she works the PGA Merchandise Show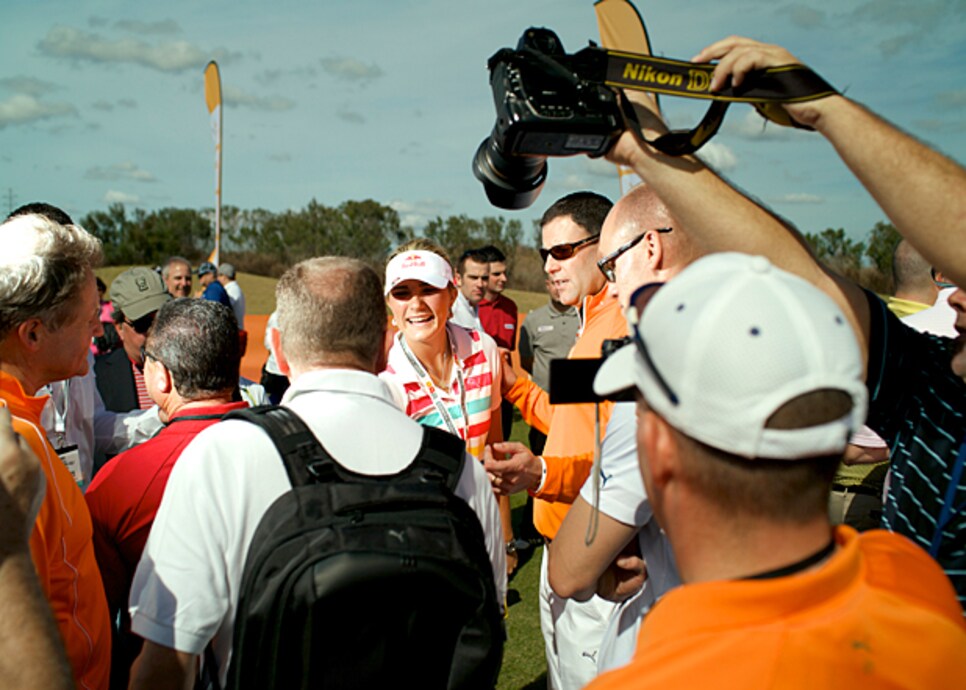 12:45pm:Alexis Thompson is greeted and photographed as she arrives at the PGA Merchandise Show in Orlando.
1:00pm:On demo day, Thompson fine-tuned her equipment and got on TrackMan, the golf swing and ball-flight analyzer.
1:58pm:In addition to Cobra-Puma and Red Bull, Thompson also has an endorsement deal with Rolex.
2:28pm:Thompson spent two hours giving 14 one-on-one interviews and hitting more balls as part of a segment for a one-hour equipment special on NBC. Here, she shares a laugh with baseball star Johnny Damon.
2:30pm:"I just love interacting with people," Lexi says. "I love being around fans, signing autographs. If it wasn't for the fans, we wouldn't be out here."
3:58pm:Blair O'Neal and Alexis Thompson are both signed with Cobra-Puma.
4:28pm:Ryan Lamos, the Red Bull sports marketing manager who signed Thompson when she turned pro at 15, challenges her to a beanbag toss.
5:11pm:Thompson has been touted as "the future of the LPGA".
Day 2 - 12:09pm:Thompson arrives at the Cobra-Puma booth, where Orlando Magic deejay Scotty B shows her how to work the turntables.
Day 2 - 1:07pm:Thompson, like fellow LPGA player Natalie Gulbis (left), naturally shines in the limelight.
Day 2 - 2:26pm:The highlight of Thompson's trip to Orlando is next: a fashion show on the show's main stage.
Day 2 - 2:26pm:Thompson struts her stuff just like a pro.