Golf Equipment
What's In My Bag: Gary Woodland
Age: 28 | Resides: Orlando | Story: Won the 2011 Transitions Championship, and is one of the PGA Tour's longest hitters.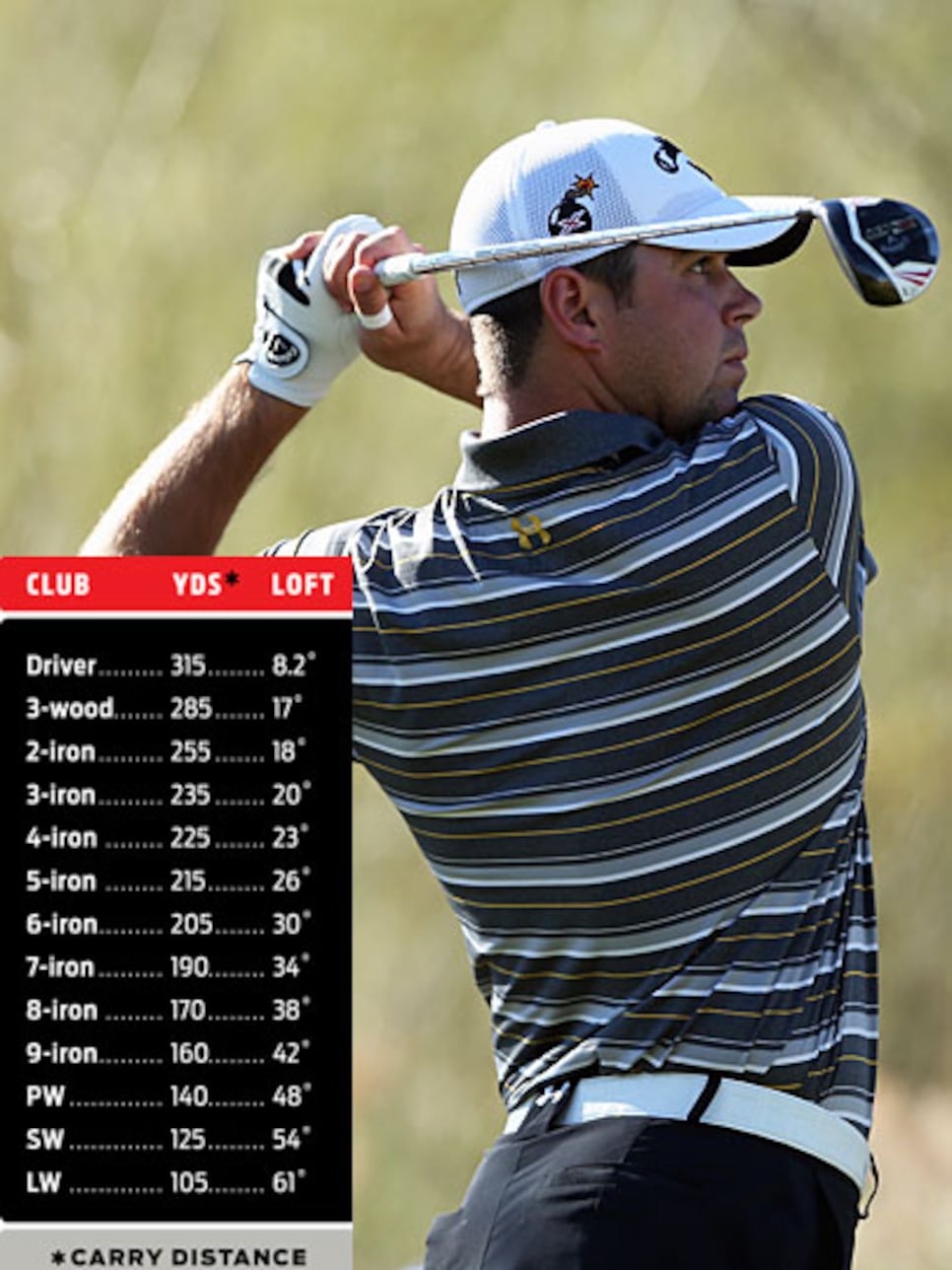 Photo By: Jeff Gross/Getty Images
NOT ALWAYS STRONGMy first clubs were my mom's set that my dad cut down for me when I was a kid. They were a women's model, but I wasn't really strong enough to swing anything else. My first junior set was a Greg Norman line from Cobra. Those might be the only times I was told I wasn't strong enough for a club. But they helped me develop my golf muscles to where I now use very heavy clubs.
Photo By: Jeff Gross/Getty Images
HELPING HANDChanging equipment companies was an adjustment but easier than I thought. On tour, I'd never played another ball or irons other than Titleist. It helped having my coach, Butch Harmon, involved. He knows the guys, speaks their language, and Callaway was phenomenal communicating with him. That helped get everything in the bag quickly.
DRINK OF CHOICEI keep some items in this pouch. Rock Chalk is the nickname for the Kansas Jayhawks, my alma mater, and Crown Royal is one of my favorite drinks when I'm relaxing.
AN EASY MARKWhen I first saw the Callaway HEX Black Tour ball, I noticed I could use the chevron to make a G and a W. That made it easy to get my initials on there. That blue line helps me aim my putts.
SCHOOL SPIRITWhat can I say? I'm a Kansas Jayhawk through and through, and I like to represent the school. Having the logo on my tees lets me do that every day.
CRUCIAL COINI always use this coin, a 1984 half dollar from the year I was born. Even if I'm home and playing a match with my buddies, I'm pulling it out to mark my ball. I would panic if I didn't have it with me.
ROUTINE PLEASURESI'm from Topeka, Kan., and played a lot at Topeka Country Club, so I use this pencil to write down my scores. I also have a divot tool from the club. I've used it since high school and have had it so long the logo is worn off. Using these is part superstition and part routine.
DRIVERThis Callaway RAZR Fit Xtreme has a 96-gram Graphite Design G-Series prototype shaft that is tipped two inches. I alter the loft frequently (it's 8.2 degrees right now). The black head is a look I really like. The sound is powerful, too. I struggled off the tee last year, but this has restored my confidence.
FAIRWAY WOODTo hit my distance target, I changed my Callaway X Hot 3-wood from 14 degrees to 17 degrees and from a graphite shaft to a True Temper X-100 steel shaft that is tipped out of its mind. The steel shaft helps me keep it straight, too, which is great.
IRONSI use Callaway's RAZR X muscle-back irons. Normally they have a satin finish, but I prefer chrome. Callaway was nice enough to make these just for me and added the University of Kansas colors on the paint fill. The shafts are the Project X 7.0, and the lofts and lie angles are standard.
UTILITY CLUBIf I have to get a ball in play, this Callaway X-Tour utility iron will save me more times than not. Looking down at more of an iron-type club appeals to me more than a wood-like hybrid. Again, the shaft is Project X 7.0.
WEDGESI was changing a lot of clubs and wanted something familiar. My Titleist Vokey wedges (with Project X 7.0 shafts) made the most sense. I grind the heel to help with open-face shots.
PUTTERMy putter is an old Odyssey 2-Ball. I had used a Scotty Cameron since my senior year in college. But to go back to this was fun. The adjustment from a blade to a mallet was a big one, but I'm getting used to it.