U.S. Open
An Insider's Look At Congressional CC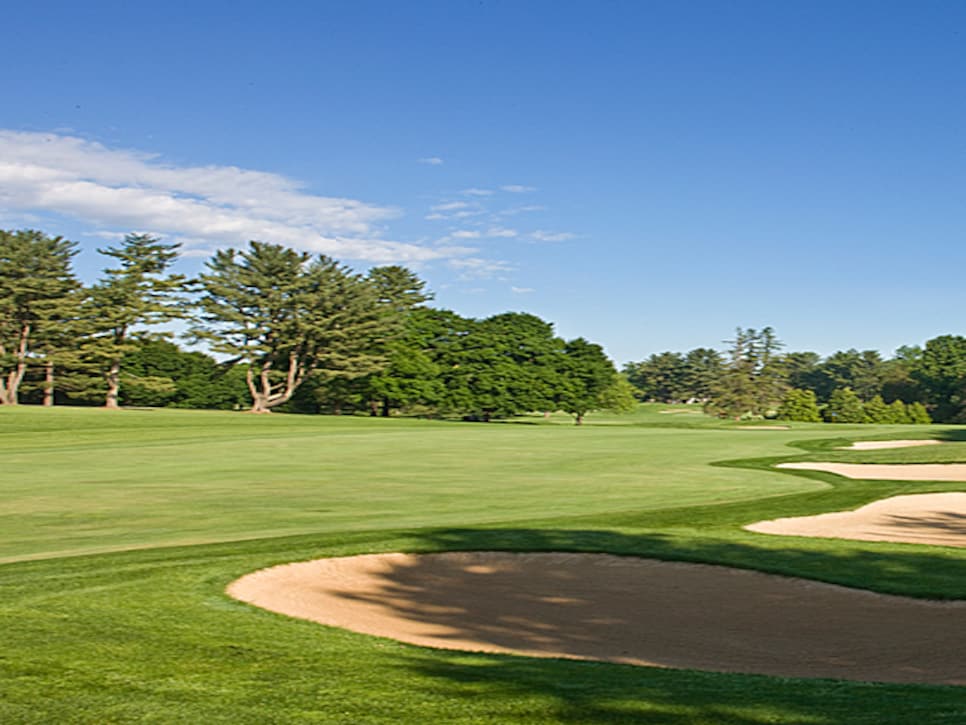 No. 1 402 Yards, Par 4
The Hole: "A slight dogleg par-4 and for most of the guys it will be less than a driver. For the second shot they're going to be hitting very short approaches, probably 9-irons to sand wedges into one of Congressional's biggest, flattest greens."Setup Tweak: "The fairway cut has been pushed right up against the fairway bunkers which were surrounded by rough before."Takeaway: "A big time birdie hole but they will need it because hold on, the next three holes are very difficult."
No. 2 233 Yards, Par 3
The Hole: An uphill par-3 and it will absolutely be the hardest par-3 at Congressional because of a very small green, with a fair amount of undulation."Prediction: "I suspect it'll play to something like a 3.4 average."Warning: "Because it's hard and the first hole plays quickly, we'll have back ups here like we did in 1997, which only adds to the difficulty.Setup Twist: "One day we'll likely use an up tee to a hole location cut in the extreme left to dangle a carrot and add variety to the test."
No. 3 466 Yards, Par 4
Tweak Since '97:"We added another teeing ground here that lengthens the hole ten yards and more importantly shifts the view for the player slightly left. This, combined with the shifting of the fairway contours toward the fairway bunkers, has changed the view so that players are aiming more toward the bunkers. This will reward a slight right-to-left curve to your tee shot.The Green: "It sits up in the air a little bit and it's got decent undulation to it, with a narrow front lower section and a back left and back right quadrants."
No. 4 470 Yards, Par 4
The Hole: "A driver hole that doglegs right and we added a new tee about 40 yards extending the hole to bring the drive zone features back into play."Setup Twist: "This has one of the most undulating greens on the course and because of that we're going to end up moving tee markers up to the 415 marker, to let guys cut the corner."Warning: "The way the fairway is contoured or sloped, you'll have to hit a left-to-right shot. From the back tee it's a driver. The green is such that there are enough ridges through it that it reminds me of a Winged Foot green and if you are on the wrong side of the ridges, it can be a tough two-putt.Prediction: "If you play the stretch of holes 2-3-4 in one over you will pick up strokes on the field!"
No. 5 Hole 413 Yards, Par 4
The Hole: "A hard dogleg right to left, probably less than driver off the tee and then wedges or nine irons into a canted green that will feature a lot of tricky downhill putts. One of our more narrow fairways at 24 yards wide, which used to be standard width, but for the US Open this year that's narrow."Prediction: "The beginning of some big time make-up holes after the tough stretch."Setup Twist: "One day we'll place the hole in the far right point, which is very narrow, and it'll be lightening fast down to that hole. But it should be an exciting hole to watch."
No. 6 555 yards, Par 5
Tweak Since '97: "Has always been a par 4 but we're playing as a par 5 because honestly, it's a par-5 green."The Hole: "It's 555 from the back tee, like with Torrey Pines 18, the tee placement will depend on where they are hitting their drives. We want players going for the green but we also want to put them in a position where they have to make a decision and some players think a lay-up is a better way to make birdie."Watch Out: "We have shaved the rough behind the green that could also bring water into play over the green."
No. 7 173 Yards, Par3
The Shot: "A middle iron uphill, so much so that you can't see the green surface from the tee. It's a three quadrant green, with the back, front left and front right. Do not miss this green long at US Open speeds, because you'llSetup Twist: "There's probably going to be a day we move the tees way up and play to one of the front quadrants. It may reduce the hole to as little as a wedge but it should introduce some fun risk-reward shotmaking."Takeaway: "A big time birdie hole but they will need it because hold on, the next three holes are very difficult."
No. 8 354 Yards, Par 4
Prediction: "A big time birdie hole."Why Not Make It Driveable?: "There would be no reason to move tees up becase there's no risk."Watch Out: "The left 2/3rds of the fairway leave you with a hanging lie below your feet to a diagonal green. The green slopes left to right and it's easy to double cross it and miss left. Still, it's a birdie hole."
No. 9 636 Yards, Par 5
The Hole: "It's the only true three-shotter we have. You are hitting at it now and it's a driver hole. There's a giant ravine in front of the green. Watch it because the rough down there is going to be ridiculous."Tee Shot Tweak: "We moved the teeing ground to the players left to bring the bunker on the right into play.Setup Twist: "We will likely see the tees moved up here a couple of times to encourage some risk taking."
No. 10 218 Yards, Par 3
The Hole: "A new hole since the last time we were here and the key here is to take enough club to get over the water."Not Deceptive: "The front is exactly the same distance across, so there's no angle like the 12th at Augusta. For the average golfer this is a tough hole, but for the tour level player you'll see a lot of threes here."Setup Twist: " There is an interesting back center hole location on a narrow ledge that is a bit dicey, but if we play it short enough one day, it would give the guys a chance to go at it."
No. 11 494 Yards, Par 4
The Hole:"Straightaway uphill long par-4, 494 yards. With a creek running up the right side. One of the toughest par-4s on the course."Changes Since Players Last Visited: "We had two bunkers eliminated between the drive zone and the creek, and moved the fairway up against the creek. But we actually didn't narrow the hole up the left side."Strategy Alert: "The right half of the fairway is flat. On the left half, there's a pretty good right to left slope. You are hitting to a narrow green and the slightest push puts you in the water. If players can keep it down the right side, they'll have a flat lie and their angle is almost hitting away from the greenside pond. From the left side you have the ball below your feet and are hitting toward the water. So they have to sit on that tee with a driver and ask, am I willing to risk playing down the right side to get that angle and that flat lie?"
No. 12 471 Yards, Par 4
The Hole: "A sharp dogleg left, at about a 70 degree angle."Tweaks For Options: "We had them move two small trees and cut some limbs off another big tree, so some days we're going to use a new tee which actually happened to be the forward tee on the 15th hole. It's the exact same angle of play, but puts driver or three wood in their hands whereas before it was not. Very neat drive now, rewards the guy who can move it right to left."Sling Shot Twist: "A few days we'll go up to the 405 tee, which will mean an iron for most but a few guys might gamble around the corner and open up an easily accessible shot to go at a far left hole location."
No. 13 193 Yards, Par 3
The Hole: "Plays ever so slightly uphill, to a green with a back left, back right and narrow front center quadrant."Watch Out: "The green pitches pretty severely back to front so it's just picking the right club and hitting it. We'll move tee markers up maybe one day with a hole location that favors a middle right."
No. 14 467 Yards, Par 4
The Hole: "A long par-4, with an awkwardness to it because there's a very wide fairway at the beginning that narrows gradually at 140 yards where it necks severely to only six or seven paces because of the way the hills and slope convene.Lay Up?: "From the tee it tells you to back off, but we may use that feature to give players a chance to knock past the pinch point."Look Out Ahead: "The green is one of the most sloping back to front on the course. The right side of the green has a back and front quadrant, separated by a pretty steep hill. Players always must stay below the hole location here."
No. 15 490 Yards, Par 5
Another Change: "We've added a new tee back left on what used to be a 450 yard hole straightaway, now it's a slight dogleg left to right."New Look: "From the new tee angle you are looking at a wide fairway but now the player looks right into the fairway bunkers, whereas before you couldn't see them. And the fairway will be mown right into the fairway bunkers, bringing them into play.Bomber's Paradise, But Beware: "It's downhill with a wide fairway so you'll see a long driving average here. But the diagonal green sits way up in the air and slopes left to right, so you never want to miss it long left. It's a hard four."
No. 16 579 Yards, Par 5
Big, Recent Change: To bring the risk-reward into play, this spring we had them strip all of the rough around this elevated green and replaced it with tightly mown bent grass. So when you miss this green, best to miss is short but a narrow opening. But if you miss long it goes down a hill and you are 15 feet below the green."Johnny Will Love This: "When you miss long, it's a scary shot, you're on tightly mown bent grass. And will roll down under pines with pine straw and it will introduce a few different options. If you miss left, the player could be up against a boundary fence.Risk And Reward: "Like the sixth hole, we'll play it short enough where we want guys to get home in two with two really good shots. But if you don't execute, the player will bring six or seven into play. Particularly on Sunday look for a cupcake hole location that says guys, 'Here's your eagle possibility.'"
No. 17 437 Yards, Par 4
__ If You're Smart...:__ "You'll lay up off the tee."The Hole:"There's a giant drop-off that goes way down and then the green goes way up again. The green sits at the same spot as the approach area, it's a three wood off the tee, maybe even long iron, wedge or nine into green."However... : "Where this hill goes down, it's bluegrass rough but we have shaved a little neck going down that is about 20 yards going wide. So if someone wants to hit driver and reach the bent grass fairway below and like the sixth at Bethpage that tantalized guys to drive down the hill, we've allowed for that option. I'll be interested to see how many guys try it."The Green: "Very undulating with a lot of ridges and three quadrants. So it's a tricky green if you are in the wrong quadrant and a very tough two-putt."
No. 18 523 Yards, Par 4
It's Longer: "It's a downhill fairway, and at one point it really goes downhill in a speed slot, so we moved the tee back 60 yards. It's still straight downhill but the idea is that this is one of those great holes like 18 at Oakmont or 18 at Merion that is historic and we want guys hitting mid-irons in. We want to see the player hit a good drive and good second shot."The Peninsula: "The green sits out with two quadrants divided by a ridge in the center. The back left literally sticks out in the water and we've got the grass shaved around it. They can still chase the ball into the green. But when you try to putt from front quadrant to back left, it's a very tough two-putt."A Hard Fought Par:"On that final day in 1997, Ernie Els was the only guy who made par among the leaders. Par is going to be a great score here again. We give you your chance on 16 to make eagle, but on 18 you'll have to hold on and hit two really good shots."