The Masters
The Insider's Guide To Masters Week
How to make the most of a trip to Augusta for the season's first major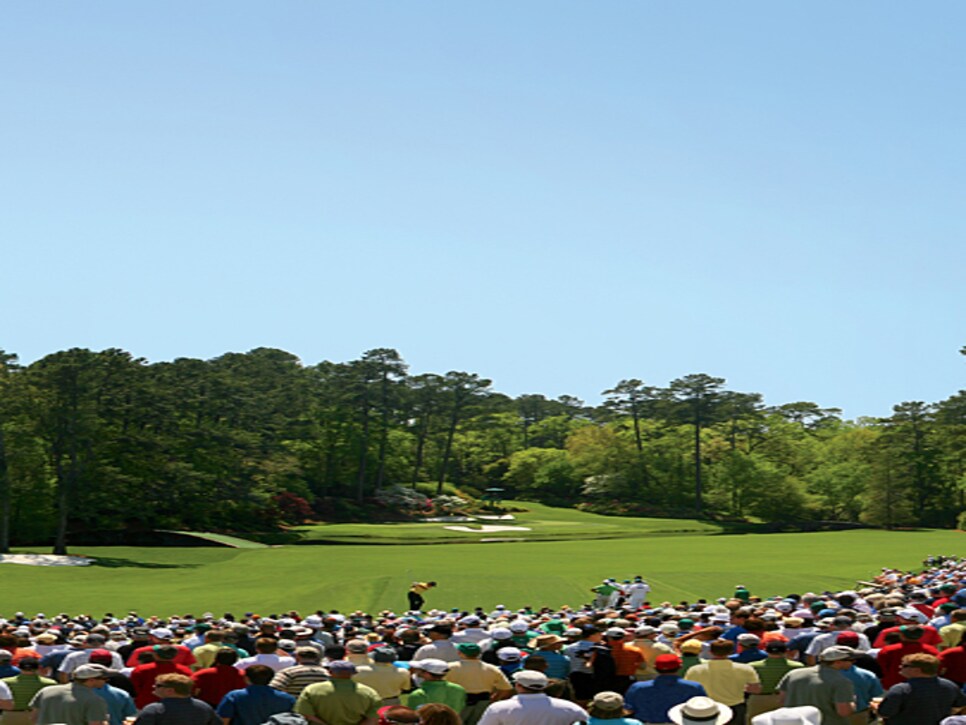 Best spot on the course to camp out for the day:There's no better spot than the
bleachers behind the 12th tee.
Get there early and don't move. When play rolls through, it's like being in a golf stadium. You get to watch approach shots and shots around the green at the 11th, the tee shot at 12 (which is always exciting) and the tee shot coming back on the 13th. If you can't get a seat in the bleachers, simply standing here for an hour or two might wind up being the best golf-spectator experience of your life. The fact that there's a concession stand nearby, as well as bathrooms, means you could conceivably stay all day.
Best spot on the course to watch in which you're not fighting the masses:The problem with some of the best viewing areas at Augusta National is that you're not the only one who knows about them. The __
driving zone at the 10th hole
__ presents less of a challenge because of the way it falls sharply downhill, allowing unobstructed sight lines to the green without even standing on your toes. With the towering pines shielding the hole on three sides, one of the best viewing areas at Augusta National is also one of the most serene.
Best spot on the course to people watch:The massive oak tree behind the Augusta National clubhouse is the property's grand hub. The first tee is just a few yards away, and this spot affords you a look up the fairway as well as the swath of green in the valley below. Players, club members, special guests, club manufacturers, celebrities, TV personalities and an array of media members all converge here. It's every generation in the golf universe collected in a cloistered space. You can watch the masses of patrons shuffle by or simply look over your shoulder and spot golf royalty of one kind or another.Honorable mention: The hill preceding the sixth green, a.k.a. "Six hill."
Best place to stay:If you're looking for a place that embodies the history and tradition of Augusta, the Partridge Inn is your ticket. Bellmen doubled as caddies at ANGC when the club was founded. Ty Cobb, Babe Ruth, and Jack Dempsey were all past patrons. History it's got, and it's also got buzz -- not to mention a terrific raw bar. The Inn adjoins the historic old Augusta neighborhood that borders the golf course -- full of beautiful homes, beautifully restored -- just around the corner from Augusta Country Club, which borders the National. In short, this is the Masters Old School. That means not-so-spacious old-style rooms, for sure, but aren't you searching for a tradition unlike any other?
Best place to stay that does not involve taking out a second mortgage on your house:The best way to experience the Masters, if you have a group of friends, is to
rent a house for the week.
Many Augusta residents leave town for the week and rent out their homes to visitors.
The Masters Housing Bureau
is an easy-to-use, searchable listing of all properties. There are dozens of houses still available, ranging from mansions for $10,000-$15,000 to townhouses for three people at $2,000.
Honorable Mention:
If money is tight you may want to look closer to Columbia, S.C., to get a decent rate. It's within an hour of Augusta and is a pretty reasonable drive.
Best Masters gift for someone who matters:Visiting the Masters gift shop is like spending rare time in a holy land. If you're lucky enough to visit, you're expected to share the wealth.Here's a list of some commonly purchased gifts:• Masters wine and cocktail glasses. $18-$32• Masters logo sweater vest. $75-$175• Masters cuff links. $90-$200• A Masters golf towel. $12-$17
Best Masters gift for your neighbor who you don't want to spend a fortune on:Beggars can't be choosers, and when it comes to gifts from Augusta National, just receiving something from golf's hallowed grounds is a bragging point. There's a variety of cheap options to get your neighbor who's always talking golf, or that nagging member of your foursome. The really cheap route is a plastic beer cup with a Masters logo. It's only $4 and you get to drink the beer! For something slightly more thoughtful, try a Masters Journal program ($10).
Best private party to try to get invited to:There's a number of swanky parties you can try and get on the guest list for during Masters week. (Among some staff picks: Gary Player's annual dinner, separate evening receptions hosted by the USGA and PGA of America, and an Irish Tourism Bureau party with plenty of drinks and eats.) But the most desirable invite? C'mon, that's easy. It's the Champions Dinner on Tuesday, the most exclusive gathering of Augusta's most prized guests. The past year's winner picks the menu.
Best bar/club:The Surrey Tavern mixes elegance with golf in a way best experienced in one of the golf capitals of the world. Interesting enough, the front structure of the bar came straight from Surrey, England, but this watering hole has been a part of Augusta for a long time. It's one of the few live entertainment venues left in town. Golf photos line the entrance. With an extensive supply of premium scotch and bourbon, in addition to bottled beer, the bar embraces what the Masters is all about.
Best course to try to play while you're in town:Just a 20-minute drive from Augusta in Aiken, S.C.,
Palmetto G.C.
is a Alister Mackenzie gem. It's more than 100 years old and has character galore, including a Stanford White clubhouse. It's short (only a little more than 6,000 yards), but Ben Crenshaw and many other pros have played there during Masters week. From Augusta Chronicle writer Scott Michaux: "It's pure awesomeness." For $780 a foursome ($195 if you're a single), you get a tee time, range balls and lunch. A recent call to the pro shop found that tee times were still available up to Tuesday of Masters week as well as Masters Sunday.
Honorable mention:
Sage Valley is a modern-day Augusta National -- but almost impossible to get on. It's a relatively new course, built in 2001 in Graniteville, S.C., and was ranked No. 5 in South Carolina in the
latest Golf Digest's Best In State ranking.
Best golf course to play even if it means driving a bit:
Cuscowilla
is a must if you're bringing your sticks with you to Augusta, despite being a good hour and a half away (pretty much smack in the middle between Augusta and Atlanta). The Bill Coore-Ben Crenshaw design was
10th on Golf Digest's Best In State for Georgia.
Located right on Lake Oconee, Cuscowilla prides itself on being a course the scratch golfer can enjoy as much as the 20-handicapper.
Honorable mention:
Great Waters at Reynolds Plantation (about an hour east on I-20)
Best way to score tickets:It has become easier to get your hands on tickets over the years. Practice rounds seem to be the most-available in town, a nice consolation to seeing the majestic property if you can't get a tournament badge. If you don't know someone with tickets, they're available on
StubHub
. Beware of scalping a fake pass (we've heard it happen before). A little-known way to get inside?
Members of the PGA of America are admitted for free
, a nice perk for those who work hard to spread (and teach) the game of golf.
Best restaurant in town:Want the best steak in Augusta? T-Bonz is the place. Looking for the best spot to see golfers (and their caddies)? T-Bonz is ideal for that, too. Located on Washington Road just a mile from Augusta National, the restaurant is its own "tradition like one other," says co-owner Henry Scheer. "It's just an all-around good vibe here. We have so many people tell us they've been coming to eat at our restaurant for over 20 years." It's become a popular among pros, too. Fred Couples said it's his favorite spot. Fuzzy Zoeller swears by it. On the Sunday night after the Masters, you might even find the winning player's caddie at the bar, buying drinks for the rest of the caddies.
Best Augusta National menu item to sample:We don't profess to know all the ingredients -- after, of course, the pimento and cheese -- that go into the Pimento cheese sandwich, which still costs only a $1.50. Whatever they are, you can get hooked in an instant. Some people might not appreciate the squishy consistency, but wash this down with a Coke or pale ale and you'll feel full for hours.
Smartest way to beat traffic to the course:Traffic during Masters week is often unavoidable, but it can be managed if you take these tips. Stay on the east side of the course, perhaps just over the South Carolina border in North Augusta, for easier flow in and out than on the west side. Take the back roads and come up Washington Road from the opposite direction of the entrance to I-20. It can save you as much as half an hour each day.
Best place to take a load off and still see plenty of action:Up until 2010, the driving range was one of the few things that wasn't five-star at Augusta National. That is until the club decided to take an old patron parking lot and turn it into the envy of all practice facilities, one used exclusively for tournament week. It sits on 18 acres and stretches 400 yards in length, with room for more than three dozen players to warm up. There are also two greens and five bunkers to practice your short game. To the right of the range is a golf services building where players and caddies can eat and rest. But best of all is the ample bleacher seating for spectators to watch their favorite players hone their games.