The Masters
My 10 Best Masters To Write About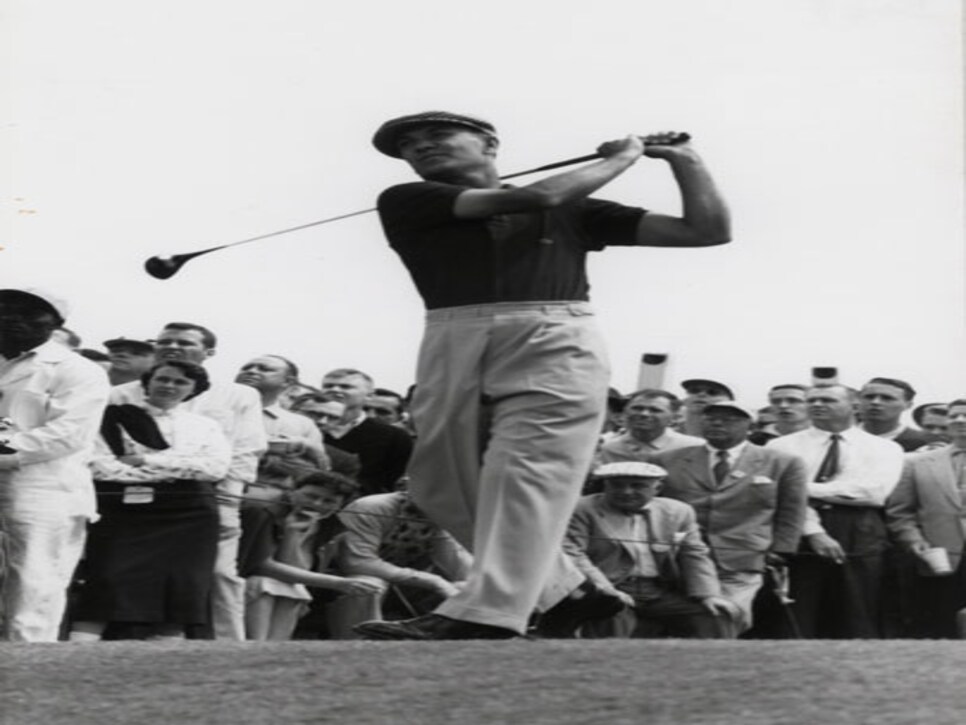 1953
Ben Hogan breaks the 72-hole record by five strokes with a 14-under-par 274, beginning the Triple Crown journey that would include wins in the U.S. Open (Oakmont) and British Open (Carnoustie). He calls the Masters the best four-day stretch of golf he ever played.
1954
Sam Snead wins a historic playoff against Hogan, 70-71, after amateur Billy Joe Patton impulsively fritters away the lead on Sunday. Bob Drum of the Pittsburgh Press and I followed the playoff the full 18 holes, and Drum scoffed while I took notes. I checked the club selections afterward with Hogan and Snead as they sat upstairs in the clubhouse on different sides of the room. Hogan hit 17 greens and took 35 putts. Sam two-putted for three of his five birdies, chipped in for another, hit 14 greens and took 32 putts. From tee to green, it was a clinic, but neither player could make a putt on those scratchy but lightning rye greens. They used to say you could actually hear the ball rolling across the barren rye.
1956
Ken Venturi leads through 54, becoming the best amateur story in a major since Johnny Goodman won the '33 U.S. Open, but stumbles to an 80 in the last round and loses to Jackie Burke by a shot.
1960
Arnold Palmer birdies the last two holes to edge Venturi and win his second Masters to become the new big star the game has been waiting for.
1975
Jack Nicklaus fights off Tom Weiskopf and Johnny Miller to grab his fifth green jacket.
1980
Seve Ballesteros gives birth to European golf. He takes a 10-shot lead into the final nine holes and plays them by way of Athens, Milledgeville and Atlanta but hangs on for a four-stroke win.
1986
A 46-year old Jack Nicklaus returns from wherever he's been and blazes home with a 65 to knock off Ballesteros, Greg Norman and Tom Kite and win his record sixth Masters and 18th pro major.
1995
Sentiment wins the Masters. Actually, it's Ben Crenshaw, with what he calls "a 15th club in my bag"—the recent passing of his teacher, Harvey Penick.
1997
Records fall all around him as Tiger Woods, only 21 years old, gives the golf world a dominating figure it hasn't seen since Nicklaus. It's the start of something big that will get bigger.
2004
Phil Mickelson finally wins a major. Well, it had taken long enough. He had been expected to do it since he was born, or before.