Golf Instruction
Your guide to playing off any turf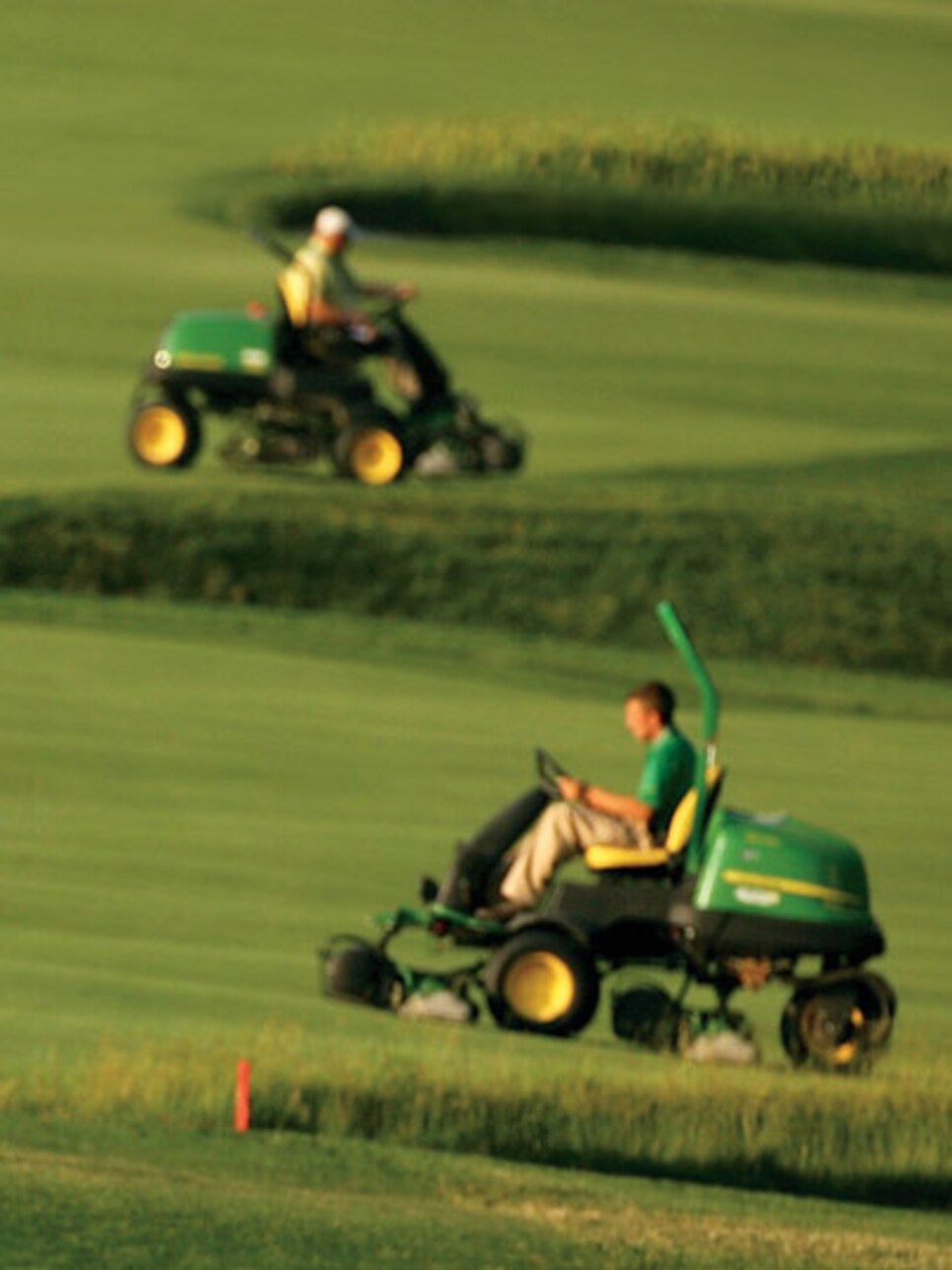 Grass presents golfers with a variety of lies. It exists in many forms and takes on different traits (because of weather, mowing, etc.), so reading lies and predicting their impact on a shot can be challenging. You hit the majority of your shots off grass, so you should know what to expect from various lies. Wouldn't it be nice to save five shots a round just from reading this? We asked Pat Finlen, president of the Golf Course Superintendents Association of America; Mike Nicolette, a PGA Tour winner turned Ping club designer; and Bret Wahl, a vice president of research and development at TaylorMade, for some advice.
TIGHT LIE IN THE FAIRWAY
Closely mowed grass is ideal for good players who are capable of generating ball-stopping spin, but the rest of us fear this lie for making it harder to get the ball airborne.
EXPECT:
Your ball will fly lower with less spin, because it's harder to hit the ball in the sweet spot—less of the clubface typically impacts the ball. You'll tend to hit more thin shots.
TIP:
To ensure you get more of the sweet spot on the ball, imagine you're in a fairway bunker, where ball-first contact is a good strategy.__
Video: Lessons From Bandon Dunes - Hitting Tight Lies
__
WET-GRASS FAIRWAY LIE
Just like car tires hydroplane on a wet road, rain and dew lubricate the clubface, reducing the friction that normally occurs with the ball. As a result, it rolls up the face erratically.
EXPECT:
There will be less control over direction, distance and spin. Water makes the clubface slicker, plus grass in the club's path gets liquified and sprays the ball, making the shot less predictable.
TIP:
Stay conservative with your shot selections (e.g., aim for the center of the green) until you get a sense for how the ball is reacting.__
Tom Watson: Grip Down In Soggy Conditions
__
FLYER LIE
This term describes an approach shot that flies considerably farther than normal. It occurs when a ball sits up in the grass, so you can see nearly the whole cover.EXPECT: Shots will launch higher with less spin. They especially sail out of dormant Bermuda rough in the South or bluegrass in the North. And it's pretty hot coming out of all zoysia lies.TIP: Take less club and play for the ball to roll out. The biggest distance gains come with a 6-, 7- or 8-iron (loft and launch angle are factors). Don't count on as many bonus yards with wedges.
LIE IN THE DEEP ROUGH
When the ball is nestled, it's difficult to hit it without interference from the grass. The club often twists open or closed while moving through the blades, and the grass that's between the club and ball deadens impact.EXPECT: Your ball won't fly as high or travel as far from this lie because you can't hit it solidly enough or create sufficient backspin. A decelerating clubface is more apt to close sooner, which delofts the shot.TIP: Choose a club, up to two longer than normal, and slightly open the face before you grip it. This will help counter the loss of distance and loft. Don't expect to fly it onto the green. Run it up.
HARDPAN LIE
Recognizable by its burned-out look, hardpan is either dead or dormant grass that feels firm under your feet.EXPECT: The sole of your club is more likely to carom off the turf, making center-face contact difficult. Even when you make a good strike, many times you won't feel like you hit the ball solidly, because the sensation of hitting the hard ground reverberates up the clubshaft.TIP: Play the ball slightly farther back in your stance than normal, and consider going with British Open-style shots (knockdowns, bump-and-runs, etc.). Also, use a wedge with very little bounce around the greens. Flop shots are not recommended.
FESCUE LIE
There are some 300 varieties of this tall, wispy grass, but golfers are most familiar with the golden version that often frames fairways and bunkers. If you can find your ball in this super-high grass, extracting it with a club is easier said than done. When grass wraps around the hosel of the club, it can bring even a fast swing to a virtual stop in a second.EXPECT: Usually the best you can do is get the ball in shorter grass. Trying for anything more than a 50-yard shot can cost you dearly.TIP: Choke down on a wedge and hold on as tightly as you can with your right hand. Swing down as steeply as possible. There won't be much of a follow-through.