Editor's Letter
Tending to grass and ghosts on Fishers Island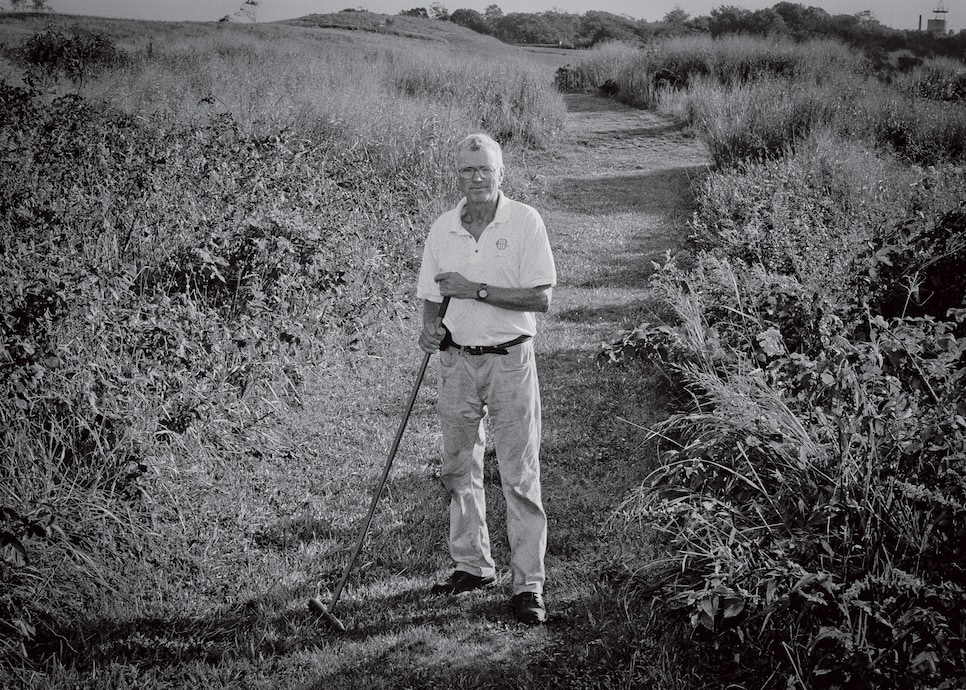 LIFE OF SOIL Dave Denison is in his sixth decade as superintendent. Photograph by Alan P. Pittman
I have an idea for Clint Eastwood's next movie. The 91-year-old directs and stars as a canny superintendent who single-handedly maintains a golf course on a remote island across six decades, cultivating the love of generations of members in a changing world while contending with the ghost of a predecessor who died in the same modest, club-appointed quarters in which he lives. And it's all based on a true story.
I'll pitch it to Eastwood at The Arnies, where he, Brandt Snedeker and Morgan Pressel are being honored for philanthropy in the spirit of Arnold Palmer. While these golfers have used fame to give back, it's also important to recognize a guy like Dave Denison, who epitomizes the kind of anonymous, humble people who quietly make this game and world go round.
Denison, 70, ventured from mainland Connecticut to Fishers Island in 1977 to be a math teacher. In the fall of that year he mowed grass at the nine-hole Hay Harbor Club, which exists in the shadow of "The Big Club," or how locals refer to Fishers Island Club, which ranks ninth among Golf Digest's America's 100 Greatest Courses. With waterside holes laid by Scottish architect George Strath in 1901, Hay Harbor is not wanting in charm or shot options.
In 1978, the super was suddenly let go, and Denison was asked to take his place despite no formal training. Promptly (with artistic license in the movie we could make it his first day), the brake slipped on an unattended tractor, and it plunged into the Long Island Sound. Expecting to be fired by sundown, Denison and a friend towed the tractor out, dismantled every piece to dry, and rebuilt it. As with every post he'd later acquire and juggle on the island—fireman, lobsterman, basketball referee, ambulance boat driver, bowling alley manager, property caretaker—he learned the details on the fly.
In 2021, Denison's maintenance budget was just under $50,000—which is the kind of number that makes supers who spend five and 10 times that spit out their coffee. Denison's greens roll true, and he plants vegetable gardens behind tee boxes rather than waste runoff irrigation. Members fill their golf bags with complimentary fresh tomatoes, beans, cucumbers, you name it. Oh, and that Massey-Ferguson tractor still runs today.
"[Denison] knows every square foot of that property," says Gil Hanse, a member of both clubs on the island, as well as golf 's hottest architect. "He's also a master gardener who provides a bounty each year for the community. Truly a unique treasure in the golfing world."
As for the supposed ghost, let's just say "it" has crossed paths with credible folks. "I was the exact opposite of a person who believed in anything supernatural and used to laugh at people who did," says Andrew Kegarise, Hay Harbor's head pro since 2017. Kegarise and wife Lauren reside seasonally in the clubhouse's upstairs, and according to both, life has become a saga of slamming doors and phantom footsteps. Once in the middle of the night, Andrew awoke to the puzzling visage of Lauren rummaging through his shirt closet. He told her to come back to bed. That's when he felt her sleeping hand next to his under the comforter. He sprang from bed to inspect the closet, only to find the hangers still swinging.
Kegarise was teaching a sunset putting clinic to 22 women last summer when a ball rudely pitched onto the green, interrupting his demonstration. The group was baffled. "The practice green is the highest point of the property; you can see every hole," Kegarise says. "There wasn't a golfer out there."
Dan Colvin, who was at Hay Harbor before becoming the head pro at Somerset Hills and now The Big Club, doesn't care whether you believe him or not. "Spirits roam the grounds there," says Colvin, who has a spooky story about encountering an old man on the course in fishing gear. There one moment, gone the next.
Denison doesn't let on much. Smirking, he says maybe he once heard a voice tell him to "get out" of the maintenance barn. As he looks toward the water across the land he has nurtured for a lifetime, his eyes emote more than words ever could.
Reminds me of a certain actor.