Golf Equipment
What's In My Bag: Charlie Beljan
Age: 28 | Resides: Mesa, Ariz. | __Story:__Won 2012 Children's Miracle Network Hospitals Classic in his rookie season.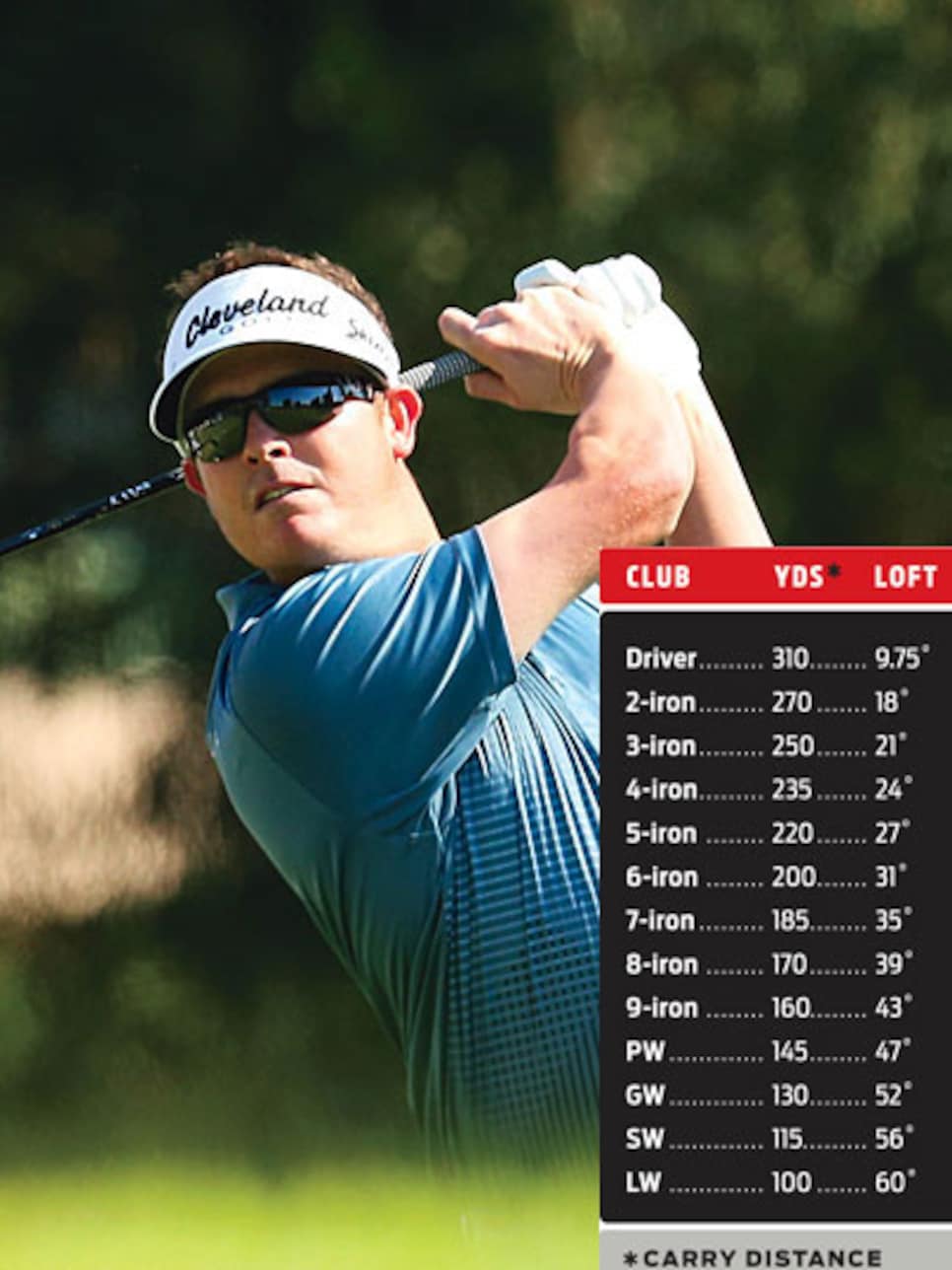 Photo By: Stephen Dunn/Getty Images
VERY SUPERSTITIOUSLike most golfers I have my superstitions. If I play well, there's a good chance I might wear the same pair of socks the next day. I also have a pair of white golf shoes that are my "eight-under shoes" because I wore them when I shot an eight-under-par 64 at Disney. My wife's mother gave them the name. If I'm having a tough time at a tournament I'll get a text from her that reads, "Try the eight-under shoes."
Photo By: Stephen Dunn/Getty Images
ROAD WARRIORI have a 43-foot motor home, and I do all the driving. There are so many cool things you see driving that you don't see flying. Plus air travel is such a hassle. Now I have the same bed, and grill out at night instead of sitting in a hotel room. If I didn't have a wife and kid, I'd sell my home and live out of it full time.
X MARKS THE SPOTMy ball is the Srixon Z-Star. I mark out the name and number and put X's on the side. When putting I fix my eyes on the X. I often use one ball for all 18 holes.
Photo By: J.D. Cuban
VOLUME, PLEASEThe Hollllla!! on my towel is a saying my buddies and I started using a few years ago. We actually own the website domain for it. It doesn't mean anything other than things are good.
PUZZLE PINI have a neighbor whose child is autistic. Playing in Ernie Els' event (where I got this pin) and knowing what autism is about made it more meaningful to me.
COIN OF RESPECTA sergeant with the LAPD gave me this coin before I teed off in the third round of the Northern Trust Open. I shot 68, went on to finish second, and have kept it in the bag since then.
CALMING INFLUENCEThis bottle of generic Xanax (which isn't against tour rules) is in my bag in case I get an anxiety attack. It gives me peace of mind knowing it's there if I need it.
DRIVERMy Cleveland Classic XL Custom driver (Miyazaki B. Asha 5x shaft) says 9 degrees of loft but is really 9.75. I closed the face .75 degrees and that ups the loft. I wasn't a fan of adjustability at first, but I am now.
UTILITY IRONSWhen I won the 2002 U.S. Junior, I carried a 1-iron and no fairway woods. My Cleveland 588 MT 2-, 3- and 4-irons (Miyazaki C. Kua 105x hybrid shafts) fit my distance gaps.
IRONSI've never played blades. These Cleveland 588 CB irons (Nippon Tour 130 shafts) look good to my eye. If you make an iron with a big sweet spot, I'm going to take advantage of it.
WEDGESCleveland's 588 RTX CB wedges (Nippon N.S. Pro WV shafts) have a sole grind that makes chipping easy for me. I've used a 4-degree gap between my wedges for more than a decade.
PUTTER
Earlier this year I switched to Titleist's Scotty Cameron Select GoLo. I changed the length from 34.5 inches to 37 inches. I'm 6-4, so I'm more comfortable with the longer length.*Editor's note: this photo is from our
Hot List