Golf Equipment
What's In My Bag: Carlos Ortiz
Age: 23 | Born: Guadalajara, Jalisco, Mexico | Resides: Dallas | __Story:__Won three times on the Web.com Tour last year, earning $515,403 and his PGA Tour card for 2015.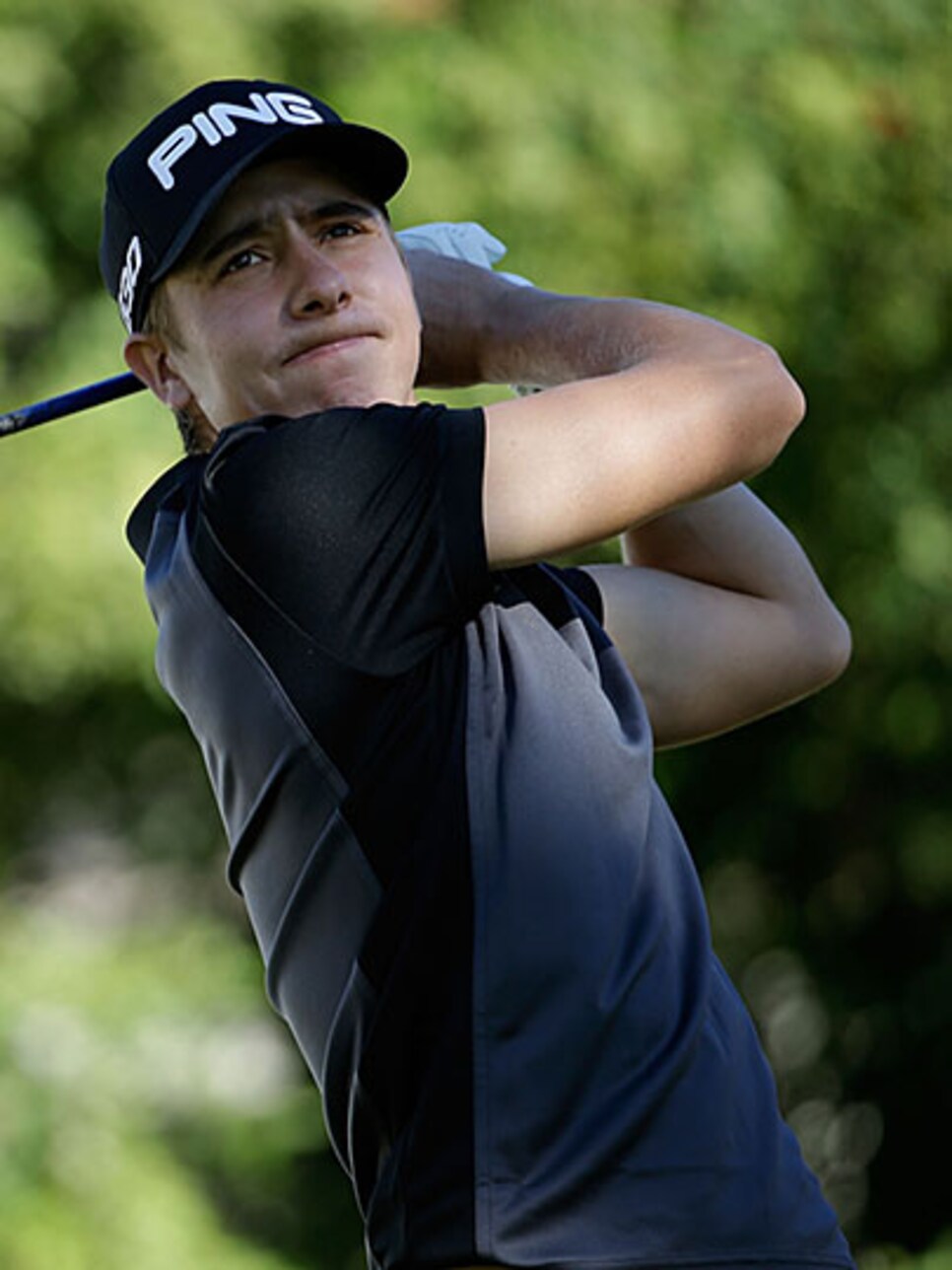 Photo By: jeff gross/getty images
Photo By: courtesy of Carlos Ortiz
NOD TO MY COUNTRYMy irons, wedges and putter have white, red and green paintfills inspired by the flag of Mexico. I make sure they're placed in my bag so the colors alternate. I grew up playing at Guadalajara Country Club, where Lorena Ochoa worked on her game. I'm honored to represent my country just like she did.
Photo By: jeff gross/getty images
LIFE MOVES SO FASTI've learned that golf is the same, at any level. It might seem crazy to be playing on the PGA Tour, just two years out of college (University of North Texas), but as long as I shoot low scores, I'm going to do OK out here. That's why I've stuck with some of the clubs I've used since college. It can be tempting to change, but I won't as long as they keep working.
DRIVER
specs: Ping G30, 9.75 degree loft, Ping Tour 65 shaft, X-flex, 45¼ inches, D-3 swingweightMy go-to shot off the tee is a fade. The G30 lets me work the ball without creating too much spin. Even if I miss with this, it's going far and in play.
FAIRWAY WOOD
specs: Ping Anser 3-wood, 14.5 degree loft, Ping TFC800 shaft, S-flex, 42½ inchesI can launch this high with some spin to hold a firm green if I need to. But off the tee, there's little spin. This is a hard club for me to change because I trust it.
HYBRID
specs: Ping Anser, 18 degree loft, Aldila Tour Blue 105 shaft, X-flex, 40¾inches, 1 degree flatI've been playing with this hybrid (and my 3-wood) since college. I can hit this 2-iron replacement into par 5s yet also play recovery shots out of the rough.
IRONS
specs: Ping S55, 3-iron through pitching wedge, 1 degree upright, True Temper Dynamic Gold X100 shafts, Ping iD8-White +1 gripsI started playing Ping irons at age 16, and I've switched over to each new iron set they've come out with. It seems like I can control spin and launch the lower irons high, even in windy conditions.
WEDGES
specs: Ping Glide prototype (52 and 58 degrees), 12 degree bounce, True Temper Dynamic Gold S400 shaftsI like having these new grooves, and I think the extra bounce on these clubs has helped me hit better shots from difficult lies around the greens.
PUTTER
specs: Ping Scottsdale Piper C custom putter, 34 inches, 4 degree loft, 21 degree lie angle, 364 grams (headweight), Ping PP58 midsize gripIn fifth grade, I started using a putter with a plumbers-neck hosel. The guys at Ping welded a custom hosel onto this to match the look I like.
My military medallionLast year, I played in a pro-am with a U.S. Army investigator. He gave me this badge, and then immediately I won in Portland. I wouldn't say I'm overly superstitious. It's more of a nice reminder of good times.
Ditched the deucesI play the Titleist Pro V1x, but never a No. 2 ball. In European Q school, I lost two balls on the first two holes. I had a local caddie who swore No. 2s were unlucky. Sure enough, we switched to a No. 3, and I made five straight birdies. I've never played No. 2s since.
Mean business on the greenI wanted to have the mascot of my college -- North Texas -- represented on my bag. So this putter cover is important to me. College golf was huge for my growth as a player.
Going really, really low!This is a picture of me scuba diving on a vacation to the Bahamas with my family. (That's me holding the camera, and my dad behind me.) We were right next to some crazy-big sharks. We enjoy fishing, too. I have tons of photos of me with huge tuna that I've caught.
Photo By: courtesy of Carlos Ortiz
Call it "feng shui"When I was in China in 2011 for the World University Games, a girl gave me this good-luck charm. Our Mexican team won the bronze medal, which was so cool, so I've kept it in my bag ever since.