Golf Equipment
What's In My Bag: Brandt Snedeker
Age: 31 | Resides: Nashville | Story: The reigning FedEx Cup champ has four PGA Tour wins in the last five years, including the 2012 Tour Championship. In July, he placed T-3 at the British Open, matching his best finish at a major.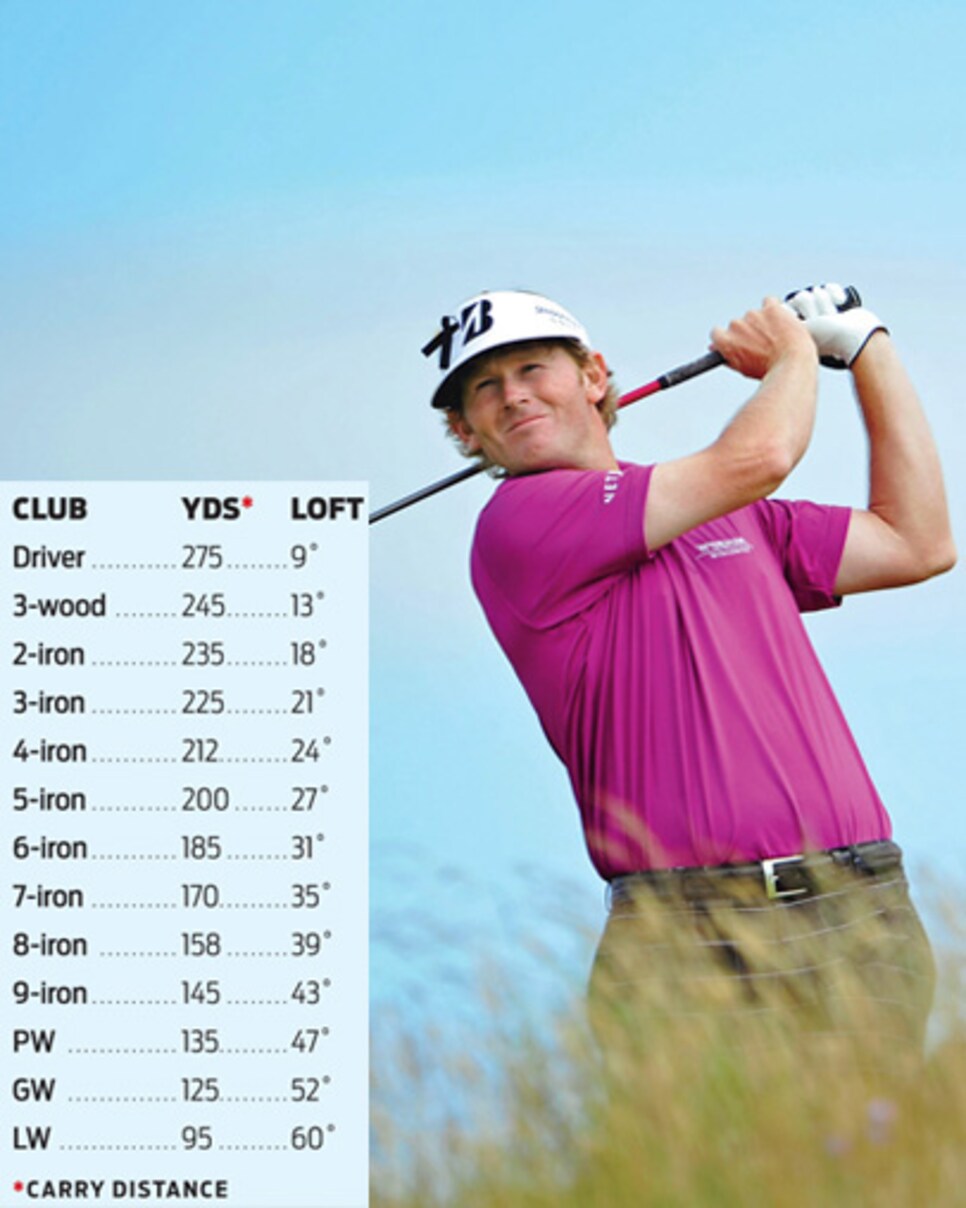 A STRONG UPBRINGINGI was very fortunate to be brought up the way I was. My father was an attorney and my mom ran a pawn shop in town for fun. We had every opportunity, but I worked at the shop after school and during the summer. It made me appreciate what I do for a living. That's why you'll see me acknowledging as many people as I can at tournaments. People spend their money to watch us play. We're entertainers. The least we can do is treat the fans right.
MUCH HIGHER GOALSEven though I didn't win this year's British Open, being among the leaders the whole tournament reaffirmed that I'm playing the best golf of my life. I feel like reaching the 20-win mark is not an unrealistic goal for my career. Those guys who've won 20 or more times have sustained a great career on the PGA Tour. That's the type of legacy I'd like to have.
DRIVER
I'm playing the TaylorMade R11 (9 degrees, Matrix Ozik shaft). In January, I won at Torrey Pines with the Burner SuperFast, but when it broke, I tested a lot of drivers. I think I wore out the guys in the trailer to get the right setup.•
Snedeker's driver: $11.44 mil. bargain
FAIRWAY WOODIt's definitely one difficult club to find the perfect fit for, but I did with this Tour Edge Exotics CB4 (13 degrees, Mitsubishi Rayon Diamana Kai'li 70X).
WEDGESMy 52-degree wedge is a Bridgestone J40, and my 60-degree is a Titleist Vokey SM4 (Lamkin Tour full-cord grips). I sometimes carry a 56-degree J40 sand wedge.
IRONSAfter hitting some shots with Matt Kuchar's irons last year, I started playing the Bridgestone J40s (Aerotech SteelFiber 95 S-shafts). I often carry a 20-degree Adams Pro a12 hybrid, but for Royal Lytham I had these Mizuno Fli-Hi 2- and 3-irons built.
PUTTERMy Odyssey White Hot XG Rossie putter (34 inches, 3 degrees of loft) is undoubtedly my favorite club. It's one I'll never change—I've had it for seven years and even kept the same grip for four. I finally regripped it a couple of months ago. I used a similar one in high school. I just love the look.
THINKING GREENI've always put a dot over the "E" on my Bridgestone Tour B330 golf balls. The Masters is my favorite tournament, which is why I like seeing green.
FIGHTER'S MIND-SETI've kept in touch with Andy Neal, 11, during the past year. He's in a battle with cancer. If I'm having a bad day, I'll take this photo out to keep perspective.
STAYING SHARPI'm sure I'm one of the few guys on tour who keeps an old-school pencil sharpener like this one in my bag. Probably not as important as sunscreen, which I make sure to use, but it can be handy.
RIGHT ON THE MARKI've had some issues marking my ball, either dropping my coin or ball, so I'm very careful about it. I used to be particular about a '60s coin, but I've lost most of them. Like a score in the 60s, they can be few and far between.
TRACKING MY PATHMy laser-putting aid is made by Scotty Cameron. It's the only training device I practice with on the green. I attach it to my putter shaft, then draw a chalk line on the grass. If I take my putter back too far outside, the laser will let me know, and I'll adjust my stroke.