Ryder Cup
Saturday's Birdies and Bogeys
Who were the winners and losers on Saturday of the Ryder Cup? Let's take a closer look with another edition of birdies and bogeys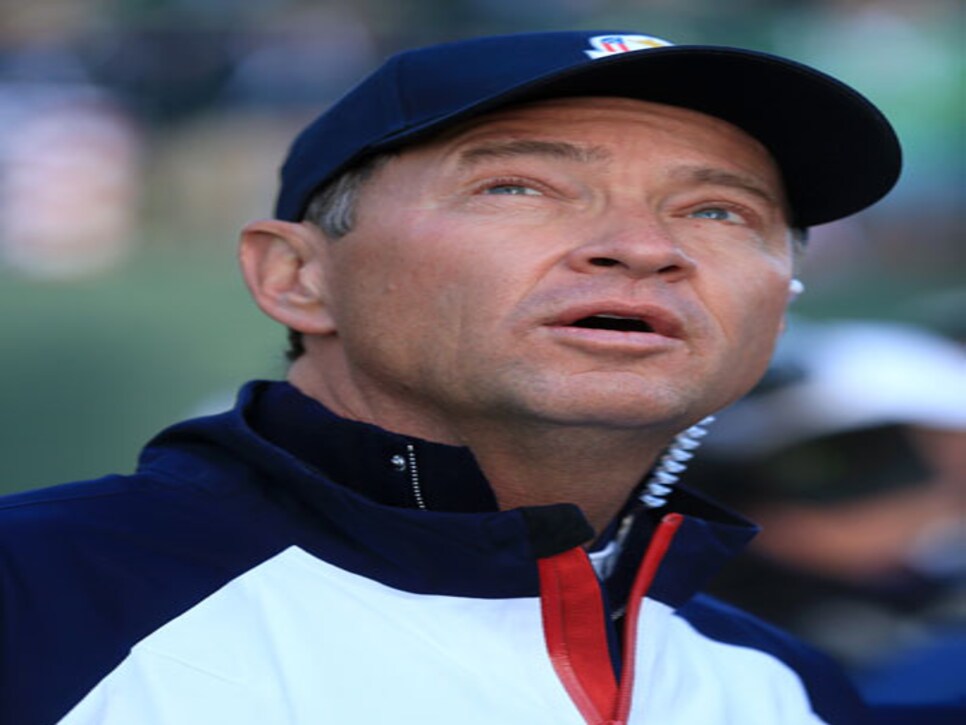 Birdie: Roster intrigue
Why do we love the Ryder Cup? Perhaps it's because it's the one week when the golf conversation sounds like your typical sports radio call-in show. Why did Davis Love play Tiger Friday afternoon? Why would he put Woods and Steve Stricker together again Saturday afternoon? How in the world could he ever sit down the white-hot pair of Keegan Bradley and Phil Mickelson? We might not like all the decisions that Love and his counterpart Jose Maria Olazabal have made this week. But we do love the fact that they're forced to make them.
Bogey: Golfers as athletes
Just when you thought golf has finally established itself as a real sport with real physical demands, you have U.S. captain Love sitting down some of his top players so not to wear them out before Sunday. We know, we know, the Ryder Cup is an emotionally-taxing week, and a fatigued golfer is more prone to mental mistakes. But we're still talking about professional athletes in their physical primes, aren't we? Five matches in three days doesn't seem like a lot to ask.
Birdie: Keegan Bradley and Phil Mickelson
To make the sort of opening statement the pair made on Friday is one thing. To take a breath, come back the next day and do it again is a whole other. Bradley's contributions at Medinah were everywhere Saturday, beginning after 7 a.m., when he jogged to the first tee to pump up the crowd, then continuing when he and Mickelson spanked the English pair of Lee Westwood and Luke Donald 7-and-6 -- the most lopsided win in the Ryder Cup in more than 20 years. The only force standing in their way? U.S. captain Davis Love, who opted to sit the pair down in the afternoon to rest them for Sunday.
Bogey: Steve Stricker
Tiger Woods will get most of the attention for not having put a red flag on the board yet this week, but most of the blame clearly falls to his partner. While Woods has made 10 back-nine birdies the past two days in four-ball competition, Stricker hasn't been much more than a spectator. Surprisingly, even the 45-year-old's normally sterling putting has left him at Medinah, most notably with a lipped out six footer on the final hole that would have secured a half point. Instead, the two players that were supposed to lead the Americans are now the only two players on the U.S. squad who haven't contributed.
Birdie: Ian Poulter
One of the most obvious captain's picks of all time actually looked like he would lose a match until he went on one of the most stunning runs in Ryder Cup history. Putting like a man possessed, the Englishman birdied the final five holes to earn a desperately-needed point for the Europeans. Golf is a tough sport to carry momentum over from one day to the next, but at least, for the moment, Poulter's performance has given his teammates a reason to believe they can turn things around on Sunday.
Bogey: Lee Westwood
The world's fourth-ranked player has arguably played the worst of the 24 golfers at Medinah. On Saturday morning, he and Luke Donald were on the receiving end of the latest Phil Mickelson/Keegan Bradley beatdown. That earned Westwood a spot on the European team bench in the afternoon, where he watched the four-ball action. Come to think of it, that's pretty much all Westwood did in Friday's four-ball, too, when he had a front-row seat for Nicolas Colsaerts' brilliant performance.
Bogey: Sunday Drama
Fans of the red, white and blue have had plenty to cheer about this week, however, fans hoping for some final-day excitement might have to settle for watching a coronation. Sure, 12 points are still available in the singles matches, but only once has a team come back from a four-point defecit (The U.S. at Brookline in 1999) like the one Europe faces. The NFL owns fall Sundays as is. A lopsided scoreboard isn't going to help change that.
Birdie: Sergio Garcia at 16
In case you missed it the first 900 times it was mentioned this week, Garcia once hit a pretty spectacular shot on the 16th hole at Medinah. He had another on Saturday, although just like when he finished runner-up to Tiger Woods in 1999, it wasn't enough. In a foursomes match against Jason Dufner and Zach Johnson, Garcia jarred his chip from greenside at 16 to move he and Nicholas Colsaerts to within 1 down. The momentum was quickly squelched -- Colsaerts knocked it in the lake on 17 -- but it was at least proof Garcia didn't leave all his highlights in the previous century.
Bogey: NBC
The most commonly-heard phrase on the network during Saturday's telecast other than "Ryder Cup"? Try "technical difficulties." For about a half hour late in the morning, NBC was plagued by constant problems causing it to keep cutting to commercials. Fortunately, as Dan Hicks pointed out when things got under control, viewers didn't miss much action. But that was assuming those viewers didn't turn the channel altogether.
Birdie: First tee fun
Maybe this wasn't what ol' Samuel Ryder had in mind when he first conceived of a friendly competition between the U.S. and Great Britain (now Europe). But in a sense, the first-tee antics by Ian Poulter and Bubba Watson on Saturday, in which they encouraged the crowd to cheer WHILE they were teeing off, was a reminder that the fate of humanity does not hinge on who wins more points this week.
Bogey: Rory McIlroy
We already knew McIlroy has sought to model his career after Tiger Woods'. Little did we know that extended to ineffective appearances in the Ryder Cup. McIlroy got a point out of his first match of the week, but has struggled since then, dropping two matches alongside buddy Graeme McDowell, and only winning in the afternoon thanks to an all-time performance by Ryder Cup stalwart Ian Poulter. We're going to assume McIlroy's struggles is not for a lack of caring. But it is further proof that singular geniuses don't always mesh well in groups.