British Open
Saturday's Birdies and Bogeys
Who were the winners and losers on Day 3 at Hoylake? It's time to take a closer look with another edition of birdies and bogeys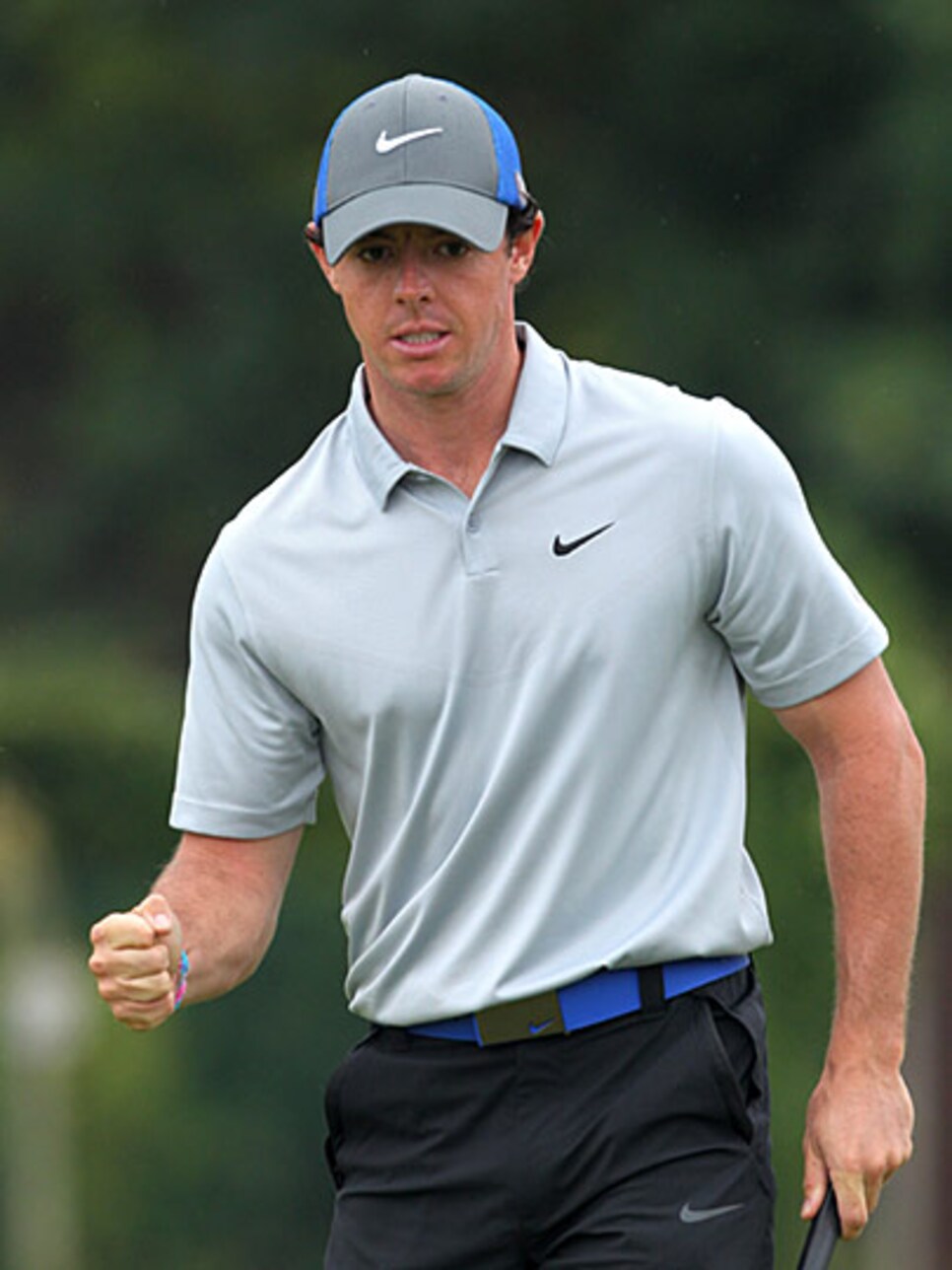 Birdie: Rory McIlroyIf you were looking for the inevitable hiccup, it came . . . and then it went. With a four-shot lead to start Saturday, McIlroy bogeyed the first and needed a few clutch putts to avoid several more on the front nine. At one point he even lost the outright lead when he bogeyed the 12th. Then McIlroy, who has owned the back nine this week, dropped a couple more back-nine hammers with two eagles in his final three holes. If it provided him a mathematical cushion heading into the final round -- six shots over Rickie Fowler after a 68 -- it also reassured the two-time major champion that he can get sideways for a spell and still regain his rhythm. As he marches toward the third leg of the career Grand Slam, that's a welcome swing thought. -- Sam Weinman
Photo By: Getty Images
Bogey: Dustin JohnsonPlaying in the final group with Rory McIlroy, Johnson appeared on his way to a memorable Saturday when he birdied the first and McIlroy bogeyed, bringing the American within two of the lead. But that was as close as Johnson would get. After going 30 holes without a bogey, he bogeyed three straight on the front nine just as Sergio Garcia and Rickie Fowler, two other heralded players in search of their first major, were surging. Although Johnson rallied with three birdies on the back nine, he'll be forced to chase McIlroy from seven back on Sunday. -- S.W.
Photo By: Getty Images
Birdie: Rickie FowlerFowler has a better cumulative score in majors than anybody else this year. That's slightly curious considering that he still only boasts one PGA Tour win to his name, but he proved once again with his four-under 68 on Saturday that he knows how to peak for the big events. He may be six shots back with just one round to play, but Rickie still has Rory in his sights -- and he'll get to watch him up close in Sunday's final pairing. "I'm definitely looking forward to getting out there tomorrow and see if I can put the same start on Rory as I did today," Fowler said. -- Luke Kerr-Dineen
Photo By: Getty Images
Bogey: Tiger WoodsThe only thing more frustrating than mediocre golf might be good golf . . . interspersed with mediocrity. After Woods' strong start at Hoylake was followed by a sobering Friday 77, he went off on the back side Saturday and looked to be regaining momentum, even getting to as low as three under through 10 holes. Then Woods fell back with a double bogey on the par-4 second, followed by another triple when he lost his tee shot in a gorse bush on the par-4 seventh. To be fair, it was a lot to ask of Woods to contend in his second tournament back from microdiscectomy surgery. But when he's revealed flashes of his old self, the occasional missteps are all the more confounding. -- S.W.
Photo By: Getty Images
Birdie: Sergio GaricaThe good news? Garcia shot 69 and will be in contention at a major on Sunday -- something we haven't seen too much in recent years. The bad news? He still lost ground to the leader and will trail Rory McIlroy by six entering the final round. Failing to birdie Hoylake's finishing par 5 cost him a spot in the final pairing, but perhaps that's a good thing. It didn't go so well for Garcia the last time he was in that position at Hoylake in 2006. -- Alex Myers
Photo By: Getty Images
Bogey: Francesco MolinariIt can't be easy to play with DJ and Rory, two bombers who routinely flew it past the average-length hitter Molinari. But the Italian did nothing to indicate that he was ready to rise to the challenge of playing in the last group at a major. He didn't make a birdie until the 16th hole, and five bogeys in his first 11 holes led to a three-over 75. -- L.K.D.
Photo By: Getty Images
Birdie: Two-Tee StartTraditionalists might bemoan how the R&A, for the first time in the British Open's 154-year history, chose to start players off a hole other than the first. The decision proved wise when Saturday's third round finished without disruption from bad weather. While the early start was inconvenient for many (especially American television viewers), it was the best scenario for those who mattered most: the players. Had the predicted bad weather come to pass and interrupted play, or worse, forced a Sunday morning restart, it would have been unfair to the final groups. Instead, the entire field faced just the occasional rain shower and got the reward of a restful night's sleep. -- Ryan Herrington
Photo By: Getty Images
Bogey: Ryan MooreMoore played his way into the second to last group with his good play on the first two days, but he looked totally out of place when he teed it up on Saturday. Two bogeys and a double on the front nine dropped him outside the top 30 at one point, and despite fighting back to one over on the day, he still sits way back going into Sunday. -- L.K.D.
Photo By: Getty Images
Birdie: Darren ClarkeA soft course and minimal expectations proved a perfect combination for the trimmed-down (by 50 pounds) Northern Irishman. Starting off the 10th tee, Clarke marched to a five-under 67 to match the day's best round. To say the red number came from nowhere is warranted. The lost weight in 2014 hasn't helped his game, with Clarke making the cut in just two of 11 PGA Tour starts, the last coming at the Masters. Meanwhile, the last time he had a round that low in the Open was the third round at St. Andrews in 2005 (his lowest score when he won at St. George's in 2011 was 68).-- R.H.
Photo By: Getty Images