U.S. Open
Saturday's Birdies and Bogeys
Who were the winners and losers Saturday at Chambers Bay? It's time to take a closer look with another edition of birdies and bogeys.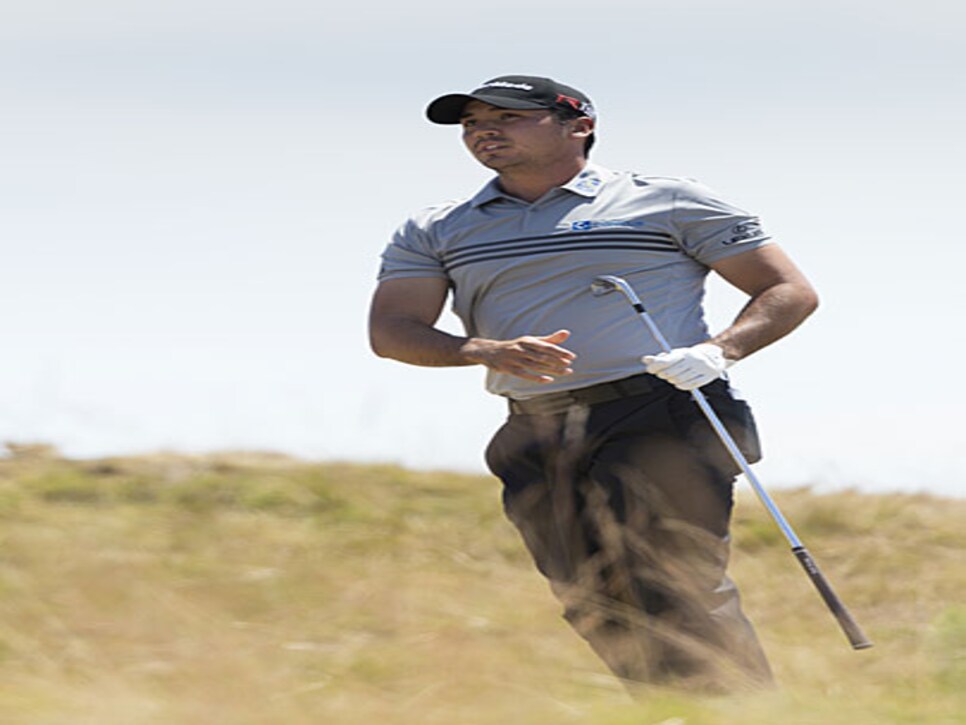 Birdie: Jason Day
The "Is golf a sport?" debate is as old as the game itself, and nothing about Day's showing this week will help settle it. But if the question is whether golfers can be tough, Day provided a resounding answer. A day after collapsing on his last hole of the day due to a vertigo spell, the Aussie returned to Chambers Bay to continue his quest for a first major championship. Clearly wobbly at times, Day persisted and somehow played better than anyone with an afternoon tee time. With four birdies over the final seven holes, he shot 68 to earn a share of the lead in a tournament he wasn't even sure he could finish. -- Sam Weinman
Bogey: Chambers Bay
We've appreciated some of the unique elements of this peculiar golf course, even as players complained about bumpy greens and difficult walking conditions. But that was before Chambers Bay was baked to a crisp on Saturday, making it all but impossible for players to stop the ball where they wanted. It's a fine line between difficult and farcical, and the scary part is there's not much relief in sight. Although the USGA will surely throw plenty of water on Chambers Bay Saturday night, it likely won't be enough to counter the dry conditions expected Sunday, meaning the national championship is likely to be determined by luck as much as anything else. -- S.W.
Birdie: Jordan Spieth
We can talk about how he lost the early momentum gained when he birdied two of the first three holes. But on a day when Chambers Bay was unrelenting in its punishment of the world's best players, Spieth persisted as other players imploded. Just ask playing partner Patrick Reed, who shot 76 to tumble down the leader board. Spieth's 71 featured four bogeys in a span of six holes, not to mention at least a half dozen missed birdie opportunities from short range. But it was still good enough to maintain a share of the lead, with hopes of a second straight major very much alive. -- S.W.
Bogey: Dustin Johnson
An outward 33 gave DJ a two shot-lead, but he stumbled on the back nine with a bogey on No. 11, a double bogey on No. 13 and a par on No. 16 that must have felt like a bogey after driving the green and three-putting. The good news for Johnson is with no one else pulling away, he's tied for the lead and in great shape to finally win his first major. The bad news is that after one of the best driving performances of his life (he was a perfect 14 of 14 in fairways), he let an opportunity to take control of this tournament slip away. -- Alex Myers
Birdie: Louis Oosthuizen
Throw out his opening 18 holes and Louis Oosthuizen could be leading this golf tournament. After an opening 77 alongside Tiger Woods and Rickie Fowler, who both threw up rounds in the 80s, Oosthuizen has the low total of the second and third rounds -- shooting back-to-back 66s to secure one of the final tee times on Sunday. His combined 132 total over the second and third rounds broke the record for low middle U.S. Open rounds. Oosthuizen missed four putts inside 10 feet in a round that could've been even lower. The South African hasn't had a top 10 in a major since his runner-up at the 2012 Masters, but if he keeps up this ball-striking, that should change. -- Stephen Hennessey
Bogey: Rory McIlroy
Two under through seven holes, McIlroy had a chance to pull himself back into contention with a good back nine -- and if you had just watched him play from tee to green, you would have been sure he did just that. But McIlroy missed six straight putts from inside 15 feet to start his back nine, including a pair of birdie putts from inside six feet to stall his momentum. A 70 at Chambers Bay is never a terrible round, but it's not what McIlroy, who entered the day nine shots behind, needed. Unless he does something historic on Sunday, the World No. 1 will remain stuck on four majors. -- A.M.
Birdie: Branden Grace
We figured he would fade. Branden Grace is an accomplished European Tour player with six wins to his credit but mostly unfamiliar to American golf fans. And yet on Saturday, Grace was leading our national Open by himself at one time with a steady tee-to-green game that made you wonder why we haven't heard from him earlier. Even after three bogeys on a five-hole stretch in the middle of his round, the 27-year-old South African birdied the par-3 15th hole and parred his last three to hold a share of the 54-hole lead. If Saturday was any indication, Grace won't easily crack under the pressure. Because to be as consistent as he was on Saturday in this giant moment took major moxie. -- S.H.
Bogey: Patrick Reed
The 24-year-old has the experience of playing on some of golf's biggest stages, but the final pairing on the weekend of a major was not one of them. In just his sixth major, that's where Reed found himself with Ryder Cup teammate Jordan Spieth, who outplayed him early on Saturday as Reed struggled to a 76 that included three double bogeys. Reed will still be in the conversation on Sunday, sitting just five shots off the lead after playing his last eight holes in even par. And at the very least, the four-time PGA Tour winner now has a taste of what it's like to be in contention on the weekend. -- S.H.
Bogey: Phil Mickelson
No one had more sentiment on his side, but golf requires more than that. After a brief spot on the leader board Thursday, Mickelson has clearly struggled at Chambers Bay, with his 77 on Saturday effectively prolonging his Grand Slam quest at least another year. The veteran has said he feels stronger at 45 than he's felt in years, but that doesn't distract from the fact that for him, time is running out. -- S.W.
Birdie: Cameron Smith
Jordan Spieth isn't the only 21-year-old impressing at Chambers Bay this week. Smith shot a Saturday 69 to move into a tie for fifth place entering Sunday. Not bad for his first appearance in a major championship, and yes, you should expect to see the Aussie's name a lot more in the coming years. Smith turned pro late in 2013 and finished fifth on the Asian Tour's Order of Merit last year. Earlier this season, he became the first player in more than six years to earn a top 10 in his PGA Tour debut with a T-5 at the CIMB Classic. -- A.M.
Bogey: Sergio Garcia
If we've come to expect two things from Sergio Garcia over the years, it's coming close in major championships and wearing his emotions on his sleeve. This week, he's not in contention at Chambers Bay, but he continued to throw fuel on the fire of criticism of Chambers Bay's greens. After he made some adamant comments on Twitter about the conditions of the greens on Thursday, Sergio was critical again on Saturday, telling Fox's Holly Sonders in a post-round interview that playing a major on Chambers Bay's greens would be like "playing an NBA Finals on a court with holes and slopes and no backboards." We'll give Sergio points for his honesty. But for a guy not in the conversation on the weekend, it sounds like sour grapes. -- S.H.