British Open
Saturday's Birdies And Bogeys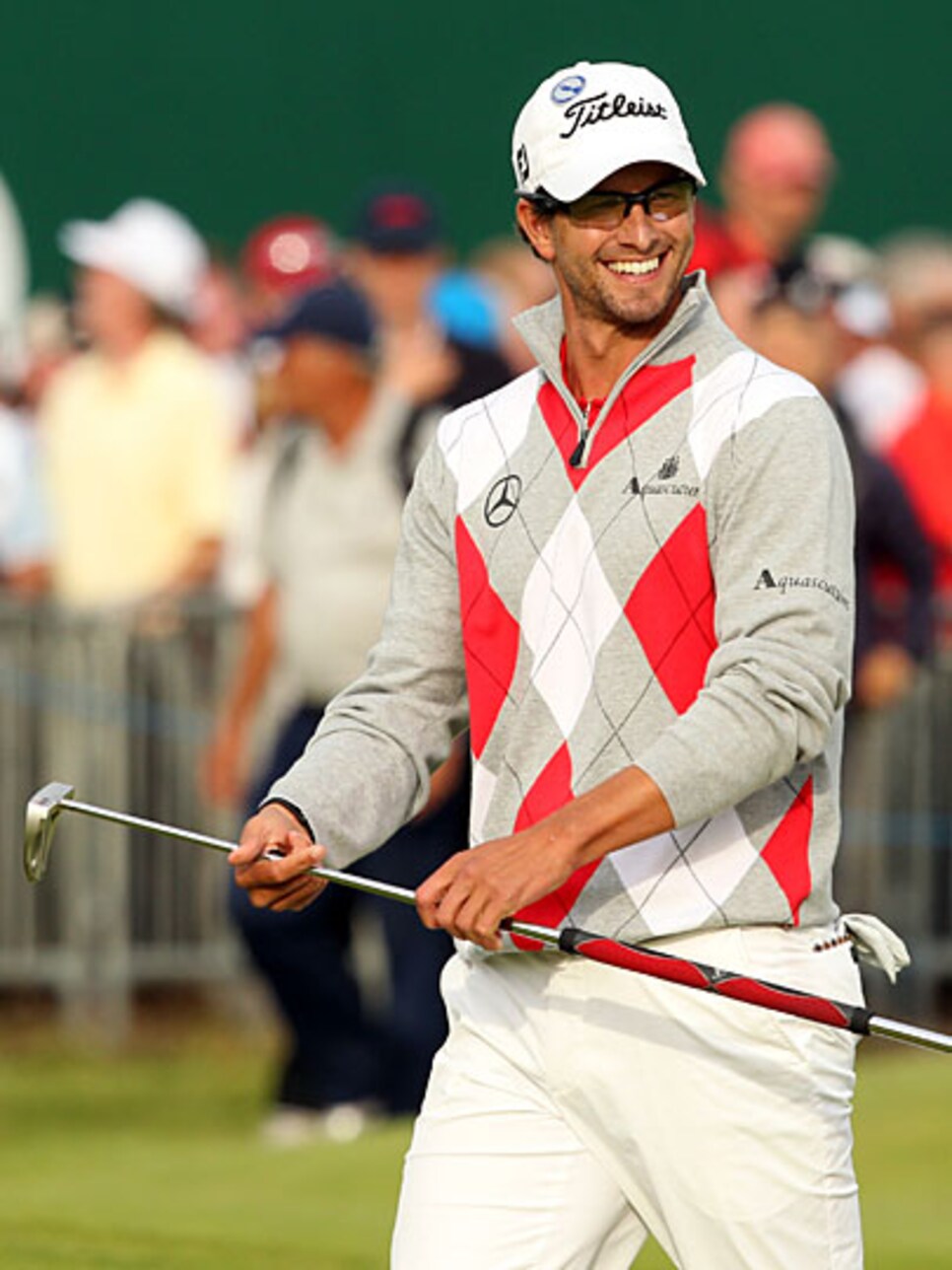 Photo By: Peter Muhly/AFP/Getty Images
Photo By: Ian Walton/R&A/R&A via Getty Images
Photo By: Richard Heathcote/Getty Images
Photo By: Harry How/Getty Images
Photo By: Peter Muhly/AFP/Getty Images
Photo By: Harry How/Getty Images
Photo By: Ian Walton/R&A/R&A via Getty Images
Photo By: Ross Kinnaird/Getty Images
Photo By: Richard Heathcote/Getty Images
Photo By: Matthew Lewis/R&A/R&A via Getty Images
Photo By: Warren Little/R&A/R&A via Getty Images
Photo By: Stan Badz/PGA TOUR/Getty Images
Photo By: Harry How/Getty Images
Photo By: Ian Walton/R&A/R&A via Getty Images
Birdie: Adam ScottA "birdie" all three days thus far at the Open, Adam Scott is only one stroke off the 54-hole record set by Tom Lehman at Royal Lytham in 1996. Impressive all week, Scott played a meticulous third round, relying on crisp ball-striking and solid putting to go out in two-under 32 on the front before cruising in at even par on the back nine. His 199 through three rounds marks only the second time a golfer has been under 200 strokes heading into Sunday at the Open, and leaves him in his best position to capture his first major title.
Photo By: Peter Muhly/AFP/Getty Images
Bogey: Tiger WoodsHe stuck to the conservative game plan and it worked in terms of hitting fairways, but Woods didn't move anywhere on moving day despite favorable scoring conditions. Failing to hit anything close all day -- save on the short, par-3 ninth -- Woods made only three birdies to offset three bogeys in an even-par 70. While he'll enter Sunday with just three players ahead of him on the leader board, he's now five shots behind the leader -- an especially tall order when you consider he's never come from behind on the final day to win in any of his 14 major victories.
Photo By: Ian Walton/R&A/R&A via Getty Images
Birdie: Graeme McDowellAfter a close call at Olympic Club, McDowell hasn't wasted any time in giving himself another chance to claim a second-career major. At three-under par through seven holes, G-Mac played the last 11 holes in four under to move into solo second place and break up the potential final-round pairing of Adam Scott and Tiger Woods that had golf writers from around the world drooling. McDowell trails Scott by four, but he knows from personal experience a deficit like that isn't a big deal. His lone major title came two years ago at the U.S. Open when he trailed Dustin Johnson by three shots through 54 holes and rallied to win while playing in the final group.
Photo By: Richard Heathcote/Getty Images
Bogey: Final-round intrigueIf not for that pesky McDowell, golf fans would have enjoyed a final-round pairing between Scott and Woods that would have been rife with subplots. Would Tiger and former caddie Steve Williams shake hands on the first tee? Would Williams conduct his own press conference in the media center if Scott holds on to win? And where does Woods' new man, Joe Lacava fit into all this? The awkward dynamic of the one-time most successful pairing in golf now going head-to-head for major would have made for great theater. Instead, McDowell will play with Scott and Woods will play with Brandt Snedeker, and rather than spend an inordinate amount of time focusing on body language between a player and an opposing caddie, we'll all just have to pay attention to golf.
Photo By: Harry How/Getty Images
Bogey: Gary MatthewsRarely do the guys carrying the bag take the blame for their partner's round, but it's hard not to take notice when a new caddie steps in for someone near the top of the leaderboard at the British Open. When Jason Dufner's regular caddie Kevin Baile went down with an illness early on Saturday morning, he called his agent for a last-minute replacement. Of course, the spot was bound to be inhabited by a caddie from the group of players who missed the cut, so it might be unfair to tab Sergio Garcia's regular caddie Matthews as the reason for Dufner's decline on Day 3. But as the only common thread between the MC for the 23rd ranked player in the world, and the demise of Dufsanity with a 3-over 73 on Saturday, Matthews is on the wrong side of this argument.
Photo By: Peter Muhly/AFP/Getty Images
Birdie: Zach JohnsonConsistency may not be the theme of Zach Johnson's British Open so far, but his five-under 205 through Saturday has him in the top 10 heading into tomorrow's finale. Johnson responded nicely to a rough Friday 74 with the low round of Day 3 -- a six-birdie, two-bogey 66. Coming off last week's win at the John Deere Classic, the 2007 Masters champ is playing his strongest golf of the season and is in prime position to make a run on Sunday. At the very least, he should beat his personal best at the Open -- a T-16 last year at Royal St. George's.
Photo By: Harry How/Getty Images
Bogey: Rory McIlroySadly, after winning the 2011 U.S. Open in runaway fashion, McIlory has become a regular "bogey" in major championships. The 75 he carded on Friday left him precariously close to the cut line, which he then followed with a totally-uninspired 73 on Saturday. On a sunny day with almost no wind, McIlory was only able to manage one birdie with four bogeys, becoming a distant afterthought in the season's third major. This continues a bad trend for McIlroy, who has followed his 2011 breakthrough victory with an 11-over T-64 at the PGA, a T-40 at the Masters, and a missed cut at this year's U.S. Open. Despite -- or maybe, because of -- his No. 2 ranking in the world, it's getting harder and harder to make excuses for the Ulsterman.
Photo By: Ian Walton/R&A/R&A via Getty Images
Birdie: Bill HaasThe reigning FedEx Cup champ opened his third round with a bogey, but then played flawless golf from there. Like Brandt Snedeker, Haas entered this week a 150-1 longshot due to his previous lack of success at the British Open and a recent rough spell. But the four-time winner will enter Sunday with an outside shot at his first major title. Hmm. A young Wake Forest Demon Deacon coming from well behind to win a recent Open? That sounds familiar ...
Photo By: Ross Kinnaird/Getty Images
Bogey: Bubba WatsonThe recent Masters champion's two-under 68 moved him into the top 10 heading into the final round, but it could have/should have been much better. Like on Friday, Watson had it to five under before he came undone during a disastrous stretch. This time, he bogeyed the 14th hole and doubled the 15th. Before that, he had climbed the leader board without taking advantage of either of Royal Lytham's two par fives. Not exactly "Bubba Golf" ...
Photo By: Richard Heathcote/Getty Images
Birdie: Anirban LahiriThe odds that there would be a hole-in-one at this year's British Open? Slim. The odds that the lone one would come from one of two Indian-born players in the field? Charles Howell III slim. But that's exactly what Lahiri accomplished when he aced the par-3 ninth from 150 yards with a 9-iron. The shot continued a banner week for India at the Open, as it's the first time two players from there (Jeev Milkha Singh) have made the cut in tournament history.
Photo By: Matthew Lewis/R&A/R&A via Getty Images
Bogey: Brandt SnedekerThe 36-hole leader had a remarkable 40-hole stretch of not making a bogey at Royal Lytham & St. Annes to start the tournament. Then just as remarkably, he bogeyed four of his next five holes. Snedeker's 73 dropped him from first to T-2 -- four shots off the pace -- heading into Sunday's round. But considering all three of his PGA Tour wins have been of the comeback variety, maybe that's not such a bad thing.
Photo By: Warren Little/R&A/R&A via Getty Images
Birdie: ESPNChris Berman might be an icon of sports television, but his absence from ESPN's coverage has left a void beautifully-filled by Mike Tirico and 1993 PGA champ Paul Azinger. Tirico and Zinger bring a pleasant professionalism that lacks the self-importance of a Johnny Miller, the overwrought drama of Jim Nantz, or the loud bravado of the aforementioned Berman. Joined by Scott Van Pelt, Andy North, Terry Gannon, Sean McDonough, and BBC's Peter Alliss, what we have is a crew with great analytical insight that knows how to let the sport do the talking and ... Curtis Strange.
Photo By: Stan Badz/PGA TOUR/Getty Images
Bogey: Martin LairdNormally we wouldn't bother mentioning the man who will tee off first on Sunday, except when said golfer entered the third round tied for 15th place at one under. Laird's 12-over 82 was the by far the worst round of the day, and dropped him to dead-last 83rd place at 11-over for the tournament. As a comparison, his playing partner Louis Oostuizen outplayed him by 14 strokes, and currently sits T-10 at two under. "He just struggled," Oosthuizen said. "You could see he just didn't hit the ball really well, and around this track if you miss the fairways you're going to pay the price." Laird will pay well into Sunday as he's scheduled to play his final round in a pairing with John Daly.
Photo By: Harry How/Getty Images
Birdie: Thorbjorn OlesenTo most Americans, Thorbjorn Olesen came into Saturday best- (only?) known as the guy playing with Tiger Woods. But fans on this side of the Atlantic better get used to seeing his name; the 22-year old Norwegian has already won six times on the European Tour, quickly becoming one to watch for in major championships. And while his round might have reflected he was bit nervous to be playing in front of the huge galleries that follow his self-proclaimed "idol" -- four birdies, three bogeys, and one double-bogey -- Olesen held his composure to finish his round at one-over 71, remaining in the top-10 heading into Sunday's fourth round.
Photo By: Ian Walton/R&A/R&A via Getty Images