The Masters
Saturday's Birdies and Bogeys
Who were the winners and losers on Saturday at Augusta National? It's time to take a closer look with another edition of birdies and bogeys.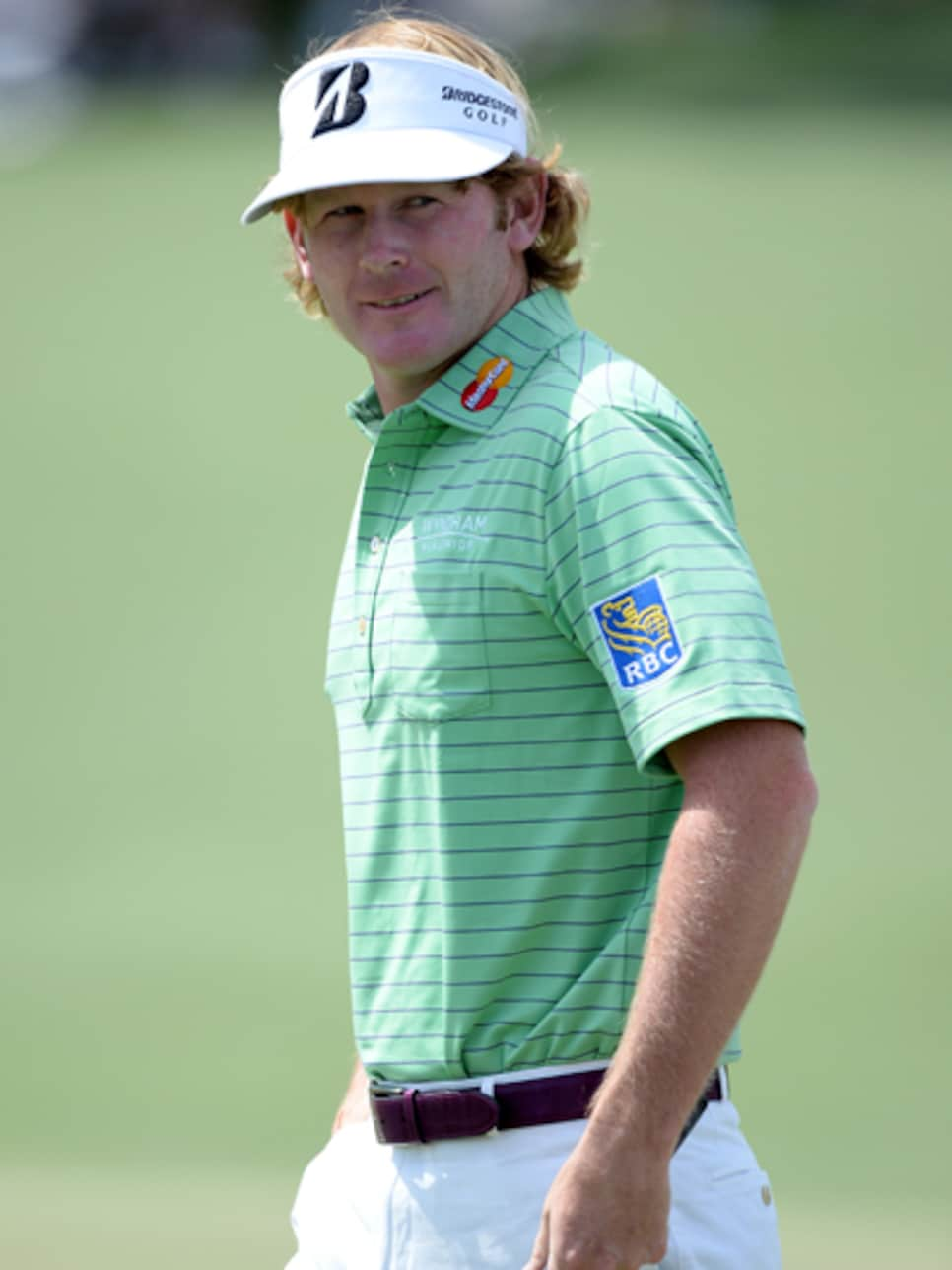 Birdie: Brandt SnedekerTwo months ago, the sweet-putting Snedeker was the undisputed hottest player on the PGA Tour following back-to-back runner-ups and a win at Pebble Beach. But after missing time with a rib injury, he returned and missed the cut in both events he played leading up to the Masters. This week, though, he's returned to his early-season form, taking a share of the 54-hole lead at seven-under par. Sneds collapsed on Sunday the last time he had a chance to win here in 2008, but back then, he said, he had "no clue what he's doing." Now, ranked fifth in the world, he'll go for his first major with a completely different mindset.
Photo By: Getty Images
Bogey: Augusta National Tournament CommitteeThere's plenty of blame to go around with the Tiger Woods fiasco, starting with the player himself. But one big miscue was by the rules officials who reviewed Woods' drop on the 15th hole, ruled out any improprieties, then opted against even broaching the topic with the player before he signed his scorecard. Had that part happened, Woods would have still been assessed a penalty, but the club and player would have been spared a fair amount of embarrassment along the way.
Photo By: Getty Images
Birdie: The AussiesFrom the the brink-of-stardom Jason Day to the upstart Marc Leishman to the overdue Adam Scott, Australia has three golden chances to end its well-documented drought in the Masters. "We've never looked better odds-wise heading into a Sunday," Scott said. Of the three, the sentimental favorite is Scott, who saw Charl Schwartzel pass him late here two years ago, and then famously fumbled away his lead in last summer's Open Championship. With three birdies in a five-hole stretch to get to six-under par, Scott gave himself, and his nation, a story worth embracing.
Photo By: Getty Images
Bogey: Tiger WoodsYou can argue whether or not Woods should have been disqualified, but there's no doubt he took an illegal drop on the 15th hole on Friday and that's on him. Golf has some crazy rules, but everyone who plays the game for a living should know their options after hitting into a water hazard. Woods already missed the cut in his season-opening event in Abu Dhabi for taking an illegal drop from the sand. It's safe to say he's kicking himself a little harder for this latest rules miscue.
Photo By: Getty Images
Birdie: Tiger WoodsWith all the controversy swirling around him, Woods blocked everything out and birdied the first hole. He stalled toward the middle of his round, including what Nick Faldo described as "the worst lipout I've ever seen" on No. 8, but bounced back to shoot 34 on the back nine -- his first under par effort on the closing nine holes in nine tries -- to move to just four shots off the lead. Woods also handled his post-round TV interview with CBS' Bill Macatee well, even laughing about knowing something was wrong when he got a text from his agent in the morning simply requesting, "Call me." It's been a wild week for Woods, but he'll be where we expected him on Sunday: wearing red and in one of the final pairings.
Photo By: Getty Images
Bogey: Rory McIlroyFor the third consecutive year, McIlroy seemed poised for another run at the Masters. For the third-straight year, he imploded dramatically, this time shooting 42 on the back nine to drop out of contention. With a third-round 79, McIlroy not only killed his chances of a third career major. He also showed his early-season struggles are not yet behind him.
Photo By: Getty Images
Birdie: Angel CabreraBack-to-back bogeys on Nos. 12 and 13 seemed to signal the end of another magical run at a major championship for the affable Argentine. But back-to-back birdies to finish his Saturday round have Cabrera in the final group at a major yet again. Cabrera's only two career PGA Tour wins are his two major titles: the 2007 U.S. Open and the 2009 Masters. In fact, those are his only two wins in a PGA or European Tour-sanctioned event in nearly eight years. Hey, in golf, it's not always about when you win, but where. And no one seems to be able to peak at just the right time quite like Cabrera.
Photo By: Getty Images
Birdie: Tim ClarkA runner-up at Augusta National in 2006, the South African has been a forgotten man much of the past two years thanks to elbow injuries. But the staunch supporter of anchoring the putter played himself into contention at the year's first major yet again with a front-nine 31 -- just one shot off the tournament record. On a moving daywhen plenty of moves were made, his 67 was the biggest of all.
Photo By: Getty Images
Bogey: Nick FaldoNo stranger to being outspoken on the subject of Tiger Woods, the CBS broadcaster was upset with the ruling to just penalize the 14-time major champion. Faldo later clarified his comments during the afternoon telecast, taking a softer stance on the matter after hearing about the timeline of events. Faldo said he initially thought Woods should take matters into his own hands and withdraw, but decided the incident was handled correctly. "Tiger is playing under the new rules and myself and some of the older players, we have to accept that," he said, alluding to rule 33-7, which allows officials to modify or rescind a penalty that is only discovered due to modern technology. While Faldo shouldn't have jumped to conclusions, at least he is paid for his opinions.
Photo By: Getty Images
Birdie: No. 11There weren't a lot of red numbers there on Saturday, but there aren't supposed to be. Historically, No. 11 is Augusta National's most difficult hole and it played that way in the third round, taking bites out of players like Jason Dufner, Marc Leishman and Matt Kuchar. Even Tiger Woods, who challenged the back-left pin position and hit a good shot, wound up walking away with a bogey after a three-putt. As the Golf Channel's Frank Nobilo joked, "White Dogwood is more like White Knuckles." Bad news for the players, but good news for those of us looking forward to seeing the high drama at Amen Corner again come Sunday.
Photo By: Getty Images
Bogey: Fred CouplesThere is a reason Couples usually finds a way to be a part of the story here, and it has to do with his love of Augusta National and his to-die-for swing. The reason why Couples falls short is usually because of his back or his putter, or a potent combination of the two. A rocky back nine on Saturday, which included a triple bogey on the 17th hole -- when he caught a tree limb with his second shot and then took two more shots to even get to the green -- means Couples will have to wait until next year to make another run at his favorite event.
Photo By: Getty Images
Birdie: Matt KucharAfter finishing two shots out of a playoff at the Masters last year, then going on to claim the biggest win of his pro career the next month at the Players, plenty of signs pointed to Kuchar being a factor this year at the Masters. The biggest sign, though, came on Saturday, when a 69 gave Kuchar a late afternoon tee time and another chance at his first major.
Photo By: Getty Images
Bogey: Phil MickelsonPerhaps the three-time Masters champ had tinkered too much with his equipment before the season's first major when he slipped in new irons, a new ball and the infamous "Phrankenwood". But Mickelson's struggles also could have rooted elsewhere. On several occasions before the tournament, Mickelson questioned the easier course set up at Augusta National. Now at eight over par after a third-round 77, it appears Mickelson might have talked himself out of playing well before even hitting a shot.
Photo By: Getty Images